Commercial Data Solutions
Solutions for All Phases of the Commercial Drug Lifecycle
Medidata Acorn AI Commercial Data Solutions provides commercial pharmaceutical organizations with the data management and insights needed to maximize brand success. As companies plan and execute on their launch strategies, they require trusted partners that can deliver technology and expert resources that enable success at all phases of the commercial drug lifecycle.
Commercial Data Management and Insights
Case Study
Biotech switches to Acorn AI for data quality
This biotech company recently introduced a biosimilar that helps prevent infections in people undergoing chemotherapy. It sells to healthcare providers, including inpatient and outpatient departments, hospitals, integrated delivery networks (IDNs), and group purchasing organizations (GPOs). That makes for a complex account hierarchy—a challenge the company struggled to master during its first year of commercialization.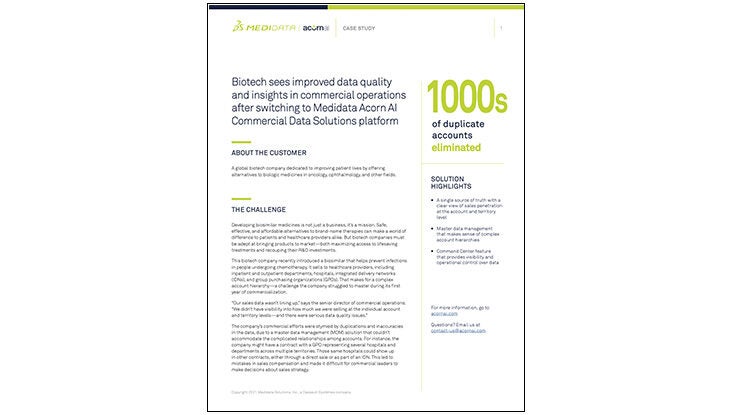 Case Study
Drive sales performance and increase revenue
Sales representatives at a global pharmaceutical company faced several recent growth challenges. The company maintains a team of 1,000 U.S.-based representatives and managers who promote a catalog of 17 leading brands across multiple mass-market and specialty therapeutic categories. However, data available to sales representatives was frequently siloed between multiple systems or kept on spreadsheets on local devices.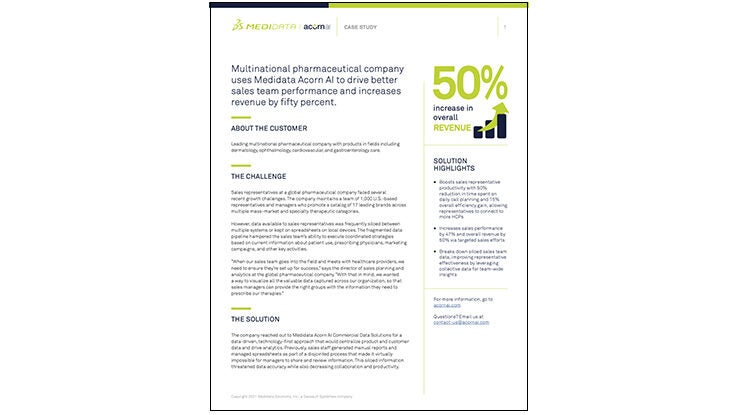 eBook
Maximize Brand Value with a Technology-First Approach
This ebook focuses on how data and analytics can be incorporated into your commercialization strategy to gain competitive advantage, create differentiation, and achieve commercial success.