Rave TSDV | Targeted SDV
Increase Your Team's Efficiency by Focusing on Critical Data
Approximately 4%* of clinical trial data changes after initial entry, and even less changes as a result of data review and source data verification (SDV). And yet, SDV devours more than 50% of site monitoring budgets. Rave TSDV (Targeted Source Data Verification) empowers CRAs to take a risk-based approach to monitoring by focusing on critical data.
Rave TSDV selects the CRF fields within Rave EDC that CRAs need to verify during on-site visits. This results in a more efficient and cost-effective monitoring strategy that doesn't compromise regulatory compliance or data quality.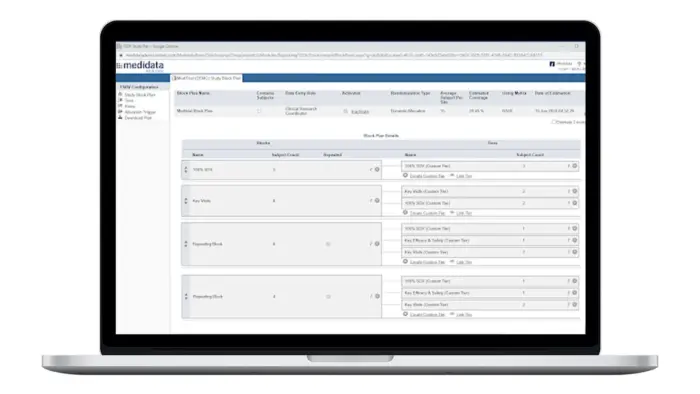 Reduce the Cost of Monitoring Visits
You can easily set up simplified SDV tiers using critical data defined as part of study-level risk assessments.
Rave TSDV provides a simplified approach to defining, monitoring, and adjusting SDV strategies, resulting in reduced CRA and site burden, as well as reduced data cycle times.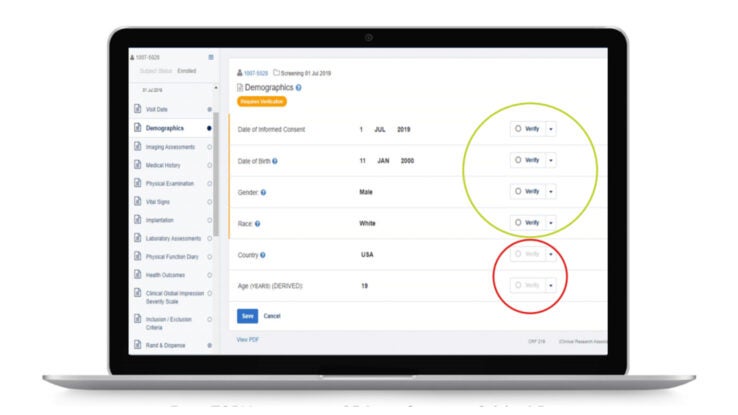 Plan and Execute Better SDV Strategies
Rave TSDV allows you to easily design, configure, and execute a highly targeted SDV strategy and still maintain full coverage of critical safety and efficacy data.
Plan study-specific and site-specific SDV all the way down to the data field, form, and patient visit.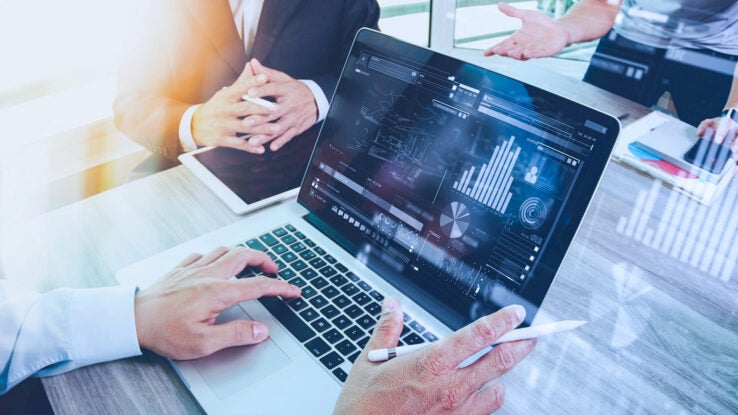 Spend More Time on High-Value Activities
With Rave TSDV, site monitors spend more time on targeted communications with sites and less time reviewing data that is unlikely to impact study quality or patient safety.
Study managers have full visibility into SDV assignments, progress, and modifications made during the trial lifecycle.
Key Features of Rave TSDV
Supports ICH GCP E6 (R2) & E8 (R1) Compliance
Study teams can apply a risk-based approach to clinical operations activities while maintaining a complete inspection-ready record of what was verified and not verified.
Study and Site-Specific SDV Plan Configuration
Data managers can configure study-specific and site-specific SDV all the way down to the data field, form and patient visit levels.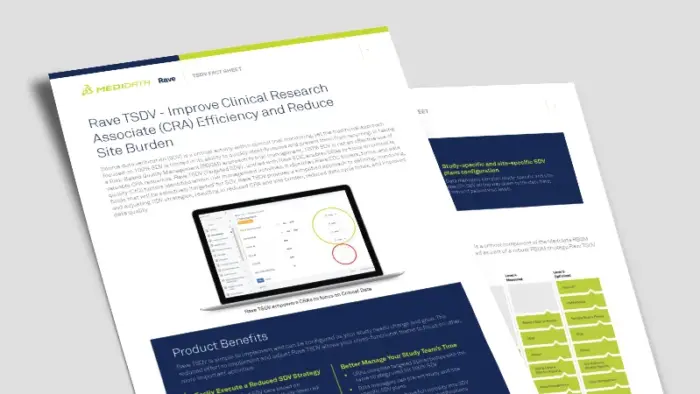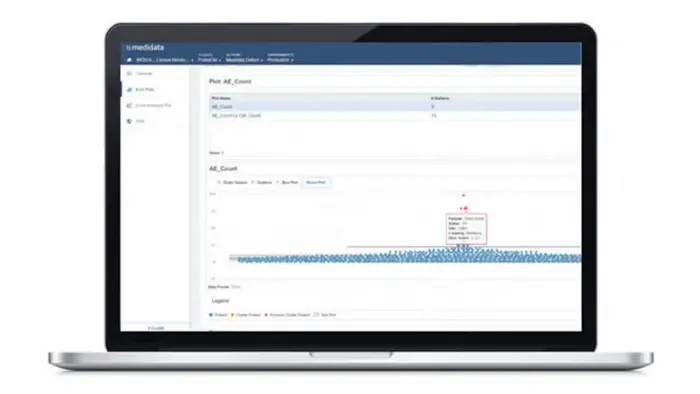 Rave EDC
Medidata's Rave EDC (Electronic Data Capture) is the most advanced, robust and secure EDC system for clinical trial site, patient, and lab data capture and management. Rave EDC is the cornerstone of the Medidata Clinical Cloud® – the unified clinical research platform that connects processes, eliminates data reconciliation and delivers cross-functional and cross-study data insights.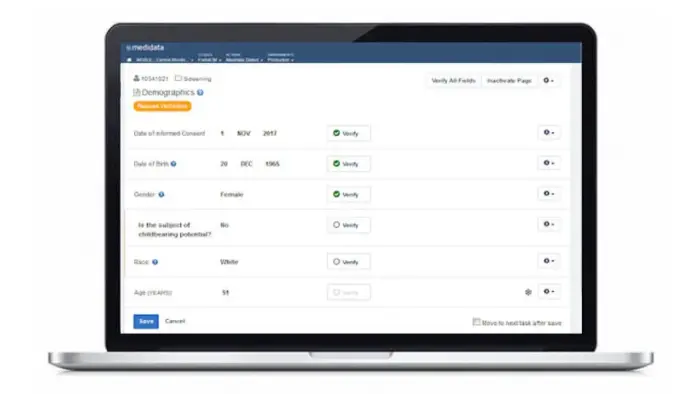 Medidata Risk Management
Medidata Risk Management is an integrated digital solution which identifies critical-to-quality (CtQ) factors, associated risks, mitigation strategies, and monitors for those trial risks through key risk indicators (KRIs) and quality tolerance limits (QTLs).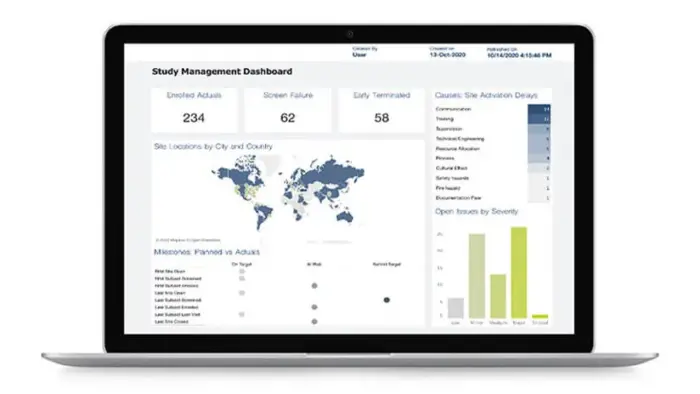 Rave CTMS
Rave CTMS is a unified digital solution that improves the speed, efficiency, and collaboration for the oversight of studies, countries, and sites through automation and workflow management. Rave CTMS supports activities including study/site team creation and activation, patient enrollment and milestone tracking, site monitoring, and issue management
Rave TSDV – Improve Clinical Research Associate (CRA) Efficiency and Reduce Site Burden
Rave TSDV unified with Rave EDC, enables CRAs to focus on critical to quality (CtQ) factors identified within risk management activities. 
Rave TSDV provides a simplified approach to defining, monitoring, and adjusting SDV strategies, resulting in reduced CRA and site burden, reduced data cycle times, and improved data quality.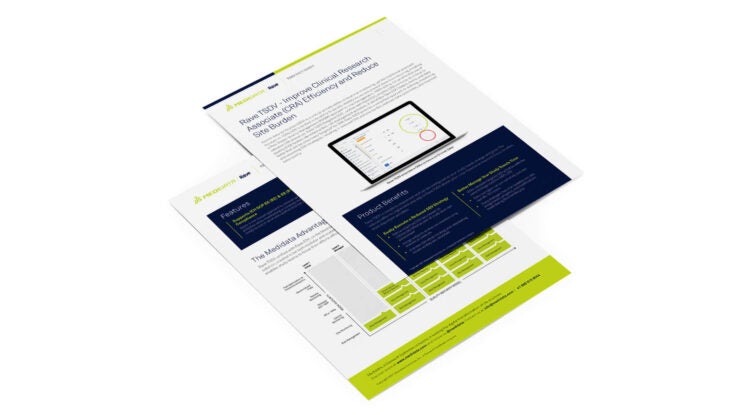 Modernizing Clinical Operations with Improved Data Quality Oversight
Tomorrow's clinical trials will be faster, have vastly more data, and will collect that data directly from the patient in multiple ways. This is creating a seismic shift in how companies can maintain control of the quality of their trials and the safety of the patients in them. 
This video series discusses this shift, where interaction with sites is purpose-driven, intentional, and triggered in response to signals and trends identified during central data review.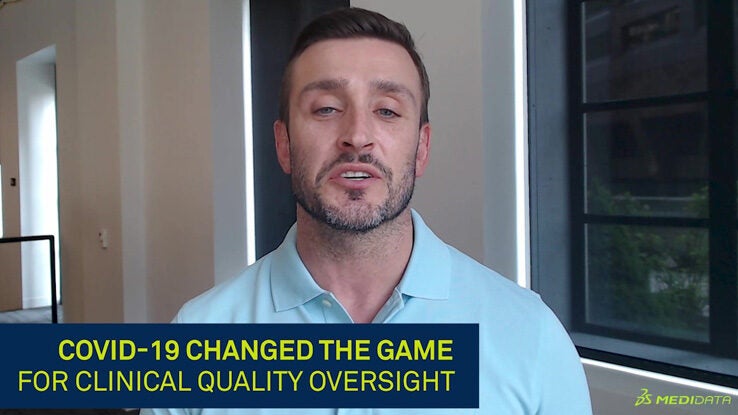 Modernizing Clinical Trial Oversight: The Path to Clinical Operations Excellence
The rising complexity of clinical trials, combined with pressures resulting from the COVID-19 pandemic, have forced sites, sponsors, and CROs to adopt remote and risk-based approaches (RBQM) for clinical trial execution for patient safety, compliance, and risk mitigation. 
This white paper outlines the current state of RBQM approaches to virtualizing clinical oversight, and the value that adopting these approaches brings to sponsors, CROs, sites, and ultimately patients.