The Medidata Platform
Manage Your Clinical Trial in One Place
The Medidata Platform connects patients, sites, sponsors, and partners in a secure and scalable cloud environment to bring life changing treatments to those who need them most.
No spreadsheets. No data reconciliation. No multiple-logins. One place to manage your study from start to finish.
This is the power of Medidata.
Proven to Transform Your Clinical Trial
It's not just talk. Medidata customers are seeing real impact on their studies when using our solutions and services, reaching their study milestones in record time.
Analysis of difference in median build time vs. matched studies not using PS (p<0.05); Reduction of 30 days.
Analysis of difference in median FPI to LPLV time for EDC + at least one additional product vs. EDC only studies (p<0.05) 2017 to 2021; Reduction of 59 days.
Analysis of difference in median LPLV to DBL time for EDC + at least one additional product vs. EDC only studies from 2017 to 2021.
Medidata Platform Solutions
As the industry's only unified platform dedicated to clinical research, we help life science and medical device organizations cut development costs, mitigate risks, and deliver treatments and devices to market faster.
Whether you choose our Rave, Patient Cloud, or Medidata AI solutions, you will have access to the power of the Medidata Platform.
Explore our powerful solutions below.
Key Features of Medidata Platform
"So with all the data in Medidata's one platform, it's great, it's easy. …. we're not downloading from another platform and comparing. It's all there and it's easier to integrate."
– Cathy Hult, Director of Data Management, PROMETRIKA
"So my recommendation with using Medidata, especially …considering the size of my company, is having everything under one hood,…it makes it so much easier when looking at how you're going to use your resources. You don't want to have resources spending [an] endless amount of time looking at the interfaces between the various systems you have."
– Salam Ammus, Executive Director, Clinical Data Management, Alkermes
"…Timelines are decreased by using [Medidata's] unified platform; we do not have to work with multiple vendors, we're working with just one, and our validation development efforts are cut down substantially… In my opinion, it gets the drug to the patient faster. [The Medidata Platform] cuts costs because you don't have so many collaborators working together, creating risks along the way."
– Chelsey Ryan, Director of Clinical Operations and Pharmacovigilance, PROMETRIKA
"Every study at BMS requires a study build on the Medidata Platform, and it's become part of our normal workflows. …"
– Hassan Kadhim, Global Head of Clinical Trial Business Capabilities, BMS
"…Because Medidata has created these integrated platform tools, it allows Syneos Health to focus on the execution of the trial, spending less time focusing on the technology. This enables us to deliver a more effective clinical trial for our sponsors."
– Gene Vinson, Executive Director, Clinical Vendor Management, Syneos Health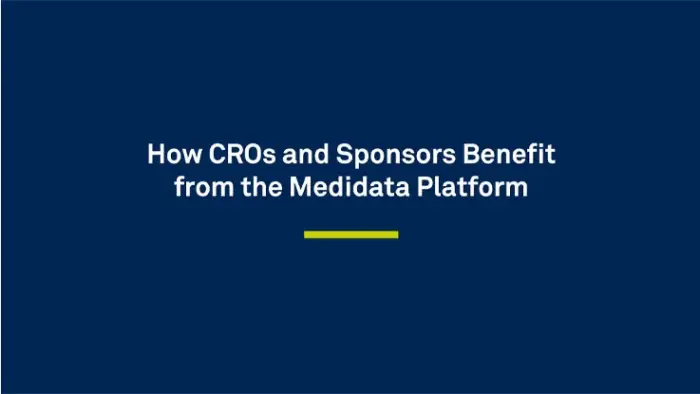 What Customers Say About the Medidata Platform
Hear from Alkermes, Syneos Health, and PROMETRIKA about the benefits they've realized from adopting the Medidata Platform.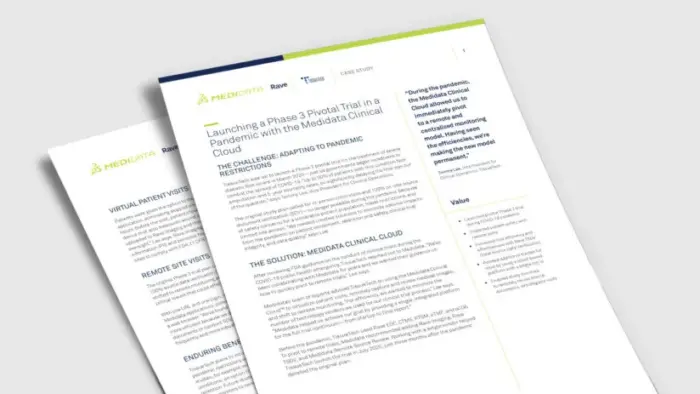 Mid-Size Biopharmaceutical Case Study
See how BioTissue leveraged our unified platform to quickly virtualize elements of their study during the COVID-19 pandemic.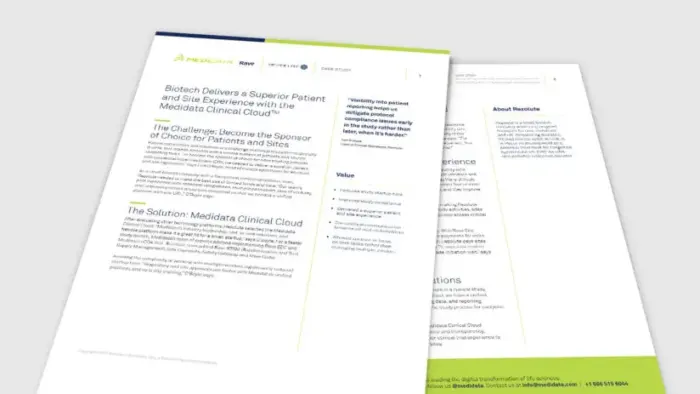 Emerging Biotech Case Study
See how Rezolute became the sponsor of choice for patients and sites in an ultra-rare orphan disease with the Medidata Platform.