CRO Partners
Attract and win more sponsor bids
and execute them successfully
Together, we can connect your business goals to our collective mission of extending greater value and improving outcomes for your customers and patients.
Success Stories from CROs
Innovate with Proven Technology
The Medidata Clinical Cloud® accelerates the business of clinical research, integrates processes, and improves collaboration with your sponsors.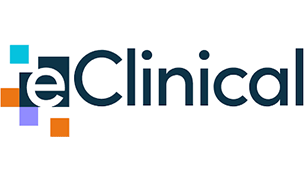 "At eClinical, we started our close partnership with Medidata and built a comprehensive set of data services around them."
"Medidata is our data platform that enables us to deliver powerful quality data, AI powered insights and patient-centric solutions."
"By Partnering with Medidata – a trusted leaeder in this space – we are further committing to sponsors that we can meet and exceed their future needs."
Unmatched Partnership Experience
Amplify your impact and accelerate your business with the time-tested Medidata Partner Program. <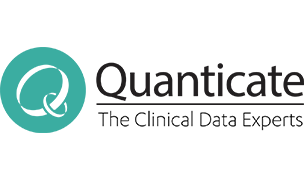 "Working with Medidata brings brand recognition unlike anything else in the industry."

"Our partnership definitely shifts the dynamics in terms of beenefits along the cost, time, and value continuum."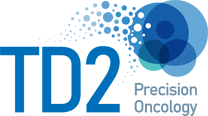 "Medidata has been a key partner for TD2 in supporting our goal of enhancing access to thee right care, for the right patient, at the right time."
Gain a Competitive Edge
Medidata is the only vendor that can help you attract and win more sponsor bids and execute them successfully in any trial environment.

"The [Medidata Acorn AI] data helped us grow our footprint of unique sites by almost 50%."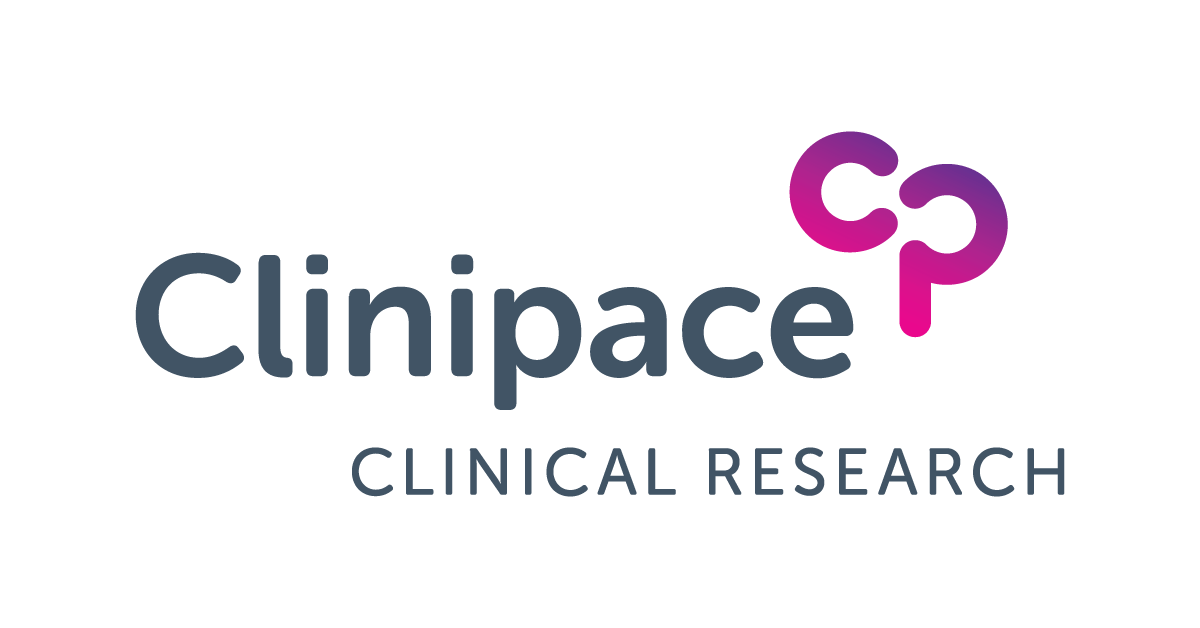 "
We were able to have Medidata assist and partner with us and to help us find solutions in getting the studies up and running in approximately 4 to 6 weeks in the study startup phase.
"

"
Medidata, as a global leader in clinical IT innovation and LSK as a leading Korean CRO can work together to help transform conventional processes of Korean drug development.
"
Why 9 of the Top 10 CRO Partners Trust Medidata
Medidata offers the only proven, end-to-end life science technology platform. When it comes to proven innovative technology, and best-in-class partnership experience, no other technology partner is better suited to help you win more sponsor bids and execute them successfully to deliver improved outcomes.
One technology platform to power people, processes, and progress.
Medidata helps you adapt, simplify, scale, and accelerate your clinical trials, from protocol design to study startup, conduct, close-out, and commercialization.
Our platform is built to enable you with cloud-based, modular, integrable, easily configurable capabilities, all powered by the latest patient, clinical and operational data, and AI solutions.
Resources for CRO Partners
eBOOK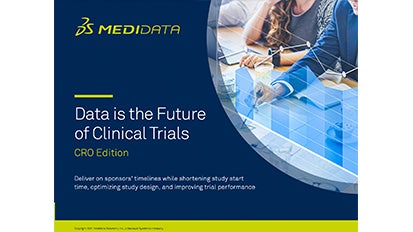 Data is the Future of Clinical Trials
This eBook is an overview on how CROs can lead with data to improve their study integrity, reduce risks, optimize patient safety, and increase their trial success rates.
eBOOK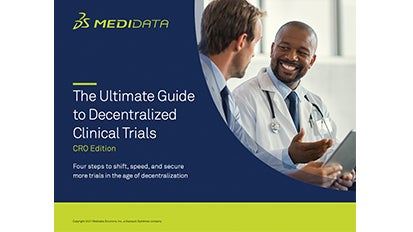 The Ultimate Guide to Decentralized Clinical Trials: CRO Edition
eBOOK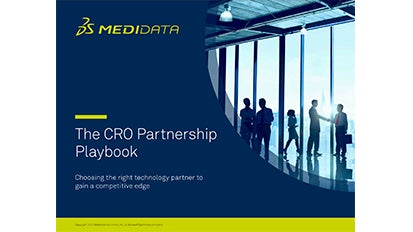 The CRO Partnership Playbook
Partnering with technology vendors that go beyond transactional relationships is imperative to deliver the pace and performance to compete and outperform the industry. Read this interactive eBook to learn more about our time-tested partner program, designed to optimize trial performance, win more bids, and stand out from the competition.