Medidata Blog
Virtualization and Patient-centred Design: Technology and the Future of Clinical Trials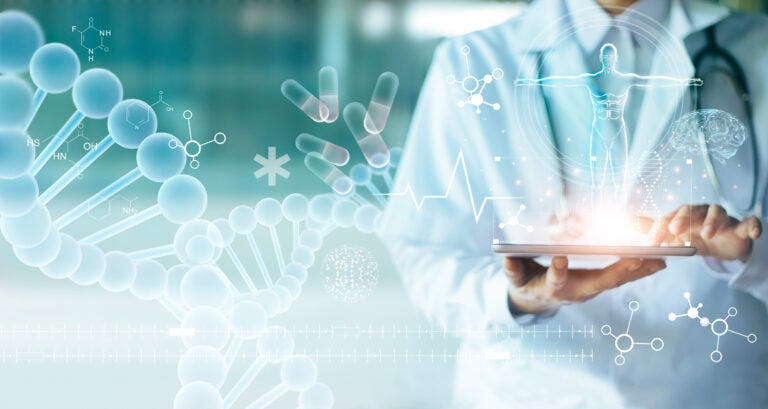 January 31, 2021
This blog was authored by Paul O'Donohoe, scientific lead, eCOA and mobile health at Medidata. He is responsible for developing the company's scientific expertise for eCOA and mobile health in clinical trials. He also supports internal teams and customers around the implementation of industry and regulatory best practices in studies using eCOA.
Increased Complexity of Clinical Trials
It's a challenging reality that over the last few decades the complexity of clinical trials has increased significantly. The logistical effort of coordinating and running a trial has gone up, with the number of countries conducting  Phase III studies doubling and the number of research sites increasing by more than 60%. There has also been an increase in the actual complexity of the studies themselves, with 86% more data being collected to support endpoints compared to 10 years ago.
Increased complexity affects resourcing, timing, and financing of trials, and to mitigate this complexity the industry has sought ways to use technology. In the 90s, we were deep in the world of paper case report forms (CRFs) and double data entry. At that point electronic data capture (EDC) was the new and exciting foray into using technology as a way of improving and reducing the burden of running trials. Then we started seeing the arrival  of electronic health records (EHR), and the rise of electronic patient-reported outcomes (ePRO) and electronic clinical outcome assessments (eCOA), which were the first truly patient-facing trial technologies. With the subsequent arrival of telemedicine, wearables, eSource, risk-based monitoring, eConsent, etc., the rate of adoption of technology in trials has only accelerated in recent years to now cover all aspects of the clinical trial lifecycle.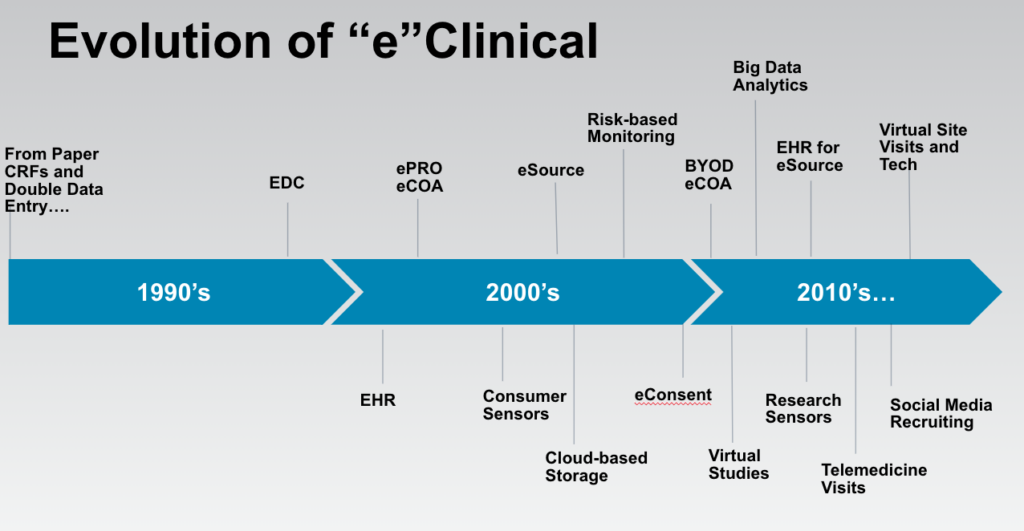 The Rise of Virtualization
As technology supports more aspects of trials, there has been an associated rise in the decentralization or virtualization of trials, which means conducting aspects of the trial outside of the traditional clinical site setting. There is a misconception that if one is interested in decentralizing a trial, one has to do away with all of the sites in the study and everything will be done online with no physical interactions between patients and their site staff. This is absolutely not the case and it's important to emphasize that decentralization is not an "all-or-nothing" model. As our snapshot of technology adoption shows, the industry has been virtualizing aspects of trials for decades, in the sense that we've been using technology to allow us to shift tasks out of the site into locations more convenient for the patient—typically their own home. The concept of "virtualizing a trial" is not about shifting everything out of the site, but about giving you the flexibility to remove unnecessary site visits (consistently one of the biggest pain-points for patients in trials and a key driver of study drop-out) while continuing to capture high quality data. 
For example, eCOA allows us to administer outcome assessments remotely, wearables and sensors provide new streams of real-time data on the patient experience, and telemedicine visits allow patients to interact with their clinician at their convenience. All of these are tools that we've been using in various ways for years. What's new is the flexibility that platform solutions have introduced in allowing us to dial up or down the virtualization based on the needs of a specific study or patient population—all to create a positive patient experience while still ensuring data collection and quality to support the study. 
Putting Patients at the Heart
The life sciences industry is not the only one to take advantage of the explosive growth of technology. Patients themselves are more informed than ever about what's happening within the clinical research spaces related to their diseases. Meeting other patients online and sharing information, these patients have used technology to educate themselves on the various drugs and mechanisms of action that are out there, which trials are coming down the pipeline, and what the results are from similar or related products. This means they are expecting far more from their clinical trials. Rather than the previous paradigm where patients simply handed over their data and didn't hear any more, there is now an expectation of a two-way relationship where benefits extend well beyond advancing the science. 
This has provided an opportunity for the industry to learn and grow in response. By engaging actively with patients in a meaningful way, Medidata has conceptualized the experience of being in a clinical trial as a journey the patient embarks on, rather than as a standalone research project. And it's important to remember that this patient journey can be exceptionally challenging—from finding the right clinical trial to navigating the complexities around enrolling and the disconnect of expectations when participating, to completing the trial and dealing with the lack of feedback on what actually happened with their data and the study as a whole. 
This has allowed Medidata to develop solutions from the ground up that support the patient during this journey, rather than having patient centricity tagged on as an afterthought. We recently launched myMedidata, which is a single-destination patient portal built on Rave EDC. With myMedidata, patients can use any online device to virtually learn about, enroll in, and participate with clinical trial activities. myMedidata encompasses all the capabilities of Medidata's patient-facing solutions, from electronic consent and electronic clinical outcomes assessments (eCOA) along with live video investigator/patient visits using myMedidata LIVE, all through one web-based intuitive interface.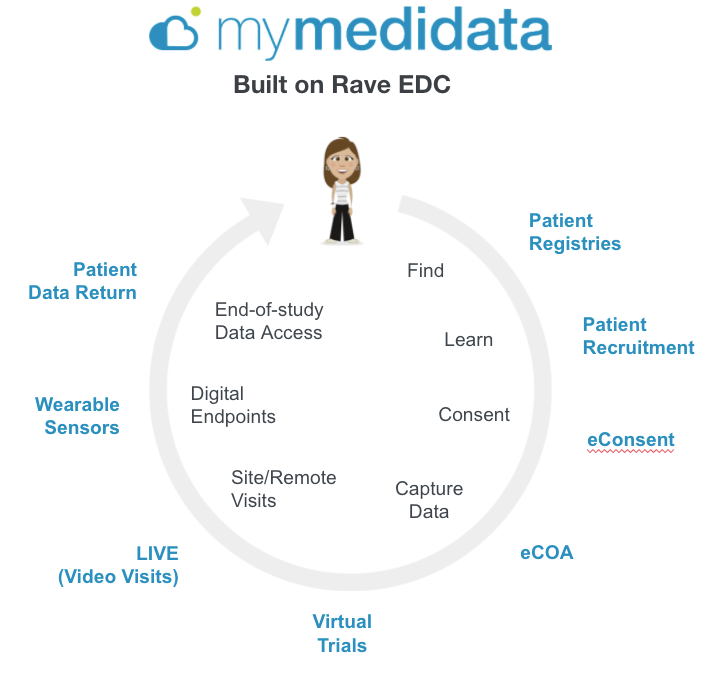 Impact of Covid-19 on Trials
Clinical trials saw a huge decrease in patient enrollment due to the pandemic and the restriction of movement—the decrease reached up to 90% compared to 2019 in some regions according to Medidata's research. Regulators responded with admirable speed, quickly providing guidance with the primary objective of ensuring patient safety across studies, and then finding ways of maintaining integrity and the flow of data in ongoing studies which had so suddenly been interrupted.
This guidance was pragmatic and practical, and explicitly called out the role technology could play in responding to the crisis. The key trend we saw was shifting from capturing data from site visits to remote data capture, by conducting phone interviews, using patients' own devices ("BYOD") and telemedicine solutions. None of these solutions are new and all have been touted as possible solutions to some of the perennial challenges that we've faced in clinical research long before the pandemic. For example, 23% of patients are dissatisfied with site location and 30% of patients drop out before the study ends. Four or five clinical sites are failing to enroll their target number of patients and 30% of trials are being canceled due to insufficient participation. We've been using these technologies piecemeal already as a way of addressing some of these challenges over the last years and decades. What's new and exciting, and what has really been driven by the pandemic, is that we're seeing how these tools can be used together on a single platform to leverage the technology in ways that we haven't before.
What the Future Holds
This platform-based, flexible approach that can be adjusted for the needs of a specific study or a specific patient population is going to get more and more powerful and more central to how clinical trials are conducted. The responsibility is on the industry to ensure we are developing these technologies in a meaningfully patient-centric manner and ensuring solutions are a source of support and engagement for those involved in trials, rather than a source of frustration and added complexity. 
Most studies will fit some kind of hybrid approach to virtualization. This will lead to significant cost and burden reductions for sites, study teams, and, most importantly, patients. Significant events like Covid-19 have helped accelerate conversations rather than start brand new ones, and we're getting much more comfortable using technologies together in synergistic ways.
It's important to recognize the opportunity we now have to develop solutions that are future proof, and it's an ethical imperative to learn the hard lessons of the last year. We need to make sure we don't go back to conducting trials the way we have been doing for years, but fully take advantage of technology to allow us to capture data in ways that are ultimately beneficial to patients and to the advancement of clinical research.
Learn more about myMedidata, the single-destination patient portal built on Rave EDC.
Paul Oliver