Improving Patient Experience | Modern Tech Strategy
Improving Patient Experience
From comprehension to study close-out, improving patient experience involves merging patient perspective with best-in-class technology to deliver solutions that support their entire journey.
Modern Tech Strategies
The next generation of clinical trials will be faster, more efficient, and produce higher quality patient outcomes, and our three modern technology strategies will help your business deliver more in the next decade.
Ensuring Effective Management
Ensuring effective trial management involves employing strategies built around collaboration, transparency, and platform-enabled centralized data access.
Simplifying Data Complexity
By simplifying data complexity, your study teams can be confident they have the data they need, when and where they need it, to answer their most critical questions faster than ever before.
Patient centricity isn't a stop-gap solution or a one-size-fits-all add-on – It's a comprehensive strategy at the heart of next-generation clinical development.
The breadth and depth of patient-centric capabilities required to boost enrollment and retention rates can be daunting. Anchored by Medidata Rave Clinical Cloud, our suite of tools is designed to help sponsors, sites and CROs empower and engage patients at every stage of the study.
Rave eConsent
With eConsent, study understanding is continuously reinforced and patients are positioned for better, more informed decision making.
Rave eCOA
A simple-to-use mobile app that fulfills study COA requirements and allows patients the freedom to complete on-site or remotely is a win-win.
Rave Wearable Sensors
Study teams can capture accurate, reliable data directly from patients, thus reducing patient and site burden.
Rave Virtual Trials
By allowing patients to participate outside the traditional clinical setting, virtual trial designs facilitate improved experience and positive outcomes.
EIU Perspectives: State of Patient Centricity: Advancing from patient-first intentions to true co-creation
An Economist Intelligence Unit study, sponsored by Medidata, this report explores how achieving patient centricity in clinical trials needs to evolve beyond patient engagement initiatives to patient co-creation and how these mutually-beneficial partnerships will transform both the future of research and development and the healthcare industry at-large.
Doing more with less: How Rave Virtual Trials dials up efficiency by dialing down the distance between patients and sites
With Rave Virtual Trials, sponsors can employ a more flexible "Trial Dial" approach to study design, which in turn, offers a resolution to patients with long distance travels to sites. Virtual clinical trials facilitate a more satisfied patient experience and more streamlined workflow across the study ecosystem.
With Rave eCOA and Rave eConsent, patient-centric technology facilitating better patient outcomes meets modern technology strategy facilitating better business outcomes
The life sciences industry has already begun adopting patient centricity in its many forms. By easing burdens for patients and sites, sponsors and CROs can achieve improved enrollment, retention, and trial success rates.
Rave eCOA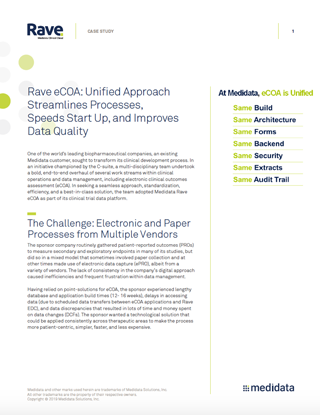 Rave eConsent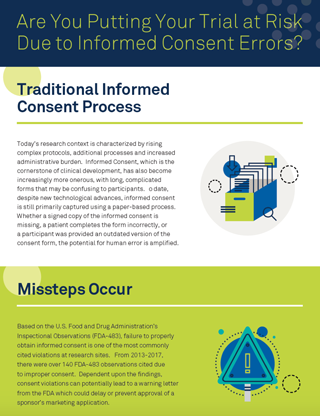 Discover the benefits of less-intrusive patient data technology with Rave Wearable Sensors, part of our next-generation approach to improving patient engagement
With Rave Wearable Sensors, patients can directly contribute accurate, reliable data from the comfort of their own home. This solution offers access to a scalable infrastructure that continuously integrates biometric and remote sensor data into Rave EDC. Also, when paired with Rave eCOA, sponsors can use parallel data streams to further assess patient-generated responses to therapy.
Interested to learn more?
Connect with the Medidata team to see how Modern Tech Strategies can help your organization.