Medidata Blog
Meet a Medidatian: Janette M., VP, Global Partner Initiatives & Partner Business Management and Greek Food Lover
September 21, 2020
Meet Janette, who is responsible for collaborating and working with our CRO Partners globally to ensure that together we are helping sponsors get drugs to market faster.    
Hometown: Nenagh, Co. Tipperary, Ireland. 
Currently lives: In my hometown after spending a number of years studying and working in France, Germany, and the UK.
Years at Medidata? 12 years.
When you were a kid, what did you want to be when you grew up? Wonder Woman!
Why did you join Medidata? I joined Medidata because in 2008 you could sense that awesomeness was in the cards!  
Where did you work before Medidata? eRT, invivodata, Richmond Pharmacology.
What is your favorite part of being a Medidatian? I believe we have the freedom to make things happen and to change what is not working or what could be improved. The industry is constantly evolving; we are not afforded the luxury of time when it involves the lives of patients, but we have the ability to innovate and improve how we are doing things.
What is your favorite project or moment during your time at Medidata? It has to be collaborating with others to make things happen—this is all about great teams coming together to make it happen.
What's your advice for others looking for opportunities in Sales? Be inquisitive, don't hesitate to ask questions, be open to learning and understanding many sides of the business, be patient with yourself and others, and just be kind! 
What's your favorite Medidata perk or benefit? Traveling. Thankfully I have the opportunity to travel in my position, work with different cultures and people from all different backgrounds. I love the diversity and culture at Medidata.
Favorite food? Greek food has to top the list.
What is your favorite book? Long Walk to Freedom, Nelson Mandela.
What was your first job? Grocery store attendant 
What's your favorite quote? "If we were all the same, it would be a boring world."
Our Medidatians are all unique and amazing in their own ways. In our Meet a Medidatian series, we introduce you to Medidata employees from all over the world and share some interesting, fun, and surprising facts about what makes them who they are. Check out the full series.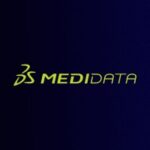 Medidata Solutions