Medidata Blog
Bringing My Dad to DIA 2012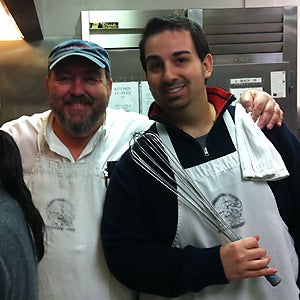 March 31, 2016
As you can see in my video post from the exhibit floor, I attended the DIA 48th Annual Meeting in Philadelphia this week. I have spoken at the DIA four years in a row now. Each time I go back, I try and make sure I do something different and try to never re-hash any content. I enjoy telling stories rather than providing a slow, painful "death by PowerPoint." This was a policy I really tried to push at the DIA's Clinical Data Quality Summit that we planned and hosted for the 2nd time this April in conjunction with the eClinical and Data Management SIACs (join a DIA SIAC here).
This year, I was tagged to provide some commentary on eClinical technology as it relates to some new quality and regulatory guidance being released to the industry. I participated in a session on Tuesday to relate my experience and knowledge of eClinical technologies and discuss where current trends are headed in light of these new eSource and risk-based monitoring guidance documents. In short, I like to take any opportunity I can to make a meaningful argument that challenges current thinking, especially when current thinking stunts innovation, and puts clinical research even further behind the innovations of Silicon Valley.
I ended my session with a story that explored how eClinical technologies could help my Dad. In a previous Geeks Talk Clinical post from March, I blogged about how he has a rare blood disease that has no cure. We recently took a cooking class at the Cambridge Culinary Institute outside of Boston where we learned how to make French macaroons (by the way, the secret is in the egg whites!) I love doing things like this because it means we can spend time together. We talked a lot, and as a result he is now interested in participating in a clinical trial so he can provide his own subjective experiences back to the research world as the search for novel therapies on his under-researched disease progresses.
I want him to find a trial that utilizes some new, innovative technologies like ePRO and home health monitoring and online patient engagement portals that not only keep him interested and involved with the research world, but also prove to my Dad that what I do at a company like Medidata can really have an impact on his quality of life. In the next three to five years, I hope to see these types of patient engagement technologies fully integrated with a cloud-based clinical development platform that helps life sciences companies lower their development costs, makes clinical trials less complex and gets new therapies to market faster. My Dad would really appreciate it.
Guest blogger Joe Dustin is a senior business consultant at Medidata Solutions. You can reach Joe by email or follow him on Twitter @eClinical.