Medidata Blog
Disruptive Innovations: Collaboration and the Impact of Cloud-Based Technology on Patient Engagement
April 26, 2016
I spent a couple of days at the DPharm Disruptive Innovations conference this month, and it was really nice to get out of the office and hear other organizations talk about the need to do clinical development differently.
It seems that maybe our industry is starting to get serious about innovation. Many large pharma companies now have groups dedicated to innovation. And not just drug innovation, but innovation in the way they design and conduct clinical research. They're coming up with great ideas and are starting to put those ideas in to practice. It was, however, still disappointing to hear how hard it is to get people to try things differently, and to listen to how many companies and vendors seem to think that digitizing today's paper/manual processes counts as innovation!
The talks that were of most interest to me were where companies had actually taken a leap of faith and ran pilots to prove that their ideas could work in the real world. A few of note were:
Novartis and Walgreens pilot to use the Walgreens network in combination with providing patients ways of collecting data at home. Did you know that 60 percent of the US population live within three miles of a Walgreens?!?!
Jansens eMED pilot using smart packaging technology and mobile devices to streamline drug labeling, accountability and dispensation.
Shire's eConsent pilot.
In many presentations, a theme of collaboration shone through and it was this same theme that led to Medidata and Spaulding Clinical being awarded the conference's Disruptive Innovator of the Year award. Glen de Vries and Randy Spaulding demonstrated live on stage how Spauldings' in-home devices could transmit data directly to the Medidata Clinical Cloud. This was cool in of itself, but additionally they announced that Medidata, in collaboration with Spaulding Clincal and Withings, is sponsoring a clinical trial to evaluate the impact of mobile and cloud-based technology on patient engagement for improved health outcomes in the diabetes community.
By providing patients with the tools they need to track behavioral factors such as weight and physical activity, the pioneering study will test whether technology can increase the rates of therapy adoption and drive better outcomes for people with diabetes.
All in all a very good week!
More on Michelle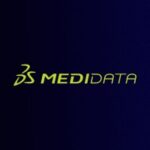 Medidata Solutions