Medidata Blog
Blurred Lines: The Intersection of Clinical Data Management and Clinical Operations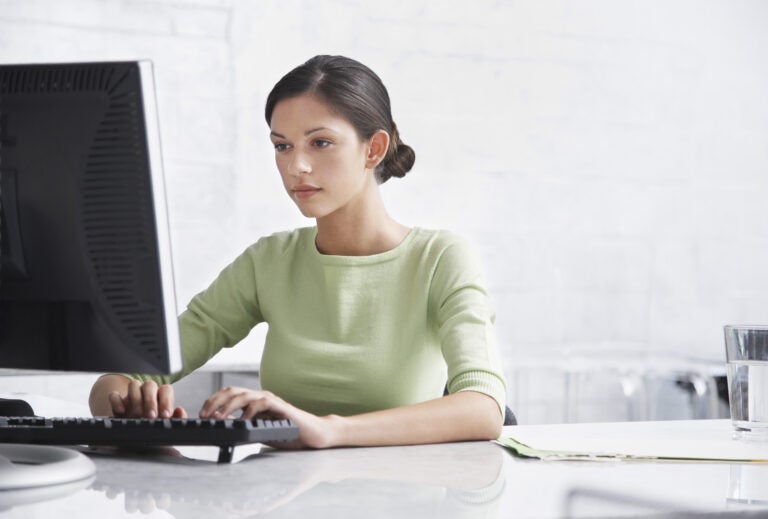 June 30, 2022
Medidata recently hosted its second webinar in The Future of Clinical Data Management series, titled Blurred Lines: The Intersection of Data Management and Clinical Operations. 
We would like to thank all of those who attended this interactive webinar that brought together industry experts Lisa Moneymaker (Senior Vice President of Clinical Operations Technology, Medidata) and Wayne Walker (Senior Vice President of Rave Platform Technologies, Medidata) to discuss the future of data quality in clinical trials.
Data quality has become an increasingly important topic, given that there are instances in which more than 70% of clinical trial data points are not collected via eCRFs. Thus, traditional clinical trial data management and monitoring approaches using edit checks, listings compiled by programmers, queries, and 100% source data verification and review simply don't work anymore. Increasingly, data management teams are evaluating approaches from clinical operations, such as risk-based quality management (RBQM), to increase focus on critical data. 
The webinar covered several key themes: 
Who Owns Data Quality, Anyway? 

Decentralized Clinical Trials (DCTs)

: Are They Changing the Game for Clinical Data Management and Clinical Operations? 

RBQM and Data Management: Like Peanut Butter and Jelly 

Gaze into the Crystal Ball: What Does the Future Hold? 
Thank you again to all attendees. We had over 100 representatives from more than 80 unique companies in attendance and we truly appreciate the time you took to attend the webinar. We hope you gained valuable information that is immediately actionable. 
This was a highly interactive session. Unsurprisingly, we received requests to share poll responses and participant questions. Below are the results.
MEDIDATA POLL QUESTIONS AND RESPONSES
Poll #1: What is your role in your organization?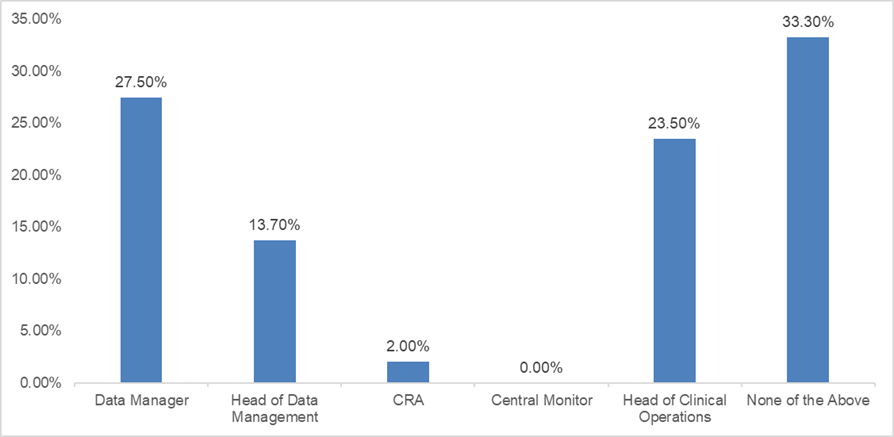 (n=51)
Representation was good, with attendees from CROs, biotech, medical devices, big pharma, and midmarket companies. Over 40% were data managers/from data management, 25% were from clinical operations, and the rest were clinical research associates (CRAs) or held other roles within different organizations in the industry.
Who Owns Clinical Data Quality, Anyway?
Poll #2: Which of these roles has the greatest influence on the quality of data in a clinical trial?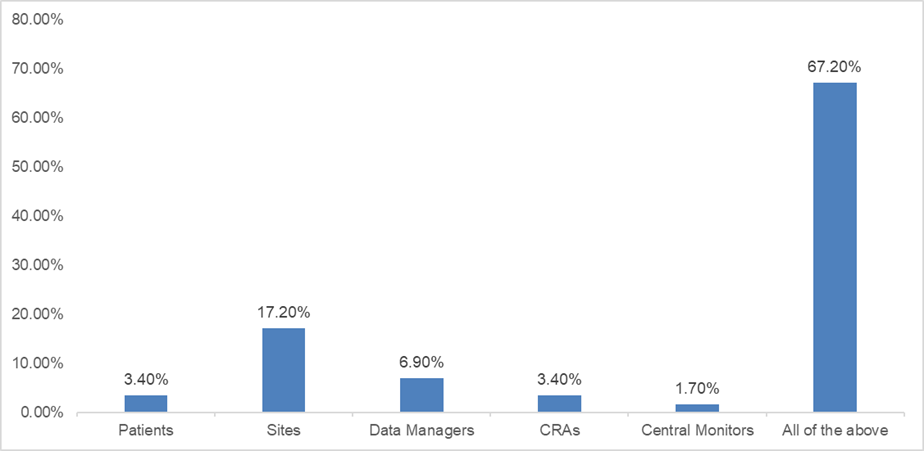 (n=58)
Lisa Moneymaker: When we talked about data quality in the past, we thought about responsibility after receipt. Now, with technologies allowing patients to interact with trials more directly, we have seen a shift from a post hoc cleaning to what we could be doing up front. 
The majority of attendees responded that everyone, from patients, sites, and data managers to CRAs and central monitors, influences data quality—I absolutely agree.
Wayne Walker: Yes, traditionally, this role was for data management and CRAs to take on, but this is a team effort, which ensures that we have quality all the way through. However, we do have to be aware of data silos, duplication of efforts, and how to best manage and/or eliminate these potential areas. This is a topic that will be covered next. 
Lisa Moneymaker: Duplication is a trend that has come out in the last year, with more accessibility of site direct data to sponsors and CROs and people interested in regularly monitoring data. 
Poll #3: To what extent are you seeing an overlap of activities between data managers, CRAs, and central monitors (for example, specific reviews done by data managers using reports that might also be used by central monitoring reviews)?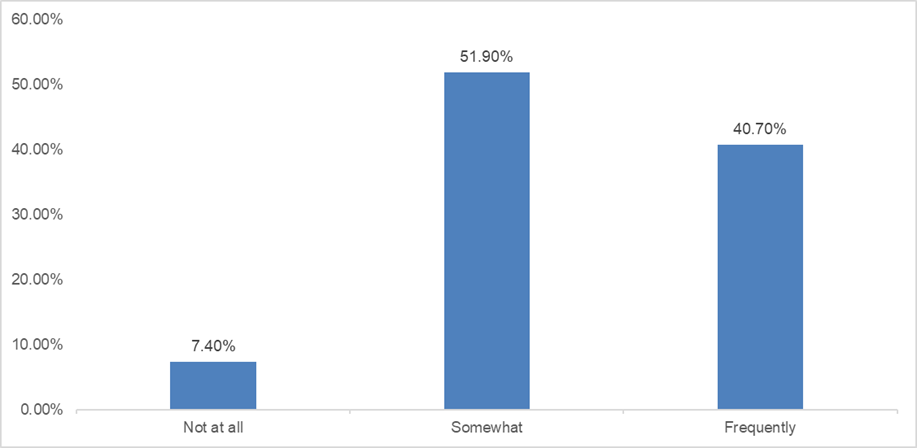 (n=54)
Wayne Walker: 40% are frequently seeing an overlap of activities. At Medidata, we are trying to facilitate closer collaboration within organization groups through technology that provides better visibility into what everyone is doing.
Lisa Moneymaker: There is an ongoing effort to reduce cycle time. It can lag quite a bit, depending on if you have applied a historical approach to data cleaning, monitoring, and trend analysis. Reducing lag time is critical, but you must have systems ready to support it. This is where Medidata comes into play. With tools that operate using a holistic view of the data, you can make better decisions quicker. For example, Medidata is reducing duplication of protocol deviations between data management and clinical operations and reconciliation errors. 
Decentralized Clinical Trials: Are They Changing the Game for Clinical Data Management and Clinical Operations?
Poll #4: What do you think is the biggest challenge decentralized clinical trials have created for data management and monitoring processes?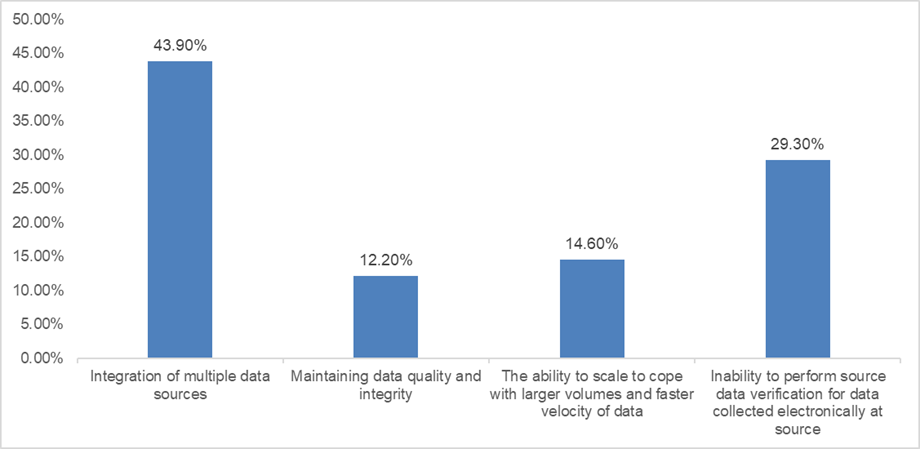 (n=41)
Lisa Moneymaker: The biggest challenge indicated by attendees is integrating multiple data sources. This is highly consistent with what we have been seeing in our work. We know that aggregation and integration are huge technology challenges. Medidata is actively developing solutions in this space. Attendees also indicated challenges such as an inability to perform source data verification (SDV), maintain data quality and integrity, and cope with burgeoning data volume and speed. 
Wayne Walker: The inability to perform SDV is interesting. Organizations have different risk tolerances around what they actually verify or not. There is no one-size-fits-all solution for how or whether those tasks actually need to be performed. As a technology provider, we have to offer these different options for customers.
Lisa Moneymaker: With regards to companies that have a higher risk tolerance, we have seen customers/partners of ours who have eliminated SDV. It is something that the industry has been talking about for years. But to see companies actually get over that hump and push for change is phenomenal. They want to focus on value-added activities and technologies. This is where an AI/ ML perspective can help identify statistically significant outliers that could have a grander impact on the entirety of both the safety and efficacy of that study. 
RBQM and Clinical Data Management: Like Peanut Butter and Jelly
Poll #5–8: How often are you identifying critical data and processes to drive focus in your work, consulting with central monitors on their findings, leveraging AI-assisted anomaly detection, and undertaking reduced or targeted source data verification?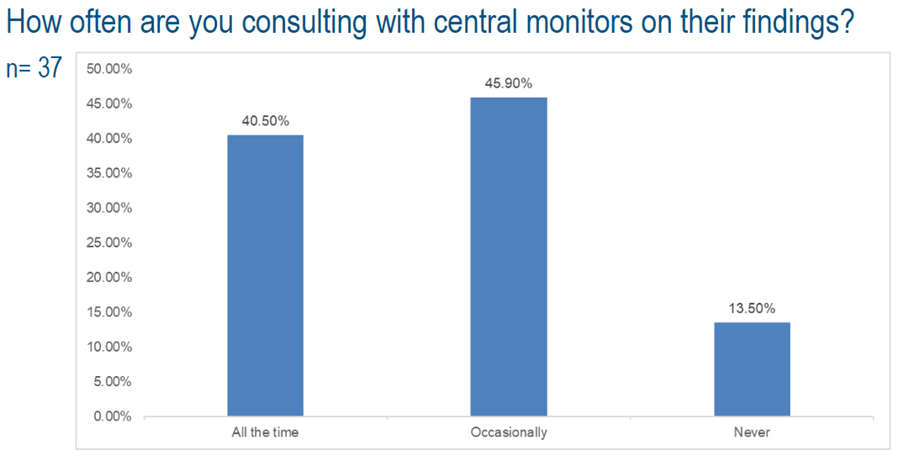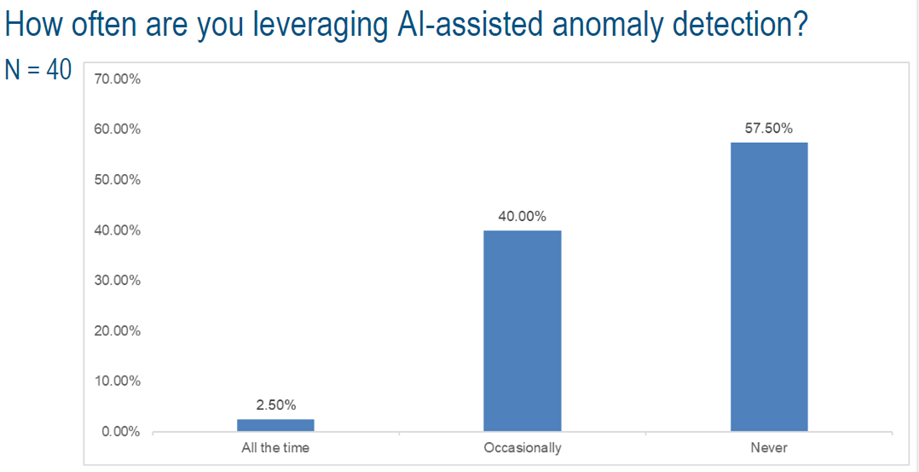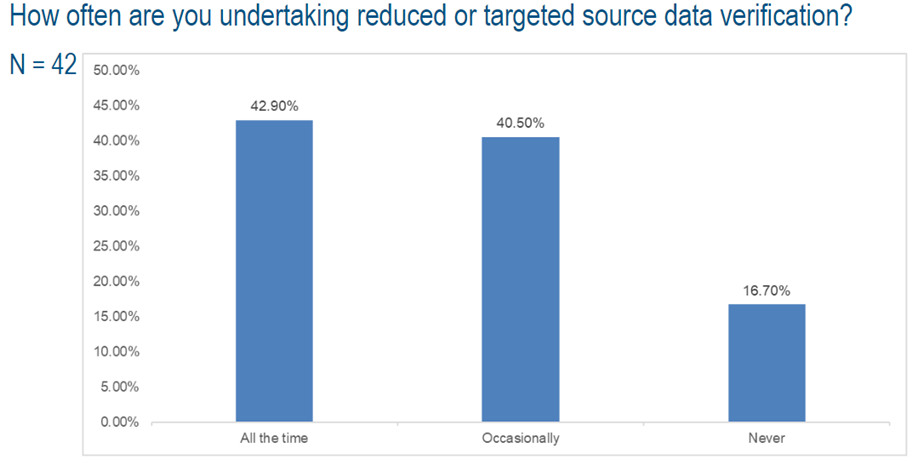 Lisa Moneymaker: If you are doing any these, you are taking a risk-based approach. Many of you are doing some central monitoring activities, looking at trend analysis and having AI to support you in that process. All of these activities are about moving from RBQM as a niche group to just great data management. Such an approach means we do not want to look at everything when we can examine the things that are most statistically important within the trial itself. 
Wayne Walker: We have seen an increase in more of a risk-based approach within data management, looking at anomaly detection, patterns, and outliers. These aspects of data review are more widely adopted in the data management space than ever before. Non-eCRF data is expanding very rapidly, and we have seen a reduction in the amount of eCRF data as a percentage of the clinical trial data set; but even eCRF data is going up. It is non-eCRF data that is getting massive, and there is no way that those datapoint-by-datapoint review processes can scale. 
Gaze into the Crystal Ball: What Does the Future Hold? 
Poll #9: Are you using/when do you plan to use AI/ML in your workflows (e.g., auto-coding, auto-query generation, anomaly detection, data transformation, etc.)?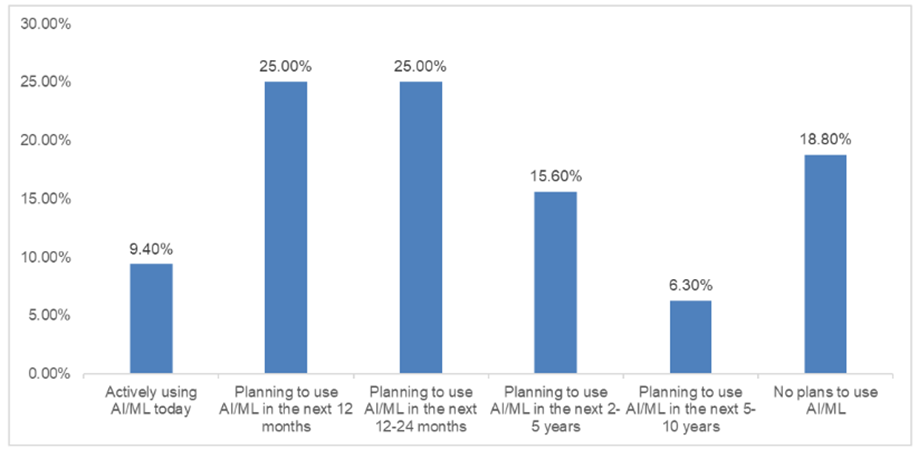 (n=32)
Wayne Walker: Responses indicate that 10% are actively using it today, 25% will in the next 12 months, and the rest are either way out into the future or have no plans for it. Here at Medidata, we use ML in our coding solutions today, whether it be through suggestions or automation of coding based on a risk tolerance and a level of confidence. 
Lisa Moneymaker: We are seeing a huge increase in interest in this space and expect a boom over the next 12–24 months. For those who do not have it on their plan, I know it can be overwhelming, especially for midsize, midmarket sponsors and CROs. We at Medidata can absolutely help you with this. The democratization of these technologies has been front of mind for us. It has been brought down to a very accessible level. It plays its role in the background and then presents findings that you can action without having to be the one who's programming it. There is no statistical programming or experience needed.
Poll #10: What do you think the future organizational structure of your clinical development teams will be?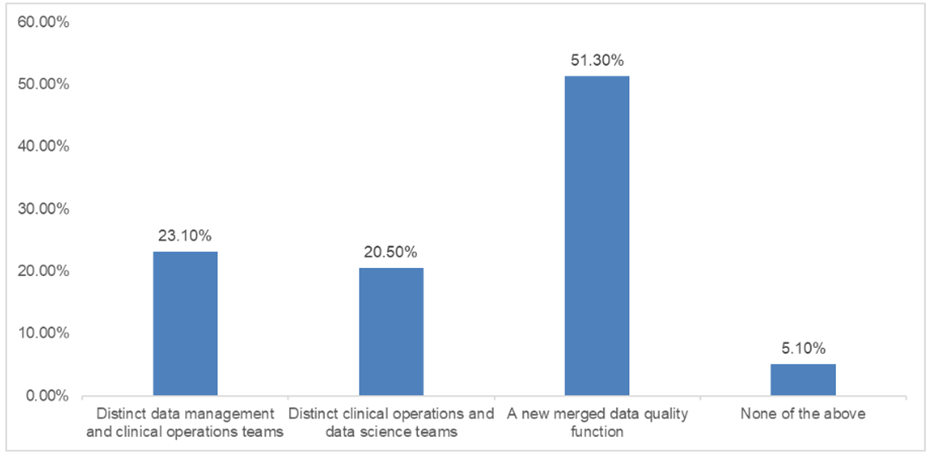 (n=39)
Wayne Walker: Almost half of attendees indicate a new merged data quality function. This does not surprise me, and we need to provide the tools and technology to facilitate that. 
Lisa Moneymaker: Let's bring AI and ML into the picture. We spend the vast majority of our data management time across the adverse event and medical history and concomitant medications domains. Through AI and ML technologies, the systems are able to take the most rote of these queries and auto-identify them. That frees up the data management team to get more investigative and prevent data science from becoming its own additional silo. 
PARTICIPANT QUESTIONS AND RESPONSES
How do you see core clinical trial technologies, EDC, RTSM, [and] CTMS, evolving as we move to more decentralized trials?
Wayne Walker: Decentralized trials are many things to many people, but there's still an element of core technology that is needed, and this includes Randomization and Trial Supply Management (RTSM) and electronic data capture (EDC).
Lisa Moneymaker: Historically, clinical trial management systems (CTMSs) were made for a site-centric world. We are evolving toward a need for very specific changes in a trial management system in response to DCTs and risk-based strategies. For example, traditional monitoring at the site level needs to be leveled up to a country- or study-level report and ensure that you can record and review as opposed to just SDV.
What's the definition of a central monitor?
Lisa Moneymaker: It is the individual looking at the data centrally and remotely. 
It is interesting in how not just the clinical operations and data management teams can coordinate task reviews but delegation can occur across other cross-functional teams, whether it be pharmacovigilance, clinical development, [or] biostats. Any comments as to how this can be enhanced?
Lisa Moneymaker: We have tools that specifically address this. For example, Medidata Detect is a robust system that contains patient profiles that allow for intensive review from a medical monitor side. This same tool also offers trend analysis (KRI and QTL), auto-query generation, centralized query management, and bringing them together with artificial intelligence (AI)/machine learning (ML) tools for statistical monitoring and advanced statistical analyses. Having all of this in a central tool means I can see what someone else has done and then take the most appropriate action. 
Wayne Walker: I will add that each organizational group is actually looking at different data sets. There is a latency that you may not be aware of regarding what other groups are actually doing. 
What are you seeing companies do to start adopting RBQM and other risk-based strategies?
Lisa Moneymaker: We have seen companies broadly adopt targeted SDV. But I do not think it is the right starting point. A great risk management approach should include a comprehensive risk assessment. These, such as the TransCelerate's Risk Assessment and Categorization Tool, were a great early mover in this space. Taking it one step further into critical data and critical process analysis is what unlocks the power of a risk-based approach.
We appreciated this opportunity to gauge the pulse of the industry and see where organizations are in the evolution of their clinical data management and clinical operations roles, processes and technologies. 
Please contact us to discuss your clinical data management and clinical operations challenges and discover how Medidata can help.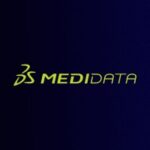 Medidata Solutions