Medidata Blog
Meet Our Medidatian Women

March 09, 2020
March is Women's History Month. Medidata is proud to celebrate the social, economic, cultural and political achievements of women. March 8th marked International Women's Day, a call to action for accelerating women's equality. This month, female Medidatians (that's what we call Medidata employees) from around the globe will share insights on their professional journeys and personal interests here on the blog. Happy Women's History Month!
Meet our Medidatians: 
Ana, Director, Acorn AI Product, in our New York City office. Ana heads Value Discovery Solutions at Acorn AI, which includes the biomarker discovery tool Rave Omics.
Vaishali, Client Services Principal, in our New Jersey office, who manages the client services team focused on ensuring that Medidata's partners are successful while they are implementing Medidata's technology. 
Kate, Senior Business Analyst, in our UK office, who determines the operational objectives of our customers by analysing business functions; gathering information; evaluating output requirements and ensuring we are adhering to our product roadmap.
Why did you join Medidata? 
Kate: To be part of a company actively making a difference and for the kind and inclusive culture.
Vaishali: I was contracting as a Data Manager for a Pharma company and wanted to do something different, but would use the knowledge that I had gained as a DM. 
Ana: I am passionate about personalizing medicine and felt the industry needed better technological solutions to make the promise of precision medicine a reality. With most of the industry's clinical trials flowing through our systems, Medidata is in a very unique position to help the industry. Our team is able to innovate quickly, and through our data and experience, help our customers innovate. Ultimately, this is changing how clinical trials are run, making them faster, better and cheaper for pharma companies, but most importantly, for patients. 
What's your advice for others looking for opportunities as a Business Analyst?
Kate: As a business analyst you tend to sit at the intersection of multiple business units. It is important to listen to everyone and their viewpoints  when documenting requirements, be they technical or feature requirements.
What is your favorite project or moment during your time at Medidata?
Vaishali:  I will always remember the very early days of the Medidata UK offices, some life long friendships were made in those early days.
What are you working on?
Ana: I work on everything 'translational data' at Medidata. A few of my recent favorite projects include working with the Castleman's Disease Network to find a proteomic subgroup of patients who responds much better to treatment, and working with the Omics team to deploy the newest version of our Omics software, which streamlines the process of incorporating genomic information and its analysis in a clinical trial.
What's your favorite Medidata perk or benefit? 
Kate: Going to new hire orientation in the states was a brilliant opportunity.
Where did you work before Medidata? 
Vaishali: GlaxoSmithKline.
What did you do before Medidata?
Ana: Prior to Medidata, I worked at Celmatix, a women's health biotech developing a genetic test for female fertility. Initially I was one of the research scientists who developed the test. Later on, I was a product manager developing the tech that supported the genomic analysis. For my scientific training, I did a PhD in genetics at MIT, where I looked at how having too many chromosomes (like in Down Syndrome or in most tumors) is toxic to cells, and a postdoctoral stint at Rockefeller University to understand how Alzheimer's disease affects brain blood clotting. 
What's your favorite quote? 
Vaishali: Not a quote but a personal mantra that works in most scenarios  "I can only control my actions and not anyone else's."
When you're not at work you can find Ana…
Traveling, cooking, or checking out an art exhibit.
If you could be anyone who would you be? 
Kate: Not too sure I want to be anyone but I quite admire Alexandria Ocasio-Cortez for being so determined.
As we celebrate Women's History Month and International Women's Day we highlight some of our unique and amazing female Medidatians, and share interesting, fun, and surprising facts about them. For more information about our Diversity and Belonging initiatives check out our D&B page.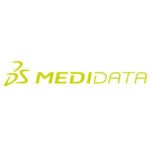 Medidata