Medidata Blog
The Month of #MediHack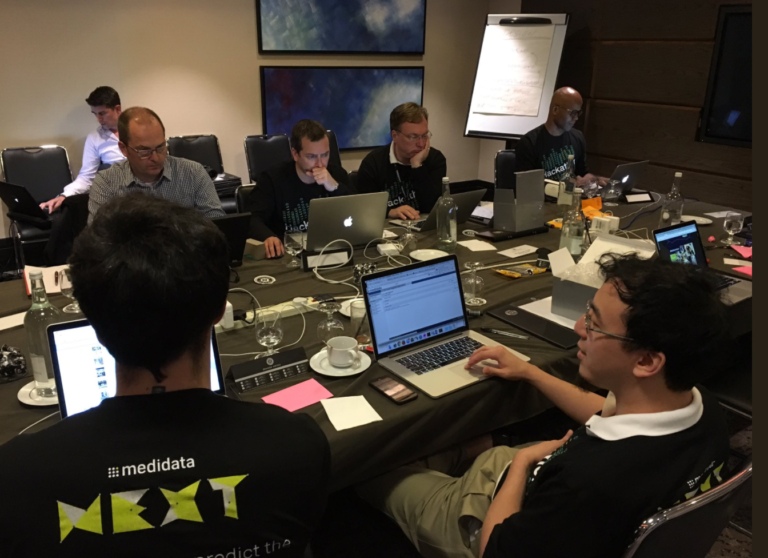 August 29, 2017
[Ready for Medidata NEXT in New York City November 8-10? Don't miss out on early bird discounts ending September 1.]
Ever wondered what really goes on during a hackathon? Is it just a group of people aggressively punching away at their keyboard fast and furiously? (Cue Jim Carey).
I've been fortunate enough to attend the recent #MediHack events in Europe and Asia, and, yes there are developers and engineers building code, and I did see black screens with strings of green numbers and letters, and heard words like "I'll send you the string," "config parsing" and a few "uhhh ohs"....but at the end of the day, #MediHack was a collaborative environment where a diverse group of strangers came together to create new tools and bring ideas to life in the clinical trial space. And to my surprise...even the girl from marketing found a welcomed place at the table. Over the month of June #MediHack made stops in four countries, two continents totalling over 40 hours of hack time with customers and thousands of air miles to create six new tools showcasing the power and flexibility of the Medidata platform APIs, and the value of ideas that can be brought to life with them!
Here's what happens when a combination of industry subject matter experts, data managers, users, Medidata technical experts and even a girl from the marketing team came together to share ideas leveraging the power and flexibility of the Medidata platform:
MediHack Basel: The winning team created an automated tool for conducting and documenting study edit check user acceptance testing. In a matter of hours, they created a tool to reduce time, improve quality and eliminate key pain points of the UAT process.
MediHack Tokyo: The winning team built an Alexa interface (Amazon's intelligent personal assistant) for Medidata Rave to collect data for ePRO. The runner-up developed a specialized status report using extracts from audit trail reports and ALS output from Architect, and then post-processed it in Visual Basic for applications in Excel.
MediHack Berlin: The winning app used various platform APIs to generate test data to improve quality, reduce time for trial build testing, and simulate different enrollment scenarios.
MediHack London: Using Patient Cloud to collect real world data into Rave, the winning team extracted the data using D3 to produce patient data visualization with 3D Virtual Reality. Absolutely cool by itself, but the bonus, it was developed as a trial that NEXT participants could use to enter THEIR data and see it along with the other attendee data in the 3D goggles.
It was a busy but exciting month mixing business experts and hardcore developers to bring eclinical ideas to life in an accelerated setting.
The MediHack tour takes a much deserved hiatus but returns to New York City November 8-10th for the largest hackathon of the year as part of Medidata NEXT NYC. Register today to reserve your seat in NYC!