Medidata Blog
My First SCOPE Summit (and a recap)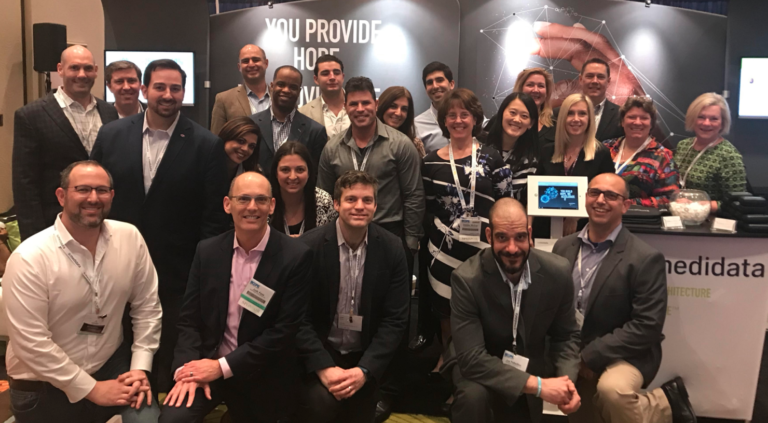 March 14, 2018
I recently got back from the 9th annual SCOPE (Summit for Clinical Ops Executives) event in Orlando, which featured 18 different tracks, 3 plenary keynote sessions, and a host of interactive breakout sessions. My colleagues at Medidata have been attending SCOPE for years since we have a platform that goes beyond EDC to unite all stakeholders in clinical development—so they highly recommended I follow suit. It was nice to join sessions focused on innovation in all aspects of clinical trial planning, management and operations, but a key takeaway for me was the evolution of eConsent. 
Specifically, a roundtable discussion moderated by those implementing eConsent at Medidata and IQVIA got at the core of what the real barriers to adoption are today. In this session, I learned that
A lot of companies want an answer to the question, "What are the main barriers to eConsent adoption?" One could say, "What is the barrier for adopting <insert any emerging technology here>, and the reasons would be similar in any industry.  The answer seems to revolve around change management and fear of new technology in a highly regulated environment. In our everyday professional lives, we frequently encounter those who are skeptical about embracing change; this is especially true with any new technology implementation because it often involves an abrupt shift away from the status quo. The barriers are not global adoption, features, or cost, but rather, being able to eventually cross the chasm, as we say.
The value of eConsent is primarily focused on the patients themselves. This comment sticks in my mind: "What is the value of a truly informed patient?" Consenting a patient electronically splits the process into two areas—the inform and the consent. Properly informing patients on their roles, responsibilities and risks in a clinical trial is more easily understood when administered electronically through a patient-friendly, multimedia experience. Evidence of this exists in metrics that show better memory retention and understanding, which may result in fewer dropouts, more complete datasets, and hopefully fewer delays in overall trial completion.
The ROI of eConsent to sponsors and CROs can be realized through a logical evaluation of the reduced monitoring burden, improved site communications, and real-time data access. The less tangible factor of risk elimination has a significant impact on the value of eConsent, but quantifying risk avoidance can be a challenge. The reduction of 483 FDA letters to a single site is one example, but also creating savings in clinical monitoring by reducing queries and protocol deviations with better version control of consents around the world can positively impact site performance.
While I spent most of my time attending sessions related to patient engagement, clinical technology and innovation, and mobile health, my colleague Dave McKie, VP of marketing operations at Medidata, focused more on the business behind the trial. Here are some of his key takeaways from SCOPE: 
Poor business and operational management in life sciences yields opportunities for vendors and partners in the space to collaborate more smartly and efficiently
At the clinical trial sponsor level, teams remain very siloed and need help to improve collaboration and communicate more effectively with one another
With the rise of increasingly sophisticated technology powering data analytics, clinical research is evolving dramatically
EHR integration is the real solution to eliminating 100% SDV, with progress dependent on site adoption. There is a growing movement for sites to become "eSource ready," which could be the topic of an entirely different post
Medidata also unveiled its Edge family of products during the conference—a holistic suite of intelligent trial planning and management solutions that enable clinical ops teams to optimize study design, feasibility and site grants via benchmarking from 14,000+ studies. See the press release to learn more about this new frontier in clinical operations.
All in all, I found this year's SCOPE experience to be memorable, worthwhile and fun, and hope these takeaways will inspire you to examine or reexamine your industry's pain points, challenges, and operations in a new way.