Medidata Blog
How technology is helping to put patients at the center of clinical trials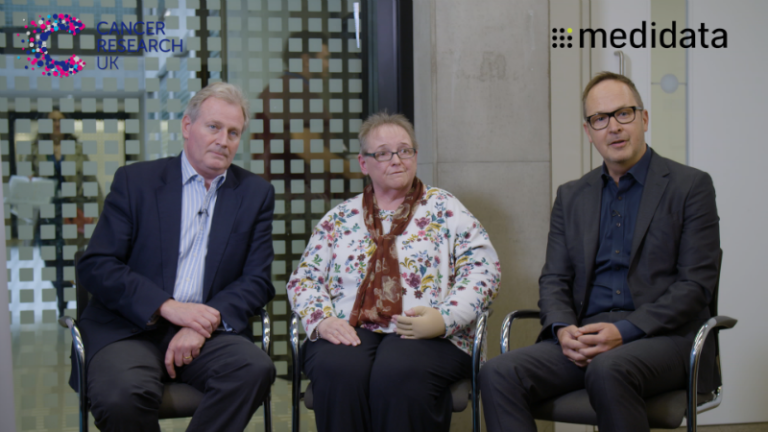 July 22, 2019
Christian Hebenstreit, GM & SVP EMEA, Medidata Solutions
I recently participated in a podcast on the topic of patient centricity and patient involvement in clinical trials - an important subject that is garnering increasing attention across the life sciences industry. Recorded at Cancer Research UK's (CRUK) head office in London, I was lucky enough to be joined by Peter Johnson, Chief Medical Officer for CRUK's Centre for Drug Development, and Margaret Grayson, a cancer patient who advocates for greater patient centricity across the clinical trial lifecycle. During the podcast, I spoke with both Peter and Margaret about patient centricity, and how technology is helping to ensure that patients are at the center of clinical trials.
Patient centricity ensures that participants are central to all that is happening. It's still a relatively new concept within the healthcare and life sciences industries, and it's something that, until more recently, clinicians, researchers and pharma have been hesitant to integrate wholly into clinical trials. Concerns relating to the confidentiality of patient data, regulatory and compliance issues, and not having access to the right patients at the right time, have been contributing factors. Indeed, the long-standing view that "doctors are the experts" has even served as a barrier to designing and developing clinical trials around the patient. As Margaret says: "As an industry, we need to listen to patients more."
Encouragingly, we're seeing a shift in thinking on this front and perceptions are changing for the better. People are recognizing that patients like Margaret are experts in patient experience and, as such, are absolutely critical to better clinical trial and drug development outcomes.
Driving Patient Centricity and Involvement
An anecdote from Margaret during the podcast affirmed how important clear communication is as a first step in driving patient centricity and involvement: "One head and neck trial project that I was involved with was struggling to recruit patients. We decided to find out why and discovered that the information provided to patients hadn't been explicit in saying that their involvement would not delay any necessary surgery. After this came to light, the clinical trial project team worked hard to provide clarity and sure enough, recruitment improved significantly over the coming nine months."
This is one area where the move from paper to digital can really play an important role, too. Reams and reams of densely typed information sheets can be difficult to digest and understand, especially if you are a cancer patient who is living with a high degree of stress and with no medical knowledge or background. In these instances, a short, five-minute informational video can be far more effective in relaying the necessary detail in a way that can be easily understood by the patient. This approach also promotes better communication with the patient's family and friends who are also undergoing a stressful period in their lives, because they can watch the informational video and better understand what the trial journey will involve for their loved one.
The ability to watch a video or audio recording on a smartphone or other mobile device can, in itself, also improve the patient experience, and is especially relevant for young patients and those who require additional support due to having a disability. Catering to their needs and preferred ways of working will help to build better relationships with larger and more diverse trial populations. Peter summed this up well: "Understanding what patients are going through and what they are able to understand is really important. We need to simplify processes for them wherever possible."
Getting patients onboard with new technologies
Clearly, making life as easy on the patient as possible is a top priority, and technology plays a vital role in this regard. Onboarding a patient to a clinical trial requires their consent - something that has, in the past, been a drawn out, multi-stage process. Digital consent tools are transforming this by providing innovative, regulatory-compliant, and patient-friendly electronic content systems for clinical trials. Medidata's Rave eConsent, for example, automates the patient enrollment process, enabling patients to be onboarded quickly and efficiently. Technology such as this improves consent tracking management, reduces informed consent errors, and eases the administrative burden on both patients and study teams. The benefits speak for themselves.
'The distance to their smartphone'
New technologies are also helping with the ongoing challenge to find the right quality and quantity of patients needed to ensure a successful - and patient centric - trial. Patient location is becoming less of an issue as virtual trials increase in number and scope. In this way, mobile devices and wearables are providing new and developing opportunities with patients now only ever an arm's reach away from their trial (the distance to their smartphone). As a result, the global life sciences industry is collecting larger volumes of better quality data, and is able to connect with patients in new and more meaningful ways.
While these advancements will create life-changing results for patients through better quality studies designed off the back of larger and more robust data sets, both Margaret and Peter agreed that there is still much work to be done in terms of shifting mindsets so that clinical trials are not only centered around patients' needs and best interests, but are actively engineered to involve them - before, during and after the trial.
The technologies that we need to do this have arrived, we just need to keep increasing the volume of virtual trials so that their undeniable benefits can be seen by the masses, and on a global scale. We are seeing the positive transformation of an entire industry and perceptions are changing for the better though there is still work to be done in ensuring organisations as a whole become more patient centric.  Most important of all, patient experiences and outcomes are improving and that's extremely encouraging. Indeed, it is these patients, people like Margaret, who have been some of the most vocal advocates for change when it comes to increasing patient centricity and involvement in clinical trials, and there is no more compelling argument than that.
To listen to the podcast in full, please click here. To find out more about how new technologies are driving greater patient centricity and patient involvement in clinical trials, visit.