Medidata Blog
Show us #howyoudovirtual for Medidata NEXT Global

September 03, 2020
We've all spent many, many hours working from makeshift home offices, in our best business casual—or athleisure wear—giving 100% at virtual conferences, meetings, even joining a Zoom happy hour or 12…
Now, in anticipation of the biggest EVER Medidata NEXT Global, we've prepared some tips and tricks to look your best when virtually networking. Our lead video producer, Jared Thompson, has some simple steps to help reduce the anxiety and make you feel and look your best:
1. Lighting
Use natural light from a window, a well-lit room, or a table lamp directly behind your webcam

Harsh light can be diffused with a piece of paper taped over the source (i.e. your lamp or window)

The direction of light is very important—make sure the source is directed at your face rather than your back

2. Framing
The ideal position for a webcam is right at eye level or just above—stacked books can elevate your computer if need be

Frame yourself from the mid-chest up

Also, consider your background—try to avoid too much clutter, but a few small items can help liven up the space

Leave some distance between yourself and the wall behind you for a more professional look

If you're using a phone, make sure it's in landscape mode (horizontal)

3. Audio:
Use a quiet room—close windows and doors, and turn off any loud appliances like air conditioners

For a small amount of money, you can buy a

USB mic

to significantly improve your sound quality

Quick tips:
Take 30 minutes to set up and test the day prior to your presentation, so you can focus on your content when the day arrives

Keep a glass of water nearby just off camera

Maintain good posture and avoid swiveling in a chair
We're excited to see #howyoudovirtual—don't forget to register for Medidata NEXT Global!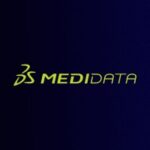 Medidata Solutions