Medidata Blog
Tame Clinical Complexity with Medidata Edge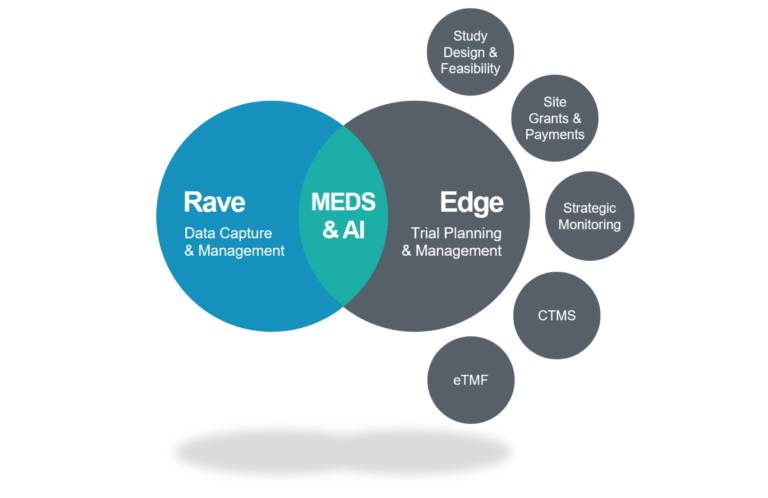 May 03, 2018
Join us at Medidata NEXT London April 25-26.
Clinical complexity is increasing the burden of managing and operationalizing clinical studies. During our previous post we investigated how this is being felt throughout the clinical development process, starting with trial design, site and country feasibility, patient availability, site grants and more. Then we looked at how clinical complexity impacts study management and can be overly manual and burdensome, especially in terms of taking a 100% source document verification approach to monitoring and a 100% manual document submission and management process in support of the trial master file.
At Medidata, we've partnered with our customers and partners to rethink how we can make each of these processes more intelligent, more streamlined, and more automated. Recently we introduced the Medidata Edge family of products to showcase how we help sponsors and CROs solve the top complexity challenges in clinical development.
Optimize Patient Burden in Study Design
Taming clinical complexity should start with study design. No two studies are created equally, and we've found that some studies do a better job of reducing patient burden. Edge Design Optimizer (formerly Design Optimizer) is a data-driven solution that streamlines your study design, reducing inefficiencies and site/patient burden. Our unique benchmark data and analytics ensure a lean and objective study that meets your clinical and statistical outcomes while minimizing cost, complexity and the site/patient burden.
Optimize Site Feasibility and Patient Availability
Next, let's turn our attention to finding patients, which in most studies is facilitated through the selection of sites. And just as no two studies are created equally, the same applies to sites. Some sites have historically demonstrated that they do a better job recruiting patients in specific indications and therapeutic areas than others.
Medidata's Edge Study Feasibility (formerly OPAL Feasibility) adds certainty and efficiency to the country and site feasibility process by leveraging Medidata's industry-leading site performance data. Sponsors and CROs can now visually realize the highest enrolling sites, improving patient enrollment and limiting investment in lower performing sites. Within the tool, users can search and filter sites by phase, therapeutic area, indication, and country. This allows for a simple and easy to use interface that helps users improve site strategies and discover new sites.
Optimize Site Grants and Site Payments
The amount and timing of site payments can also create inefficiencies in trial planning and management.  Granting sites too much can be wasteful; granting them too little can create performance impacts. Timing of payments is also critically important. The standard invoice and payment window of 90 days or more is simply unacceptable to many sites. As a result they de-prioritize or drop out of studies altogether. At Medidata we've worked with our customers and partners to holistically address these issues.
With Edge Site Grants, sponsors and CROs can reduce investigator site costs. Only Edge Site Grants uses the industry's largest database of negotiated procedure costs to protect you from overpayments, while assuring sites that they are being fairly compensated. It also speeds budget development and negotiation by fast tracking budgeting by giving all parties access to objective industry benchmarks and efficient electronic negotiation. Finally, it reduces compliance risk by reducing the risk of underfunded studies and benchmarking fair market values to ensure that your payment levels are always defensible to regulatory agencies.
Paying clinical sites is also critical part of any study. They need to be reimbursed for their work and costs incurred. With clinical sites under increasing economic pressure, sponsors and CROs that are able to consistently pay sites on time, and correctly every time, have an advantage. That's why we created Edge Site Payments (formerly Medidata Payments)—the industry's only global site payment technology that's driven by EDC. It's a new way to pay clinical research sites. It's a unified, cloud-based technology that makes site payments as easy as payroll. Your accounting department doesn't skip paychecks or miscalculate wages and taxes, and now your clinical finance team doesn't have to either. Let timely, accurate payments speak for themselves.