Medidata Blog
A Techie's Diary of #MediHack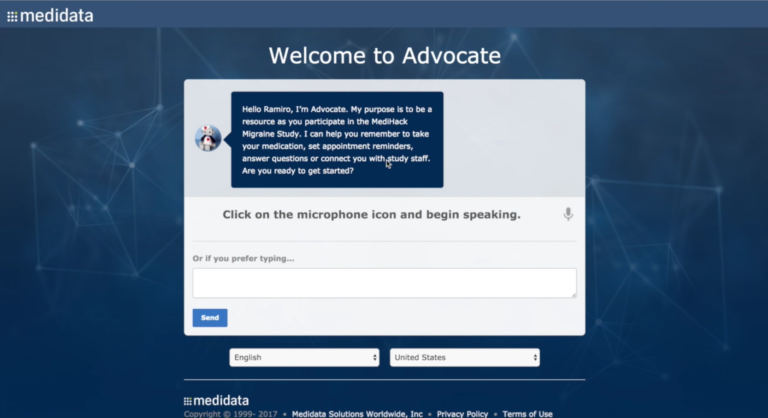 November 02, 2017
Ramiro Enriquez is a senior applications engineer at Medidata and was the second-place winner at the 2017 Medidata internal hackathon. As we get ready for #MediHack at Medidata NEXT in New York City, November 8-10, Ramiro shares his experience participating in Medidata's high-adrenaline hackathons and what newcomers should expect.
My hackathon experience was an amazing journey that took me through the design process all the way to the implementation of an idea. It started with a powerful and useful session about design thinking, which helped me to think through problems and how to solve them – while putting aside all possible technical knowledge that I have.
Looking back there were so many possibilities; all of the ideas that came to life in such a short period of time demonstrate the wide range of possibilities that can be integrated with the Medidata platform.
It all starts with an idea
I came to the hackathon with an idea in mind, a simple AI that would read physical documents (forms that patients fill out) and then process the contents and post the data to Rave. Before coming to the hackathon I was focused on the implementation ("there is OCR for this, maybe the AI should learn the different possible ways that people handwrite letters, also narrow the possibilities to use the structure of the study that patients are participating in"). From this starting point I knew I wanted to challenge myself to see if I could come up with a compelling algorithm in the short duration of the event.
Design thinking
When I stepped into the design thinking session I thought, "I'm ready to code!" But the session helped me to stop and think. I was focusing on what it will do, but I was not thinking about what it would look like.
After a few activities, it was clear that I had a million more ideas that I wanted to share with the whole room; this super AI that will learn all the patient needs and will help them to communicate with their doctors; all these devices that people have, like Fitbit or their phones, it's going to aggregate everything and you just have to talk to it and it will do everything for you. I also came alone, and didn't have a team, so design thinking was a great place to bounce ideas with other people and listen to ideas that they had.
Team formation
I started discussing ideas with people around the room, and after a couple of minutes of looking at other people's ideas I found my ideal teammates. They were considering how the patient is the most important part of the process. Immediately I liked the team. I liked the idea and it was actually aligning to what I wanted to achieve: helping patient do things in an easy way.
We started talking about how we would tackle it, and the design thinking session walked us through this process, giving us tools to help us to land all our ideas into a MVP (minimal viable product), in other words; something feasible and realistic that we could achieve in the next 28 hours.
The achievable minimal viable product
Next we started aligning the ideas in a platform that would have two ways to enter data and visualize it: OCR capabilities and voice-activated data capture. We also took into consideration the access to reporting, ways to share the data with other people, and ways to allow other people to capture data for you.
We noticed that it was extremely ambitious to try to come up with such a robust platform in such a short amount of time, so we started striping out certain things. We ended up with an achievable minimal viable product; a chatbot that would act as a wizard to help you fill study data.
Coding, coding and coding....and iterating
At that point we also ended up with a team of two – only a developer (me) and a designer. We needed to start right away and so we started coding, coding, coding, and iterating. Thinking on the fly, my teammate created a beautiful design and we integrated the functionality. We kept iterating.
The first day was almost to an end, and the application still looked half-baked. In the middle of the night I was alone coding as my teammate had to recharge batteries and take a shower at the hotel. I stayed working and began talking to my laptop in the middle of the night. When I received a weird look from the person sitting next to me. He asked, "Are you talking to the IT?"
With that I realized that a proper chatbot should be talking back, so I decided to include such functionality. Then I started the proper integration with the platform, in our case we needed a gateway to feed data into the platform. We decided to use RWS (Rave Web Services). This allowed us to post the data and see it in Rave. We focused on study data being asked and answered in conversation, which was being sent to the platform, and then could be used by all the components within it.
At 4 a.m., exhausted with integration in place, I decided to rest a little and continue a few hours later. I found a place to sleep, most of the people were on sofas or in sleeping bags. There were some brave souls that decided to go all night. I was not one of them; I needed at least a couple of hours of sleep.
As the clock struck 6 a.m. and the sun was rising in New York City, I had to continue my journey. I took a shower to help me wake up. We still needed to polish more details before we were comfortable with the application we were building.
My teammate was at the working table already working on the design details, and I was excited to show her what I did at night. We got more excited and the application started taking final shape.
The Reveal
In preparation for the reveal, I rushed to fix small bugs and finalize data for demo down to the last minute. At the presentation I was nervous. There is never a smooth demo with live applications. But I was happy overall. We were able to complete our goal, and we were happy with the results. We even tied for second place.
It was an exciting 28-hour journey that taught me a lot and gave me a few takeaway thoughts:
How to think about products and take them all the way out the door – even presenting and selling your idea.
Knowing all the possibilities, looking at the ideas that came to life in such a short period of time. There were really great ideas by the way. It just demonstrates the wide range of possibilities that can be integrated with the Medidata platform.
How the data can be used. Extracting the data for several other purposes. The possibilities are endless; only your mind is the limit.
I was once told, "If you can imagine it, you can make it." And it is true. Having a deadline is not for rushing purposes, it is for achievement purposes; it means that there is a light at the end of the tunnel, that you will be able to accomplish your goal. So that's what this experience was for me, and I hope it inspires some people to try it out.