Medidata Blog
What Do Chinese Pharma Need For Clinical Development?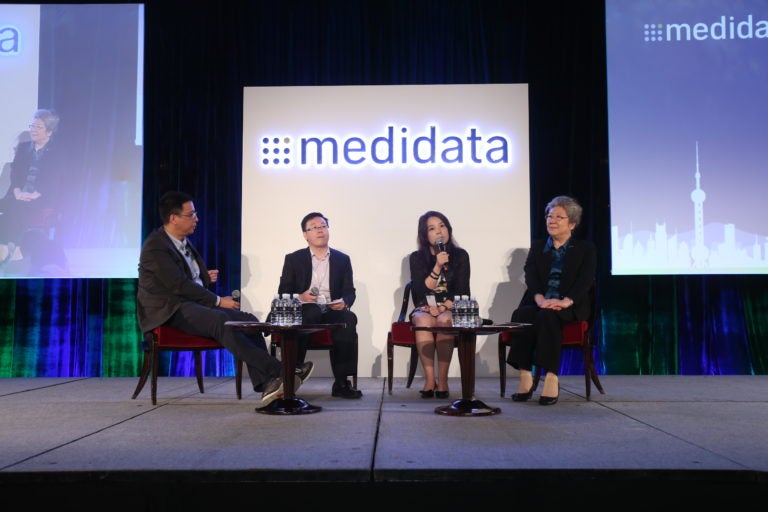 April 03, 2017
China is one of the most dynamic markets for clinical development. We had a chance to catch up with Helena Zhu, director of clinical development at Chinese pharma company Hansoh Pharmaceutical, at our China Symposium in Shanghai to discuss the ever-evolving Chinese market.
Geeks Talk Clinical: What are the technology challenges and clinical development needs for local pharma in China?
Helena Zhu: Talent acquisition and retention is the biggest challenge the industry is facing these days. In general, local pharma and global pharma companies are at different stages of development. The current industry environment in China is very supportive and favorable for local pharma companies. The market has now become more mature than when global pharma first started running clinical trials, which presents many opportunities though not without challenges.
Therefore, I believe the priority for local pharma companies is to attract and retain talent. In addition, companies should adopt new technology and systems to manage and operate their clinical trials in a scientific way in order to meet the CFDA's (China Food & Drug Administration's) regulatory requirements on high quality trial data and help the companies' strategic development.
Indeed the requirement for quality clinical trial data has been at the same high level for both local and multinational clinical studies. Local pharma companies should be prepared for a growing demand for higher data quality as CFDA tightens its scrutiny on trials conducted in China.
Geeks Talk Clinical: What kind of method or system do you think can help you to solve the problems and challenges the pharma faces in China today? What is the most important thing that pharmaceutical companies need to prepare?
Helena Zhu: Qualified professionals and a well-trained team surely can help. Only when a company has a well-trained team with qualified people can it run the trials as designed and planned. Also, pharma companies need to adopt advanced tools and systems, such as CTMS and EDC, to access real-time data and manage clinical trials in a more efficient and scientific way.
Many local pharma companies have started focusing on the development of innovative drugs, which is an industry trend we see today. Other than talent acquisition and new technology adoption, it is also important for pharma companies to keep an open mind.
While learning from the successful experiences of global pharma companies, local pharma should craft their own growth strategy based on their current development and needs. In the meantime, they should be open-minded to new ideas, tools and be prepared for challenges, in order to meet the market demand for new drug development and achieve long-term success.
Geeks Talk Clinical: In terms of the user experience, how has Medidata helped you to solve the problems you face in your trials?
Helena Zhu: I've been working with Medidata for years, and I'd highly recommend the systems Medidata provides. As an end-user of Medidata's solutions, I'm satisfied with their offerings on the aspects of design, technical content, and service support. I've had a great user experience. Positive feedback has also been received from both the R&D teams and the study investigators. Medidata's technology has successfully supported our whole clinical trial process, ranging from data capture, monitoring, benchmark and analysis, as well as reporting.
From the technology perspective, I believe Medidata has been an industry leader.
Geeks Talk Clinical: In your opinion, how will clinical research in China develop in the next five years? How much has technology changed clinical trials in China?
Helena Zhu: Many local pharma companies are now willing and able to develop innovative drugs. They are submitting drug registrations to both the CFDA and the FDA. In the future, I believe we will see drugs targeting patients across the globe developed by sponsors located in China, and the clinical trials implementation and management will all take place in China.
More and more Chinese pharma companies will be shifting their emphasis to independent R&D when conducting their own clinical studies. The demand for cutting-edge technology support will keep rising.
Geeks Talk Clinical: What do you think about Medidata's position in China?
Helena Zhu: I believe Medidata's client base will grow in China. Only great technology can support efficient trials and get high quality data. Medidata has great prospects for development in China as it has the competitive advantages meeting the technology needs for the Chinese market.
I was one of the panelists at the Medidata China Symposium last year. Through the panel discussion and conversations with attendees, I can tell that we've all appreciated and recognized Medidata's technology and offerings. As Medidata might have noticed, there is an increasing demand for cutting-edge technology among Chinese companies.
Many companies discussed technology's return on investment. They will keep an open mind to make wise decisions to adopt efficient technology and within their budget. In my opinion, when considering which platform we would utilize to support our studies, the most important factors will always be the level of maturity and stability of the technology as well as the user experience. Only after these requirements are met, will price then come into consideration. When running global trials in China, I'd definitely go with an online system with mature, stable, and validated technology to support these trials.