Analysis, Insight, Action: the latest on COVID-19
Analysis, Insight, Action: the latest on COVID-19
Designed to support patients, partners, and sponsors with collaborative, data-driven solutions that prioritize patient and site staff safety, minimize disruption, and keep clinical trials moving forward
For over 20 years, our mission of powering smarter treatments for healthier people has encountered myriad obstacles, but nothing like the rapidly evolving challenge we face today.
It's imperative, for the health and safety of our most vulnerable patient populations, that our industry continues to work together to keep trials on track. With a rapid response to COVID-19, our teams are implementing new programs, products, and assets designed to help clients enable newly essential services like remote monitoring and virtual trials, and most importantly, protect the health and safety of patients and site staff.

Glen deVriesCo-Founder, Co-CEO

Tarek SherifCo-Founder, Co-CEO
Each of our COVID-19 resources is designed to support your ongoing clinical research efforts:
Introducing myMedidata Patient Portal
Designed for patients, myMedidata is an intuitive platform enabling flexible participation in clinical trials for new medicines and vaccines. Encompassing all of the capabilities of our industry-leading, regulatory-compliant Rave platform and Patient Cloud tools, myMedidata delivers a truly unified experience.
COVID-19 and Clinical Trials: The Medidata Perspective
As the global impact of COVID-19 increases, Medidata is continuously monitoring and analyzing the pandemic's impact on clinical development, including patient study enrollment, the response by world regulatory bodies and which of Medidata's solutions can help address your COVID 19-related challenges.
COVID-19 Rapid Response Resources
Our Resource Center provides a roadmap for how to address your specific trial challenges with fact sheets, research papers, and infographics detailing the comprehensive range of Medidata's solutions.
Our COVID-19 Office Hours Webcast Series is here to help you with resources for rapid response
New to managing patient data collection using eCOA? Interested in post-pandemic recovery planning? From the latest in COVID-19 forecasting trends to central monitoring best practices, we've assembled experts from across our company to answer all your COVID-19 related questions.
Clinical Minds Podcast
When Will We Get The Vaccine?
Sharing what's happening in the world of clinical research today, the technology and ideas that are transforming it, and why it matters for patients… which is all of us.
Visit the Medidata Blog for our latest COVID-19 news and updates

Read our latest blog posts to learn more about recent developments from global regulatory agencies and how Rave Centralized Statistical Analysis (CSA) and Rave CTMS enable streamlined trial management that clinical operations teams need to keep trials on track.
COVID-19 Regulatory Developments Impacting Technology Use in Clinical Trials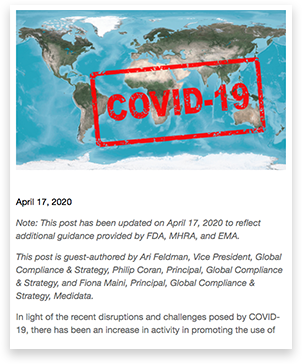 Five Ways to Manage Your Trial Effectively in a Fast-Changing Global Environment