Medidata NEXT China 2022 (Virtual)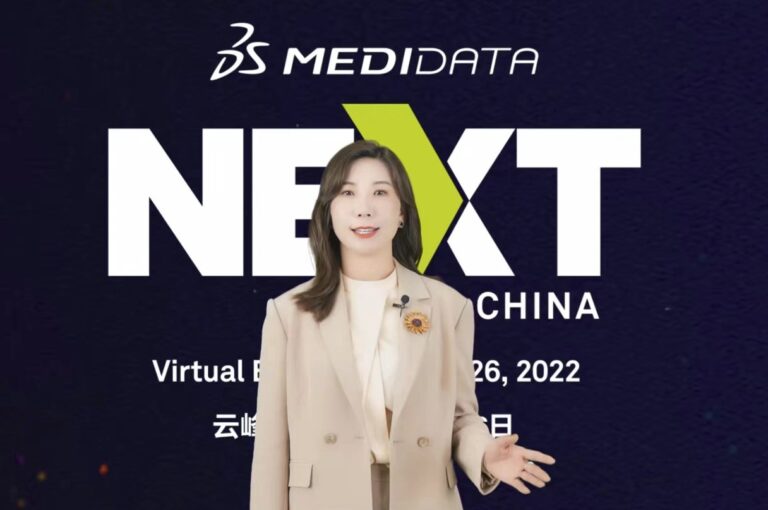 October 26, 2022
Digital intelligence leads the way, helping to drive innovative changes in the life sciences
SHANGHAI, China, October 26 - The 11th Annual conference - Medidata NEXT China 2022 opened today. The online event, organized by Medidata, a Dassault Systèmes company, is a key stop in the annual Medidata NEXT global event series. Focused on the theme of "The Future of Intelligence," the conference focused on the three core topics of "Decentralized Clinical Trials (DCT) ," "Data and Advanced Analytics" and "Digitalization of Drug Development." The discussion with participants focused on the application of DCT and AI technology for data analysis in clinical trials,  the transformation of digitalization for drug development and the direction of innovation development in the life science industry. The conference attracted more than 1600 experts scholars and users from more than 300 domestic and international sponsors, CROs and sites.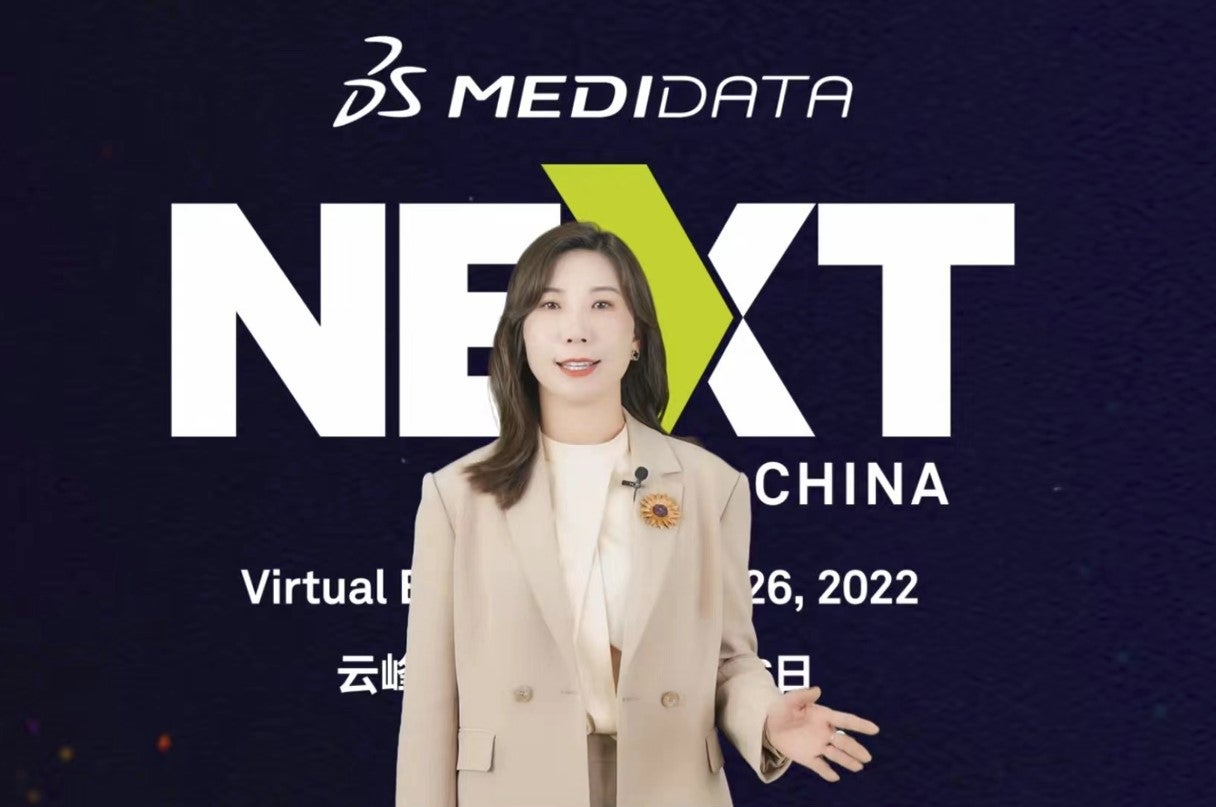 The 11th Medidata NEXT China is opened by Ms. Li Wei, General Manager of Medidata China
Wisdom on the Cloud", discussing clinical digital innovation
At this NEXT China annual meeting, more than 20 industry leaders from sponsors, CROs, sites and platform providers gathered on the "cloud" and delivered nearly 20 keynote speeches. Among them, Dr. Zhang Lianshan, Director and Deputy General Manager of Jiangsu Hengrui Pharmaceutical Co., Ltd., analyzed the "development status, trends and challenges of China's biopharmaceutical industry;" Dr. Shen Yifeng, Director of the Institution Office of Shanghai Mental Health Center, discussed "Patient-centric Practice and Thinking from Sites,"and Dr. Li Weidong, Senior Vice President and Head of the Data Statistics Department of Hebo Pharmaceuticals, shared his insights on "the Application of Synthetic Control Arm in Drug Development."
Medidata launched two live broadcasts during the sessions:  "Decentralized Clinical Trials" and "Data and Advanced Analytics." Ms. Ma Xiamiao, Head of Strategic Solutions Sales Medidata China, and Ms. Huang Tianjiao, Head of Solution Consultants Medidata China presided over the event. Tens of experts and scholars discussed the technology and practices of DCT from sponsors, CROs, sites as well as the electronic source data, centralized monitoring, and AI technology applications in clinical trials. The two live broadcasts were launched one-by-one, and the audience interacted with experts through online discussion sessions, and the response was enthusiastic. In addition, the online demonstration course is also launched as scheduled as a reserved project of Medidata NEXT China. Experts from Medidata presented audiences with key technologies in DCT solutions including the new capabilities of Rave EDC, Rave RTSM Direct-to-Patient, Medidata eCOA, etc.
This year, BIOVIA applications from Dassault Systèmes were once again presented at the Medidata NEXT China. In the "Digitalization of Drug Development " session, BIOVIA experts and industry leaders focused on digital and intelligent tools such as ELN (Electronic Lab Notebook) systems, computer-aided drug design (CADD) and BIOVIA molecular simulation and data science software, and shared cutting-edge insights on topics such as the digital transformation of drug R&D labs, drug process development compliance and new drug development models. Since joining Dassault Systèmes, Medidata have joined forces with the BIOVIA team to provide a portfolio of digital solutions across the entire lifecycle, empowering the entire R&D process from early discovery of new drugs, laboratory insight documentation and information management, to drug manufacturing and launch management.
Focusing on the China Market, Empower Local Clinical Research and Development
Medidata officially entered the China market in 2015. Medidata has a strong and experienced global team committed to empowering Chinese drug companies with innovative digital solutions for drug development and clinical trials. As of this year, Medidata has worked with more than 470 customers and 26 accredited partners in China, with more than 380,000 patients participating in more than 2,030 trials supported by Medidata technology.
Ms. Li Wei, General Manager of Medidata China said in her welcome speech at the conference: "Focusing on the China market, we see that innovation must be the way to go for the industry, both now  and in the future. Over the past few years, Medidata has brought cutting-edge digital solutions, including DCTs, and AI innovations to China market and relied on global strength to help our partners in China go abroad or achieve domestic innovation. To enable Chinese customers and partners to better apply DCT technology, Medidata established a dedicated eCOA China service team this year to support domestic customers and provide support for better application by partners such as pharmaceutical companies or CROs, greatly enhancing communication efficiency. Our commitment and confidence in the China market has never changed. In the future, Medidata will continue to always live up to its commitment to the China market and continue to help China's drug development innovation and solve the impossible."
Medidata is a wholly-owned subsidiary of Dassault Systèmes, which with its 3DEXPERIENCE platform is positioned to lead the digital transformation of life sciences in the age of personalized medicine with the first end-to-end scientific and business platform, from research to commercialization.
About Medidata
Medidata is leading the digital transformation of life sciences, creating hope for millions of patients. Medidata helps generate the evidence and insights to help pharmaceutical, biotech, medical device and diagnostics companies, and academic researchers accelerate value, minimize risk, and optimize outcomes. More than one million registered users across 2,000+ customers and partners access the world's most trusted platform for clinical development, commercial, and real-world data. Medidata, a Dassault Systèmes company (Euronext Paris: FR0014003TT8, DSY.PA), is headquartered in New York City and has offices around the world to meet the needs of its customers. Discover more at www.medidata.com and follow us @Medidata.
About Dassault Systèmes
Dassault Systèmes, the 3DEXPERIENCE Company, is a catalyst for human progress. We provide business and people with collaborative 3D virtual environments to imagine sustainable innovations. By creating virtual twin experiences of the real world with our 3DEXPERIENCE platform and applications, our customers push the boundaries of innovation, learning and production to achieve a more sustainable world for patients, citizens, and consumers.  Dassault Systèmes brings value to more than 300,000 customers of all sizes, in all industries, in more than 140 countries. For more information, visit www.3ds.com
3DEXPERIENCE, the Compass icon, the 3DS logo, CATIA, BIOVIA, GEOVIA, SOLIDWORKS, 3DVIA, ENOVIA, NETVIBES, MEDIDATA, CENTRIC PLM, 3DEXCITE, SIMULIA, DELMIA, and IFWE are commercial trademarks or registered trademarks of Dassault Systèmes, a French "société européenne" (Versailles Commercial Register # B 322 306 440), or its subsidiaries in the United States and/or other countries.