Medidata Receives Prestigious Innovation Award from Reagan-Udall Foundation for the FDA
December 07, 2022
Medidata Link Honored for Bridging the Gap Between Clinical Trial and Real World Data, Advancing Regulatory Science and Improving Public Health 
Innovations in Regulatory Science Awards presented in Washington, D.C. to celebrate outstanding achievement 

Medidata Link provides sponsors and regulators with a centralized and privacy-preserving way to link data at the patient-level

Opens up limitless applications for the monitoring of long-term safety and demonstration of treatment effectiveness. 
 New York – December 7, 2022 – Medidata, a Dassault Systèmes company, has been honored by the Reagan-Udall Foundation for the Food and Drug Administration (FDA) with its 2022 Innovation in Regulatory Science Award for Medidata Link. This technology breakthrough, based on Medidata's Rave EDC (electronic data capture) allows sponsors and regulators to connect and analyze once-disparate data sources to bridge the gap between the clinical trial and real world information sources.
The award ceremony in Washington, D.C. on December 6 will feature an address by Robert M. Califf, M.D., Commissioner of the FDA and acceptance remarks by Medidata co-CEO Sastry Chilukuri.
"The industry has been challenged to understand the full spectrum of a patient's journey from before the clinical trial starts to long after completion. Medidata Link connects clinical trial data and real world data sources to tell a story from a patient's historical diagnosis and treatment patterns to the progression of care post-trial," said Sastry Chilukuri, Medidata co-CEO. "We are honored to have this advancement recognized by the Reagan-Udall Foundation for the FDA."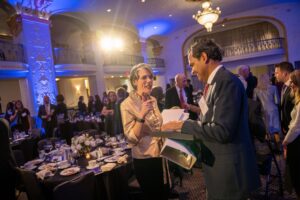 Medidata Link's potential was especially apparent during the COVID-19 pandemic, when the technology was used to monitor the long-term safety of a top pharmaceutical company's breakthrough investigational therapy. Medidata Link securely ingested personal identifiable information (PII) and leveraged de-identification technology from multiple tokenization vendors to enable long-term patient surveillance post-trial. This allowed the company to circumnavigate the slow turnaround times and high costs of traditional clinical approaches while garnering real-time efficacy analysis of their COVID-19 treatment.
The Reagan-Udall Foundation embodies the FDA's vision of collaborative innovation to address regulatory science challenges of the 21st century. This also assists in the creation of new, applied scientific knowledge, tools, standards, and approaches the FDA needs to evaluate products more effectively, predictably, and efficiently, and thereby enhance the ability to protect and promote the health of the American public. 
Medidata is a wholly owned subsidiary of Dassault Systèmes, which with its 3DEXPERIENCE platform is positioned to lead the digital transformation of life sciences in the age of personalized medicine with the first end-to-end scientific and business platform, from research to commercialization.
About Medidata
Medidata is leading the digital transformation of life sciences, creating hope for millions of patients. Medidata helps generate the evidence and insights to help pharmaceutical, biotech, medical device and diagnostics companies, and academic researchers accelerate value, minimize risk, and optimize outcomes. More than one million registered users across 2,000+ customers and partners access the world's most trusted platform for clinical development, commercial, and real-world data. Medidata, a Dassault Systèmes company (Euronext Paris: FR0014003TT8, DSY.PA), is headquartered in New York City and has offices around the world to meet the needs of its customers. Discover more at www.medidata.com and follow us @Medidata
About Dassault Systèmes
Dassault Systèmes, the 3DEXPERIENCE Company, is a catalyst for human progress. We provide business and people with collaborative 3D virtual environments to imagine sustainable innovations. By creating virtual twin experiences of the real world with our 3DEXPERIENCE platform and applications, our customers push the boundaries of innovation, learning and production to achieve a more sustainable world for patients, citizens, and consumers.  Dassault Systèmes brings value to more than 300,000 customers of all sizes, in all industries, in more than 140 countries. For more information, visit www.3ds.com
3DEXPERIENCE, the Compass icon, the 3DS logo, CATIA, BIOVIA, GEOVIA, SOLIDWORKS, 3DVIA, ENOVIA, NETVIBES, MEDIDATA, CENTRIC PLM, 3DEXCITE, SIMULIA, DELMIA, and IFWE are commercial trademarks or registered trademarks of Dassault Systèmes, a French "société européenne" (Versailles Commercial Register # B 322 306 440), or its subsidiaries in the United States and/or other countries.
Contact:
Tom Paolella
Senior Director, Corporate Communications & Affairs
+1-848-203-7596
thomas.paolella@3ds.com

Paul Oestreicher
External Communications Director
+1-917-522-4692
paul.oestreicher@3ds.com