MEDIDATA PROFESSIONAL CERTIFICATION PROGRAM
Medidata Classic Rave Certified Study Administrator
This certification validates Study Administration proficiency in commonly- performed Medidata Classic Rave tasks: EDC; query management; and report, site, and user administration.
AUDIENCE: Study Administrators
LOCALES: English, Japanese, Chinese (Mandarin), Korean
COMPLETE PREREQUISITE TRAINING (4 hours)
COMPLETE CERTIFICATION ASSESSMENT (Up to 1.5 hours)
Core Skills Exam: 25-question online exam. Estimate up to 90 minutes.
SUCCESSFUL COMPLETION EARNS CERTIFICATION CREDENTIALS
To register for a Medidata Professional Certification, click the link below.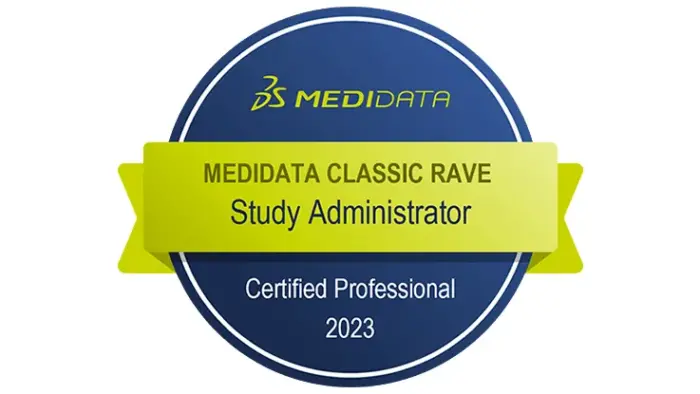 How Do I Enroll?
Certification enrollment is easy! If you're interested in any of these certifications, click 'Contact Us' below and a Medidata representative will contact you.
Note: Medidata Professional Certifications are available to Medidata clients, partners and employees only.