MEDIDATA PROFESSIONAL CERTIFICATION PROGRAM
Medidata Rave EDC
Certified Study Builder
The Rave EDC Certified Study Builder program offers a guided learning path to certification for new Rave EDC Study Builders or already certified Classic Rave study builders. The certification recognizes proficiency in study design and build for Rave EDC and related clinical view data settings, clinical view data review, and the use of Rave Reporter.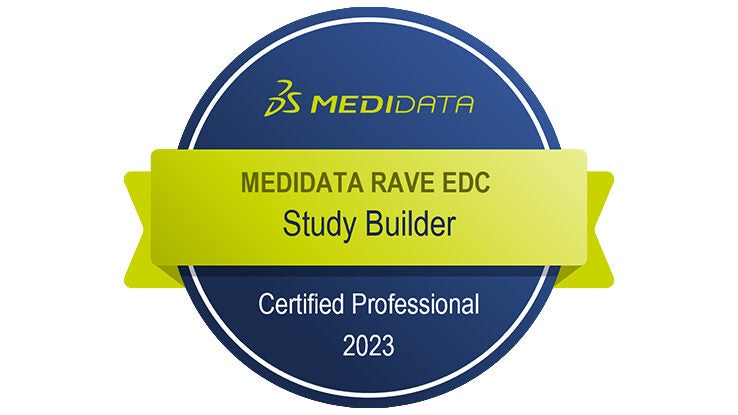 AUDIENCE: New Rave EDC Study Builders, Classic Rave Certified Study Builders
CERTIFICATION PROGRAM: This certification program is currently available in English and Chinese. Korea and Japan regional certification program pilots are planned through 1H 2023. For more information, please e-mail mdsol.NAM.certification@3ds.com.
STEP 1: COMPLETE PREREQUISITE TRAINING
New Rave EDC Study Builders Learning Path
(56 hours)

eLearning (1.5 hours)
Instructor Led Training (54.5 hours)

OR

Classic Rave Certified Study Builders Learning Path (6 hours)

eLearning (2 hours)
Instructor Led Training (4 hours)
STEP 2: COMPLETE CERTIFICATION ASSESSMENT (Up to 43 hours)
Core Skills Exam: 80-question online exam. Estimate 3 hours.
Applied Skills Assessment – Mock Study Build: Estimate 25-40 hours.
These assessments are currently available in English only.
Note that we recommend candidates have at least 3 months experience building Rave studies prior to taking these assessments.
SUCCESSFUL COMPLETION EARNS CERTIFICATION CREDENTIALS
To learn more about how this certification aligns with Partner Accreditation, please contact your Medidata Professional Services representative.
Before you register, please review the Rave EDC Study Builder FAQs.
To register your interest for this Medidata Professional Certification, click the link below.
How Do I Enroll?
Certification enrollment is easy! If you're interested in any of these certifications, click 'Contact Us' below and a Medidata representative will contact you.
Note: Medidata Professional Certifications are available to Medidata clients, partners and employees only.