MEDIDATA PROFESSIONAL CERTIFICATION PROGRAM
Medidata Sensor Cloud Certified Analytics Developer
This certification recognizes proficiency using sensor datasets, algorithms, and scalable processing infrastructure in the Medidata Sensor Cloud Analytics platform.
AUDIENCE: Industry and academic partners, researchers, data scientists in the Medidata Sensor Cloud Network.
LANGUAGES: English
COMPLETE DATA GOVERNANCE PRE-READ (30 minutes)
COMPLETE CERTIFICATION ASSESSMENT (Up to 2 hours)
Core Skills Exam: 5-question online exam, offered in English. Estimate up to 30 minutes.
Applied Skills project: Consists of three activities, allowing you to demonstrate your competency in independently uploading datasets to a Sensor Cloud data algorithm environment, uploading an algorithm to run against the data uploaded, and processing the algorithm against that data. You must complete the Capstone and submit the deliverable within 10 business days from the date of assignment. Estimate up to 1 hour.
SUCCESSFUL COMPLETION EARNS CERTIFICATION CREDENTIALS 
If you're interested in registering for a Medidata Professional Certification, click the link below.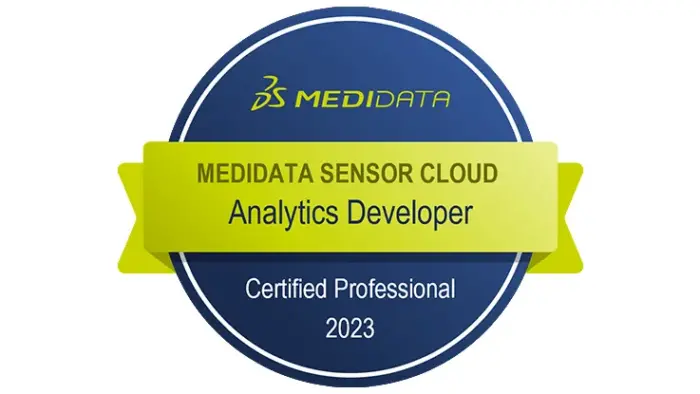 How Do I Enroll?
Certification enrollment is easy! If you're interested in any of these certifications, click 'Contact Us' below and a Medidata representative will contact you.
Note: Medidata Professional Certifications are available to Medidata clients, partners and employees only.