Phase I Solutions
for Small and Mid-sized CROs
CROs operate in an increasingly competitive landscape to deliver drugs to market faster and at lower cost. Medidata's end-to-end technology solutions enable CROs to meet the demands of any early phase study, accelerate clinical research, and improve outcomes for sponsors and patients.
FACT SHEET
Rapid deployments, reduced study build times, and faster database lock
Medidata Rave EDC delivers tailored, flexible and cost-effective solutions for small to mid-sized CROs executing Phase I clinical trials.
With over 8,800 Phase I studies supported, Medidata's unmatched Phase I and CRO partnership experience will help you execute your early phase trials with agility and success.
Learn More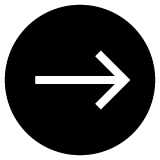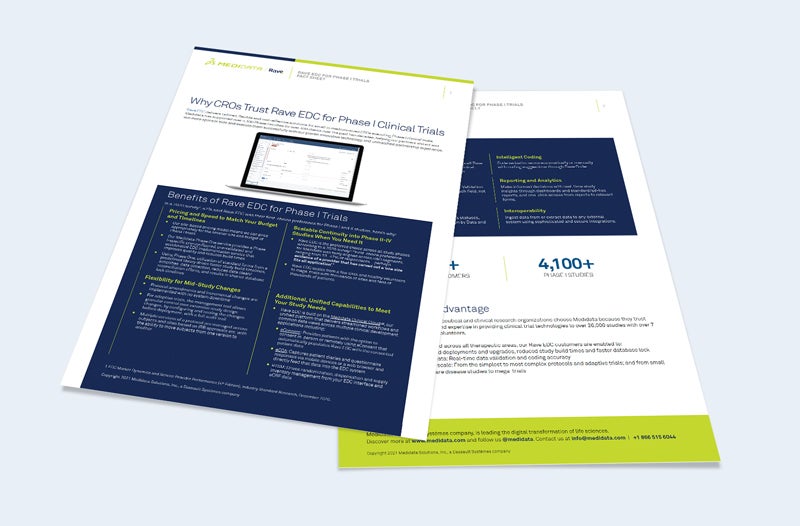 eBOOK
The Big Book of CRO Case Studies
Medidata's proven innovative technology and unmatched partnership experience helps support CROs of all sizes to achieve their business goals and stand out from the competition.
Access the industry's most powerful data sets to enable analytical insights that empower you to make better decisions faster.
See Why Our CRO Partners Trust Medidata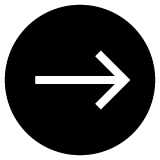 VIDEO
Attract, win, and successfully execute more sponsors' trials
In a race to attract and win more bids, Medidata's accelerated EDC implementation and Phase I services respond to the needs and budgets of any study.
CRO partners describe how Medidata benefits their business, improves clinical development, and helps identify gaps to maximise revenue throughout their sponsors' trials.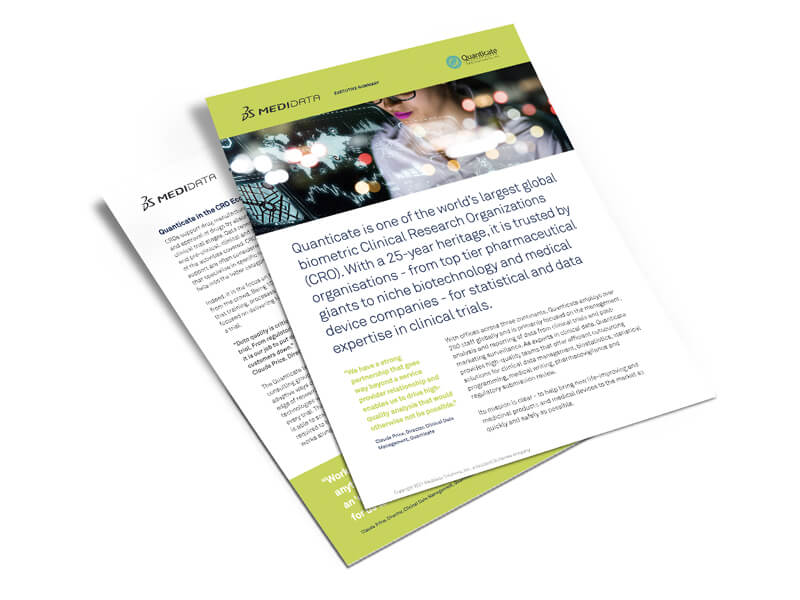 CASE STUDY
Deliver performance at scale
Adaptable to your study or business model, Medidata Rave EDC keeps up. As part of the unified Medidata Rave Clinical Cloud®, its flexible architecture enables you to meet your specific Phase I study requirements with solutions designed for reuse and speed.
Outperform on your sponsors' expectations by easily adapting and responding to any trial environment.
View Quanticate Success Story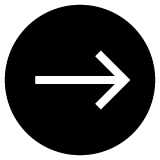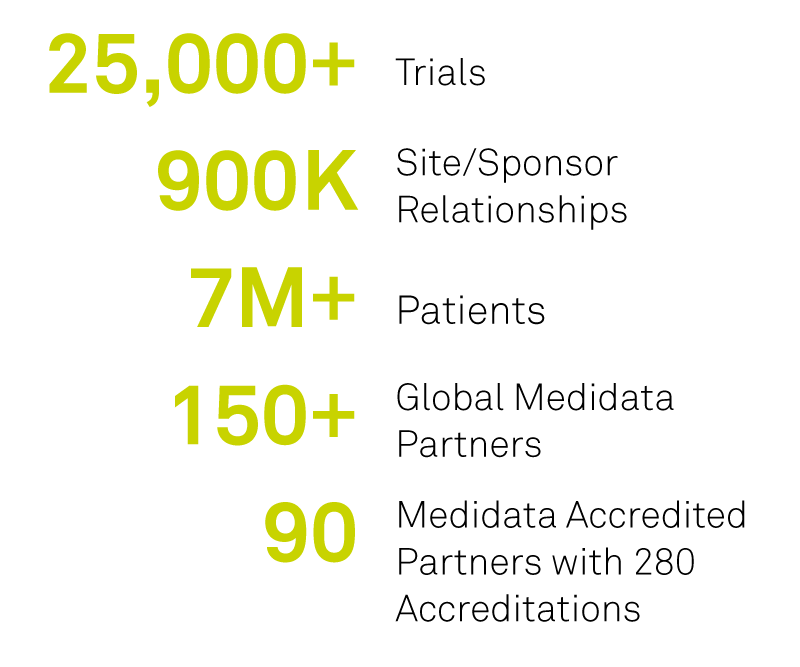 Become a Medidata Partner today
We can connect your business goals to our collective mission of extending greater value and improving outcomes for your customers and their patients.
Medidata offers unique opportunities through its Partner Program to drive greater efficiency and productivity. Establish and grow your brand in our ecosystem of sites and sponsors running clinical trials with Medidata.
Let's Do More Together