Data Science Makes for Better Lab Science
Webcast
Data Science Makes for Better Lab Science
Watch this webinar to discover how technology for searching, machine learning, predictive and prescriptive analytics, and modeling and simulation can help lab operations to leverage scientific data end to end to make knowledge-driven decisions in real time to ultimately speed time to market.
Key Topics Covered:
How to unlock the potential of your existing lab data 

How predictive and prescriptive analytics can help scientists become more efficient and effective 

Uncover new opportunities for modeling and simulation to save time during both short and long projects
Speaker: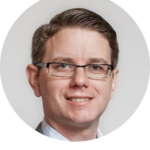 Stephen Hayward
Technical Marketing Manager, BIOVIA
Steve Hayward is a PhD in Chemical Engineering, with a background in laboratory informatics, chemical modeling, and environmental analysis. Originally from Toronto, Canada, he currently leads product marketing efforts for informatics solutions at Dassault Systèmes BIOVIA in San Diego.