News
AI Drug Development Hit The News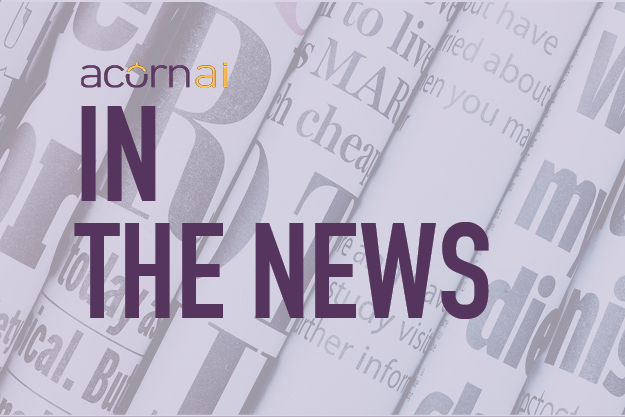 January 23, 2019
Summary:
Yiannis reported on the research collaboration between Medidata and the CDCN, where research was presented on Castleman disease at annual meeting of the American Society of Hematology (ASH). The article highlights that Rave Omics enabled the discovery of 6 new patient subsets reflecting either distinct subtypes or proteomic disease states, showed evidence of proteomic predictors of anti-interleukin-6 treatment response, and provided etiological insights into the poorly understood rare disease and toward new potential drug targets.
Forbes
AI Drug Development Hit The News
Yiannis Mouratidis
January 23rd, 2019
AI specifically programmed to assist the drug development sector gives already its first samples of presence.
Following a  recent story with the top twenty companies in the area of AI drug development, this time we will make a flight over this new ecosystem looking for the bright lights of a rigorous developing market.
In a recent article about new drugs approved, we found out that in the record year 2018, 61 new drugs were launched which means 20% more new pharmaceutical products compared with the previous record year 1996. It's no wonder if AI drug development realizes the promises, that we will witness an explosive growth in the coming years. Some of the 20 most prominent companies have some very fresh news that it is worth our attention.
Atomwise
The most recent news for Atomwise is the formation of a strategic alliance with Charles River Laboratories International, Inc. The alliance offers clients access to Atomwise's artificial intelligence (AI)-powered, structure-based, drug design technology, which allows scientists to predict how well a small molecule will bind to a target protein of interest by removing sole reliance on empirical screening.
In the middle of September Atomwise entered into an evaluation agreement with Pfizer Inc. Pfizer will evaluate Atomwise's platform to identify potential drug candidates for up to three target proteins selected by Pfizer. In the agreement, Pfizer will pay a technology access fee and additional success-based payments for each target protein of interest. Atomwise will computationally analyze millions of diverse small molecules for each of Pfizer's identified target proteins using its cutting-edge AI platform to predict those that may bind with high affinity to the selected target proteins. Atomwise's medicinal and computational chemistry teams will also work with Pfizer scientists to define the required potency and other chemical properties of the small molecules for the targets of interest.
Auransa
Auransa signed an exclusive licensing agreement with China Oncology Focus Limited, an affiliate of Lee's Pharmaceutical Holdings, for rights to AU018 in Greater China and Southeast Asia. In the frame of this agreement, Auransa will receive an upfront payment and be eligible for milestone payments and sales royalties for preclinical program identified by the company's AI-Driven SMartTR™ Engine. In total, Auransa is eligible to receive up to $22.5 million upon successful attainment of key milestones. China Oncology focuses to receive rights to develop and commercialize novel cardioprotective agent for chemotherapy patients. AU018, which is currently in preclinical development, is a potentially best-in-class cardioprotective agent intended to be paired with chemotherapy in the treatment of cancer.
Cyclica
The company presented MatchMaker™, a novel deep proteome screening technology that has been developed and validated over the past 2 years to identify DTIs. MatchMaker builds on Cyclica's focus of combining protein, chemistry, and genomic data and augmenting it with high-performance computing and algorithm development supported on the cloud. MatchMaker combines molecular biophysics and deep learning to predict binding of new drug molecules to all proteins, for example, the "cell". MatchMaker will be the engine that powers the company's Ligand Express proteome screening platform, release Differential Drug Design (DDD) technology for lead optimization as well as single and multi-target drug design.
CytoReason
CytoReason, a leader in machine learning for drug discovery and development, announced that it has signed a collaboration agreement with Pfizer that will leverage CytoReason's cell-centered models of the immune system. CytoReason will receive from Pfizer payments potentially equaling up to low double-digit millions of U.S. $ for technology access fees, research support and certain success-based payments.
CytoReason's proprietary platform helps rebuild lost cellular information from gene expression data and associates genes to specific cells. This information is then integrated with additional omics and literature data to create a cell-based model of the trial-specific immune response. Integration with the CytoReason disease model empowers the study analytics and allows the model to learn and improve, leading to robust target discovery, drug response biomarkers and indication selection.
Exscientia
The company announced it has raised $26 million in a Series B financing round. Exscientia will use the proceeds of this financing round to grow its "full stack" AI drug discovery capability to dramatically expand its pipeline, with a target of establishing an expansive portfolio of projects, both in-house and with partners by the end of 2019. The round included participation from new investors Celgene Corporation and specialist healthcare investor GT Healthcare Capital Partners, as well as existing investor Evotec AG. The company has made considerable progress during 2018 and anticipates its first programs driven by AI to be IND-ready within the next 12 months.
InSilico Medicine
One of its most fresh research fields focuses on gut bacteria, trying to predict the biological age of people. To discover how the microbiome changes over time, longevity researcher Alex Zhavoronkov and colleagues at InSilico Medicine, a Rockville, Maryland–based artificial intelligence startup, examined more than 3600 samples of gut bacteria from 1165 healthy individuals living across the globe.
Zhavoronkov and his colleagues found out that some microbes became more abundant as people age. Changes in diet, sleep habits and physical activity are likely to contribute to these shifts in bacterial species, says co-author Vadim Gladyshev, a Harvard University biologist who studies aging. Zhavoronkov says this "microbiome aging clock" could be used as a baseline to test how fast or slow a person's gut is aging and whether things like alcohol, antibiotics, probiotics, or diet have any effect on longevity. It could also be used to compare healthy people with those who have certain diseases, like Alzheimer's, to see whether their microbiomes deviate from the norm.
Medidata
Medidata Rave Omics, a machine learning-based solution, supported the Castleman Disease Collaborative Network (CDCN) to discover new patient subgroups, based on previously unknown proteomic signatures. These discoveries provide novel insights into treatment response and potential new drug targets, highlighting the value of precision medicine. Medidata and the CDCN presented these insights at the 60th Annual Meeting of the American Society of Hematology (ASH).
Medidata Rave Omics enabled the discovery of novel biomarkers for Castleman disease. Medidata data scientists collaborated with the Castleman Disease Collaborative Network to make the following points:
Six new patient subsets reflecting either distinct subtypes or proteomic disease states
Evidence of proteomic predictors of anti-interleukin-6 treatment response
Etiological insights into the poorly understood rare disease and toward new potential drug targets
Numerate
Numerate announced a multi-target research collaboration with Lundbeck Pharmaceutical to identify clinical candidates for the treatment of disorders in the central nervous system, including depression, psychosis, seizure and neurodegenerative disorders. This is a drug discovery partnership that combines Lundbeck's deep understanding of drug discovery and development for neurological disorders with Numerate's proprietary D4 drug discovery platform to attack the many challenges with generating valuable first-in-class assets in this area. Financial terms of the agreement were not fully disclosed, but they  include a combination of upfront, R&D support as well as milestone payments and royalties that reflect the value of the clinical candidates being delivered.
XtalPi
XtalPi announced that it has closed a Series B funding round of $15 million led by Sequoia China, with participation from Google and existing investor Tencent. To date, XtalPi has raised over $20 million, making it one of the top-funded AI-powered biotechs. XtalPi's existing investors also include ZhenFund and FreeS Fund. It currently partners with top global pharmaceutical companies and research organizations and looks forward to expanding industry collaborations with both existing and new partners.
Proceeds from this funding round will be used to develop new computational models built on big data generated from XtalPi's high-precision computing platform and to expand its business into adjacent areas along the pharmaceutical value chain. The investment will also support the construction of a prediction-driven research lab that integrates XtalPi's R&D platform with state-of-the-art wet-bench laboratory technologies. This hybrid computational-experimental facility will provide enhanced capabilities for the rational design of solid forms of drugs.