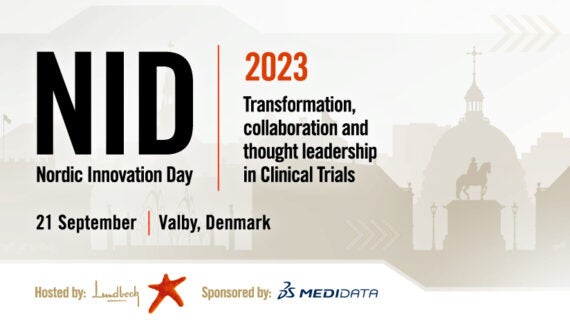 The Nordic Innovation Day discusses how technology, data and analytics are driving innovation to advance healthcare worldwide.
Date: 21 September 2023
Time: 08:30 – 16:00 CEST
Location: H. Lundbeck A/S, Ottiliavej 9, 2500 Valby, Denmark
About
The Nordic Innovation Day is a forum for attendees to connect with their peers, hear the latest developments and exchange ideas about driving and delivering innovation through technology. 
Join us in discussing the current and emerging innovations that are presenting new opportunities and challenges in clinical research today, and in the future.
We look forward to welcoming you to the Lundbeck office in Valby on 21 September. Register your place at this free to attend event today.
Agenda and Speakers
08:30 – 09:00: Morning Registration with Pastries & Coffee
09:00 – 09:15: Opening Remarks from the NID Chair
Alastair Clewlow, Senior Director – Clinical Data Management, Statistical Programming & Digital Solutions, Lundbeck A/S
09:15 – 09:30: Welcome & Opening Address, Lundbeck A/S
Ingrid Sofie Harbo, VP Biometrics, Lundbeck A/S
09:30 – 09:45: Patient Experience & Engagement
Alicia Staley, Vice President, Patient Engagement, Patient Cloud, Medidata
09:45 – 10:15: Designing Diverse Clinical Trials 
– Xoli Belgrave, Senior Director, Office of The Patient, Patient Inclusion, Parexel
– Alicia Staley, Vice President, Patient Engagement, Patient Cloud, Medidata  
10:15 – 11:00: Panel Discussion – Patient Centricity Brings Opportunities & Complexity: What does it mean for Clinical Data Management?
– Katja Bernstein, Director, Head of Section Clinical Data Management and Digital Health Technologies, Lundbeck A/S 
– Alicia Staley, Vice President, Patient Engagement, Patient Cloud, Medidata
– Ibrahim Kamstrup-Akkaoui, Vice President, Data Management, Novo Nordisk A/S 
– Ane Hyldegaard Jensen, Principal Data Manager, Zealand Pharma 
11:00 – 11:30: Coffee Break
11:30 – 12:00: Indispensable Innovations – Navigating a Rapidly Changing Industry.
Anthony Costello, CEO, Patient Cloud, Medidata

12:00 – 12:30: Mastering Data-Driven Decision-Making with a Hybrid CTMS and Real-Time CRO Integration
– Rindra Andrianantenaina, Senior Manager Digital & Analytics Solutions – Biometrics, Lundbeck A/S
– Sean Bronée, Data Analyst and Business Lead – Senior Specialist, Lundbeck A/S
12:30 – 13:30: Lunch
13:30 – 14:00: FREDDI – The Feasibility Recommendation Engine for Data Driven Insights
– Peter Dahl, Project Lead – Data Solutions, LEO Pharma A/S
– Mai-Britt Lundtoft, Feasibility Manager – Site Start Up, LEO Pharma A/S
14:00 – 14:30: Harnessing RBQM to Deliver Better Trials
Genevieve Nadeau, Head of RBQM & Clinical Operations UK, Orion Corporation
14:30 – 15:00: Panel Discussion – The Regulatory Landscape for Clinical Trials
– Ditte Zerlang Andersen, EU Project Lead, Danish Medicines Agency (DKMA)
– Jacob Hansen, Associate Director, Regulatory Affairs Strategy – EU, Genmab
– Magdalena Jayatissa, Vice President Head of Global Regulatory Strategy, Lundbeck A/S
– David Smets, mHealth Solutions Specialist, Medidata
– Helene Nordahl, Global Regulatory Affairs Senior Director, Novo Nordisk

15:00 – 15:15: Summary & Closing Remarks from the NID Chair
15:15 – 16:00: Cocktails & Canapés