Medidata and PlatBio Signs MOU to Pave Way into Precision Medicine and Drug Repositioning utilizing Synthetic Control Arm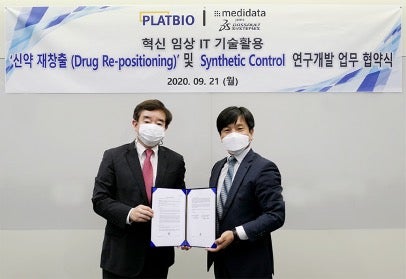 September 21, 2020
Medidata and Platbio, leveraging Acorn AI's analytical solutions and PlatBio's customized advisory service, seek to help Asian biopharmaceutical companies in opening up new opportunities
The companies plan to introduce the industry drug repositioning and Synthetic Control Arm, the technical and strategic breakthrough, and new R&D options for paused pipelines
Seoul – September 21, 2020 – Medidata, a Dassault Systèmes company, and PlatBio, a drug development, and translational research specialist, signed an MOU to pave the way in the Asian market to increase understanding of newer technological innovation for pharmaceutical and life science: precision medicine, and drug repurposing & repositioning.
The two companies plan to work together to meet the demand in the Asian market for new drug development leveraging innovative clinical IT technologies. The new technologies are expected to provide new R&D options in revisiting drug candidates that have either failed or been stopped due to various reasons. Adoption of Synthetic Control Arm (SCA) can increase the clinical efficiency in an ongoing trial for a drug candidate, or reposition them against a new patient group or indications.
Through the partnership, Medidata will provide PlatBio its big data, AI-based solutions including SCA. PlatBio will provide consultation services for pharmaceutical and bio companies, leveraging Medidata solutions.
Medidata's SCA, an Acorn AI solution, creates an artificial clinical arm for Random Control Trials (RCT) based on clinical data collected from over 20,000 trials. It could complement or replace existing RCT to solve some realistic or ethical issues.
PlatBio will provide customized advisory services to improve clinical efficiency and to decrease cost and time in ongoing clinical trials. In addition, the two companies plan to tap into the Asian market to introduce the notion of drug repositioning and repurposing, which is one of PlatBio's main business practices.
Globally, Medidata's SCA is being widely utilized, for example, Celsion Corporation, a leading oncology drug development company, has been using Medidata's SCA during Phase Ib dose-escalating OVATION study with GEN-1 in stage III/IV ovarian cancer patients. Its drug candidate proved comparative priority over other similar drugs using Medidata SCA, and is currently under clinical process upon FDA's IND approval.
Sun Jin Kim, Chairman of PlatBio said: "As drug development continues to become a major challenge, Medidata's SCA can serve as a meaningful breakthrough designed with high-quality clinical data. The agreement between PlatBio and Medidata will provide practical benefits to Asian bio companies, especially those who wish to increase clinical efficiency. Some bio companies are seeing research results less satisfactory than expectation, and SCA and clinical consultation service may be an option to reconsider clinical processes and efficiency." Kim added, "PlatBio has always been a strong supporter of Medidata and especially SCA's vision. Our MOU with Medidata Korea will become an opportunity to expedite the innovation in the Asian biopharmaceutical industry."
"There have been many inquiries from biopharmaceutical companies regarding SCA; yet, many customers were finding difficulty fully comprehending and taking advantage it, due to complexity of medical statistics involved in the solution," said Seongyong Hong, Medidata Korea's GM. "The partnership between Medidata and Platbio could assist these companies successfully take full use out of SCA. Hence, Medidata and Platbio could provide a new R&D option for the biopharmaceutical industry – virtual trials, precision medicine, or SCA – to not only the Korean market but perhaps wider Asia-based customers."
Edwin Ng, Senior Vice President in Medidata APeJ also noted, "This partnership can become a key to the current R&D hardships that many Asia-based pharmaceutical companies encounter. We expect our solutions can provide assistance in what many find challenging in drug development procedures."
About Medidata
Medidata is leading the digital transformation of life sciences, creating hope for millions of patients. Medidata helps generate the evidence and insights to help pharmaceutical, biotech, medical device and diagnostics companies, and academic researchers accelerate value, minimize risk, and optimize outcomes. More than one million registered users across 1,600+ customers and partners access the world's most-used platform for clinical development, commercial, and real-world data. Medidata, a Dassault Systèmes company (Euronext Paris: #13065, DSY.PA), is headquartered in New York City and has offices around the world to meet the needs of its customers. Discover more at www.medidata.com and follow us @Medidata, The Operating System for Life SciencesTM.
Medidata and Medidata Rave are registered trademarks of Medidata Solutions, Inc., a wholly owned subsidiary of Dassault Systèmes.
About Dassault Systèmes
Dassault Systèmes, the 3DEXPERIENCE Company, is a catalyst for human progress. We provide business and people with collaborative 3D virtual environments to imagine sustainable innovations. By creating virtual experience twins of the real world with our 3DEXPERIENCE platform and applications, our customers push the boundaries of innovation, learning and production. Dassault Systèmes brings value to more than 270,000 customers of all sizes, in all industries, in more than 140 countries. For more information, visit www.3ds.com.
3DEXPERIENCE, the Compass icon, the 3DS logo, CATIA, BIOVIA, GEOVIA, SOLIDWORKS, 3DVIA, ENOVIA, EXALEAD, NETVIBES, MEDIDATA, CENTRIC PLM, 3DEXCITE, SIMULIA, DELMIA, and IFWE are commercial trademarks or registered trademarks of Dassault Systèmes, a French "société européenne" (Versailles Commercial Register # B 322 306 440), or its subsidiaries in the United States and/or other countries.
Contacts
Hyeji Kim
Head of APeJ Marketing (Demand Marketing & PR)
hkim@medidata.com