The Value of a Digital Quality Hub in Life Sciences
Webcast
The Value of a Digital Quality Hub in Life Sciences
Quality 4.0 is the single most pervasive initiative within Digital/Industrial Transformation programs. In fact, 23% of Industrial Transformation (IX) initiatives are built around the deployment of digital technologies in and around quality. In this webinar, we discuss the current state of Quality the Life Sciences industry, typical challenges and the key aspects of Digitalization and IX in the context of Quality 4.0. We will explain the role Digital Quality Hubs play in these business initiatives, how to leverage advanced technologies, and the impact on critical quality functions. Discover the power of creating a Digital Quality Hub and see its effects on the business in Life Sciences. Find out how to realize true improvements in manufacturing, quality, and New Product Introduction by utilizing this holistic data model strategy.
Watch this webinar to learn:
How to avoid the leading cause of failure in meeting quality objectives.

Why your data and its analysis are core to both IX and Quality 4.0.

Why you need an integrated Quality System for content and processes.

How to leverage digital technologies to drive better business results.

Getting actionable recommendations on how to accelerate your IX and improve your quality.
Speakers:
Tom Comstock
Principal Analyst, LNS Research
Tom Comstock is a Principal Analyst with LNS Research. In this role he conducts research on a broad range of topics including Industrial Transformation Readiness, the Industrial Internet of Things (IIoT), and Quality 4.0, with collaborative coverage across manufacturing operations management (MOM), asset performance management (APM), industrial analytics, and the factory of the future. Prior to LNS, Tom was the Executive Vice President of Marketing, Product and Strategy at Apriso Corporation (acquired by Dassault Systèmes), where he redefined the company's strategy, product roadmap, and positioning to capture market leadership, all with a strong ROI focus. Tom has more than 35 years of experience in industrial and manufacturing software, marketing, and product management with proven results in building executable strategies to grow revenues and profits. His other roles have included CMO at Edison Energy, VP of Global Marketing at Schneider Electric, Vice President of Strategy and Digital Production Marketing with DELMIA, a division of Dassault Systèmes, VP of Product Marketing at Brooks Automation, VP of Marketing at Sequencia Corporation and Palette Systems, and Director of Product Marketing at Consolidated Micrographics. Tom holds an MBA from Pepperdine University, a Masters in Political Science from UC Berkeley, and a BA in Political Science from UCLA.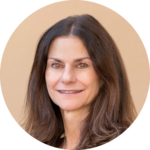 Daniela Jansen
Director of Product Marketing, BIOVIA, Dassault Systèmes
Dr. Daniela Jansen is Director of Product Marketing at Dassault Systèmes' brand, BIOVIA. She has held various positions in marketing, sales and business development, including at Waters and Bio-Rad Laboratories. Daniela has a long tenure of expertise in life sciences, laboratory processes and informatics as well as in manufacturing analytics, regulatory compliance and quality. Today she is responsible for the development of communications content, strategic solution positioning and articulating the customer value of BIOVIA's solutions including areas like digital transformation, quality and sustainability.