Global Medidata Certification Model Helps Rave EDC Study Builders Create New Value for Their Companies
March 23, 2023
New York – March 23 2023 – Medidata, a Dassault Systèmes company, launched Rave EDC Certified Study Builder certification, a new offering in its global education program for study build and study management professionals. The Rave EDC Certified Study Builder Program offers a guided learning path to certification for new and existing Rave study builders, and includes core skills and applied skills assessments. 
"The Medidata Rave EDC Study Builder certification program opened up new possibilities for our work," said Sowmiya Kumaravadivel, Clinical Data Programmer at Amencefs. "I now have a better understanding of the different options available during study build and the different access each end user can have when working in Rave EDC."
Chidi Lawrence, Clinical Data Manager at Amencefs added: "After completing the new Medidata certification program, I feel more confident in my study building and understanding of the build specifications sent to me from our clients. My colleagues now contact me as a Subject Matter Expert since I became a Rave EDC Certified Study Builder."
Study builders can expect a guided learning path, including:
an instructor-led prep course to facilitate successful certification

an abbreviated path enabling Classic Rave Certified Study Builders to upgrade their certification without the need to retake core Rave EDC training
Study Builders then complete an expanded core skills exam and applied skills assessment using a mock study build. Successful completion ends with a digital badge recognizing proficiency in Rave EDC study design and build, clinical view data settings, clinical view data review, and the use of Rave Reporter.
"This new certification provides study builders with the skills they need to create ever more complex studies while decreasing study start-up times and mid-study changes," said Joe Schmidt, EVP and head of Customer Services at Medidata. "Our certification program sets a standard within clinical research ensuring research professionals are working in the most efficient manner when using Medidata products and services in support of their goals to bring speed and accuracy to clinical trials."
Medidata certification programs have been completed by more than 580,000 clinical trial experts on six continents and in 190 countries representing nearly 100 companies. Click here to register for this Medidata Professional Certification.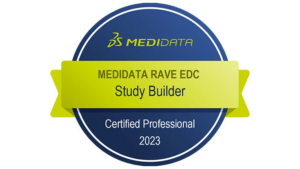 Medidata is a wholly owned subsidiary of Dassault Systèmes, which with its 3DEXPERIENCE platform is positioned to lead the digital transformation of life sciences in the age of personalized medicine with the first end-to-end scientific and business platform, from research to commercialization.
About Medidata
Medidata is leading the digital transformation of life sciences, creating hope for millions of patients. Medidata helps generate the evidence and insights to help pharmaceutical, biotech, medical device and diagnostics companies, and academic researchers accelerate value, minimize risk, and optimize outcomes. More than one million registered users across 2,100+ customers and partners access the world's most trusted platform for clinical development, commercial, and real-world data. Medidata, a Dassault Systèmes company (Euronext Paris: FR0014003TT8, DSY.PA), is headquartered in New York City and has offices around the world to meet the needs of its customers. Discover more at www.medidata.com and follow us @Medidata.
About Dassault Systèmes
Dassault Systèmes, the 3DEXPERIENCE Company, is a catalyst for human progress. We provide business and people with collaborative 3D virtual environments to imagine sustainable innovations. By creating virtual twin experiences of the real world with our 3DEXPERIENCE platform and applications, our customers push the boundaries of innovation, learning and production to achieve a more sustainable world for patients, citizens, and consumers.  Dassault Systèmes brings value to more than 300,000 customers of all sizes, in all industries, in more than 140 countries. For more information, visit www.3ds.com.
3DEXPERIENCE, the Compass icon, the 3DS logo, CATIA, BIOVIA, GEOVIA, SOLIDWORKS, 3DVIA, ENOVIA, NETVIBES, MEDIDATA, CENTRIC PLM, 3DEXCITE, SIMULIA, DELMIA, and IFWE are commercial trademarks or registered trademarks of Dassault Systèmes, a French "société européenne" (Versailles Commercial Register # B 322 306 440), or its subsidiaries in the United States and/or other countries.
Contact:
Tom Paolella
Senior Director, Corporate Communications & Affairs
+1-848-203-7596
thomas.paolella@3ds.com

Paul Oestreicher
External Communications Director
+1-917-522-4692
paul.oestreicher@3ds.com