Medidata Secures Highest Ranking for the Third Consecutive Time in Everest Group's 'Clinical Development Platform Vendors PEAK Matrix Assessment'
August 18, 2022
Medidata one of only three Leaders in the 22-vendor evaluation

Leader designation recognizes excellence in market impact, vision, and ability to deliver products successfully 
August 18, 2022— Medidata, a Dassault Systèmes company, today announced that for the third consecutive time the industry-leading company was named a Leader in the "Clinical Development Platform Vendors PEAK® Matrix Assessment 2022" by Everest Group. The annual report by Everest analyzes the capabilities of life science IT providers focused on clinical trial products, assessing them on vision, capability, and ability to make meaningful market impact.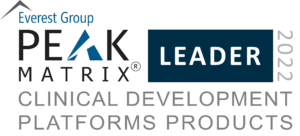 "We firmly believe that a fully unified clinical trial platform is the most effective approach for both patients and trial sponsors, and are pleased that Everest Group has selected us as Leader in this space every time this report has been published," said Sastry Chilukuri, Medidata co-CEO. "Our mission is to help power smarter treatments and healthier people, and recognition like this validates our continued innovation toward this mission."
Medidata continues to deliver value to its customers, further building on its history as the industry's first comprehensive clinical development platform, enabling customers and partners to execute their clinical trials faster. This, along with the company's vision and ability to demonstrate strategic and executional excellence and growth, led to Medidata's continued recognition from Everest Group.
 According to Everest Group, clients appreciate Medidata's:
Customer support, which scored the highest when compared to all competitors in the evaluation

Strong analytics and reporting capabilities delivered through Medidata Acorn AI team

Established reputation and end-to-end feature capabilities comprised of both technology and solutions 
"Unified clinical development platforms are now transitioning from an idea to implementation, with pharma enterprises creating near-term visions for adopting such platforms. There is an increased willingness among pharma companies to shift from a traditional best-of-breed landscape to a simplified best-of-breed approach," said Nitish Mittal, Partner at Everest Group. "Medidata offers end-to-end capabilities in the clinical value chain and enjoys high brand recall for its unified platform capabilities. It is appreciated for its strong client relationships and value delivered to its customers. Medidata's continued efforts around execution and innovation, engagements with top pharma clients using AI and ML techniques, and a wide partnership network with system integrators, CROs, and academia have led to its positioning as a Leader in the Clinical Development Platforms Products PEAK Matrix® Assessment 2022."
Contact: 
Tom Paolella
Senior Director, Corporate Communications & Affairs
+1-848-203-7596
thomas.paolella@3ds.com

Paul Oestreicher
External Communications Director
+1-917-522-4692
paul.oestreicher@3ds.com