News Brief
Medidata Sensor Cloud Recognized As 'Best Biometric Sensor Solution' at the 2022 MedTech Breakthrough Awards
Medidata Wins Top Honor in the Annual Awards Program Honoring Excellence in Health Tech 
July 20, 2022— Medidata, a Dassault Systèmes company, today announced that its Medidata Sensor Cloud has been recognized as winner of the "Best Biometric Sensor Solution" category in the sixth annual MedTech Breakthrough Awards program.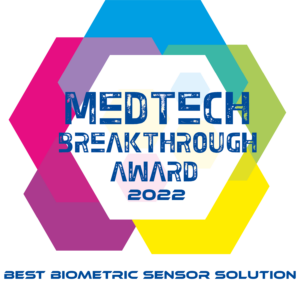 Medidata Sensor Cloud is revolutionizing the digital biomarker ecosystem with its groundbreaking ability to rapidly ingest and analyze patient data from any commercial or medical grade device on the market. This common algorithmic model enables the standardization of data and delivers seamless integration through a single API – resulting in better clinical decision-making, faster timelines, and a more unified patient experience. 
"The future of digital biomarker development is here, and this award truly goes to show how Medidata Sensor Cloud is leading the way," said Anthony Costello, Medidata Patient Cloud CEO. "This recognition comes at a pivotal moment of growth for our Sensor Cloud Network and the innovative organizations that have already joined, allowing us to truly work together toward solving the challenges related to sensor integrations, sensor data standardization, and the development of novel digital biomarkers and algorithms."  
New third-party devices can be integrated into Medidata Sensor Cloud in weeks – a process that used to take months – saving valuable time for study teams. Using that sensor data, Medidata's proprietary algorithms can derive clinical insights – such as sleep patterns and vitals signs –  while simultaneously developing custom algorithms to automatically detect and characterize disease-specific phenomena with digital precision.
"When multiple types of sensor data are used in research, they must be standardized and normalized for uniformity to facilitate further analyses across patients," said James Johnson, managing director, MedTech Breakthrough. "This process can be incredibly complex, yet Medidata's Sensor Cloud addresses these complexities head-on by incorporating third-party devices that enable richer data sets to support biomarker discovery. Their model solves a major challenge within the industry and we are thrilled to recognize the Medidata team with this 2022 MedTech Breakthrough Award." 
The MedTech Breakthrough Awards honor excellence and innovation in digital health and medical technology. This year's program attracted more than 3,900 nominations from over 15 different countries throughout the world.
Contact: 
Tom Paolella
Senior Director, Corporate Communications & Affairs
+1-848-203-7596
thomas.paolella@3ds.com

Paul Oestreicher
External Communications Director
+1-917-522-4692
paul.oestreicher@3ds.com