Medidata Blog
Acorn AI's Ana Fernandez Oromendia Honored as 2020 HBA Rising Star
May 13, 2020
-

4 min read
The Healthcare Businesswomen's Association recently recognized Ana Fernandez Oromendia, Director of Product, Value Discovery, Acorn AI by Medidata, with the 2020 HBA Rising Star award. Ana was honored for her commitment to excellence in the workplace, impact as a role model, and inspiration to other women. We spoke with Ana about her experience in HBA and lessons she has learned as a leader in the life science community.
Tell us about your career journey.
My career has been devoted to genetics, genomics, and scientific software development, in areas including oncology, neurodegenerative disorders, and fertility. My life science journey started at the University of Minnesota, where I received a BS in Biochemistry, and I then received my PhD in Molecular Genetics from the Massachusetts Institute of Technology. I've been at Medidata for almost 3 years: initially as part of our Data Science team. Now,
I lead the  team building our Value Discovery omics tools to improve the efficiency and rigor of therapeutic development processes.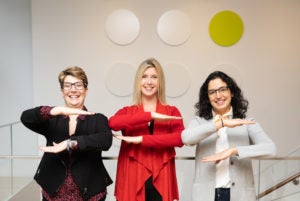 What are 1-2 lessons you learned throughout your career?
The first, always continue to learn and teach. This has been critical for me, both for staying up to date and for expanding my capabilities. It has also kept me from getting bored! Learning often involves reaching out to others for help. I've noticed that when you say you don't know something, and ask others to teach you, three amazing things happen: 1) people feel emboldened in their knowledge, 2) others are more likely to share what they themselves don't know, and 3) generally both people learn something new. It shows you're able to be vulnerable in your lack of knowing, and it usually empowers others to feel comfortable displaying that vulnerability as well. I find that it's a great strategy for building teams.
And second, I've learned that most skills are transferable, even if you don't immediately think so. This lesson was incredibly critical in my transition from the bench to a technology role, but it's also been important throughout many aspects of my career. Part of me thought I was never again going to apply the knowledge I learned during my PhD, and while it's true that I don't often think about specific genetic pathways that once kept me up at night, I am still using a lot of the same fundamental skills, just in a different way. Thinking creatively about how something can translate to a new discipline has enabled me to go beyond the field I was trained in, but most importantly, it helped me understand that people can come to a career from many different backgrounds and be successful.
What is your proudest professional accomplishment?
A few:
Starting a new area of study within my PhD laboratory at MIT. It was a new idea, and I was lucky to have an advisor who let me explore it, even though she never thought it would work. Three other PhD theses were built off of that crazy idea and we learnt a lot about cancer biology. I am proud that I trusted my instinct and pushed to go forward into uncharted waters.
Building the Rave Omics team from a one-person prototype to having 10+ contributors on a product currently deployed to make precision medicine a reality in customers' clinical development and leading to the work our team has done with the Castleman's Disease Collaborative Network. We've seen our work make a direct impact on the lives of patients struggling with a rare disease and nothing makes me prouder than that.
Would you like to share any tips for future life science leaders?
I feel strongly that the challenges we face in life sciences right now are too big for one discipline to solve. It will be the multidisciplinary team—the scientists, data engineers, computer scientists, chemists, physicians, patients, and technologists—all working together that will come up with viable solutions. Diversity of thought and approach will be what enables us to dissect a problem into all of its individual parts and enable us to come up with the best possible solutions.
How do you think the life science industry will further evolve over the next few years?
We are definitely squarely in the era of AI, but in our industry, we are still trying to find the best way to apply it. I feel that, for the life sciences, it's important to think of AI as "assisted" intelligence instead of as "artificial" intelligence.
AI will assist humans in making the best decisions. But AI cannot ask the right question, nor can it determine the right data to put together to answer the question. More than ever, we need human experts to identify the open questions and to aggregate the right data. AI will help identify patterns that humans cannot see, but it is not able to tell us what those patterns mean.
In the next few years, I see our industry getting much better at combining human intelligence—assisted by AI—to solve the hardest challenges. It really is about asking the right questions, compiling the right data together, having the technology to analyze the data, and then coming back to the experts to interpret those results.
Featured Articles
02
Mar 28, 2023
-

3 min read
03
Aug 15, 2022
-

2 min read
04
Oct 03, 2022
-

3 min read
Subscribe to Our Blog Newsletter