Medidata Blog
Customer Award Winners Announced Following Medidata NEXT Global
Nov 05, 2020
-

2 min read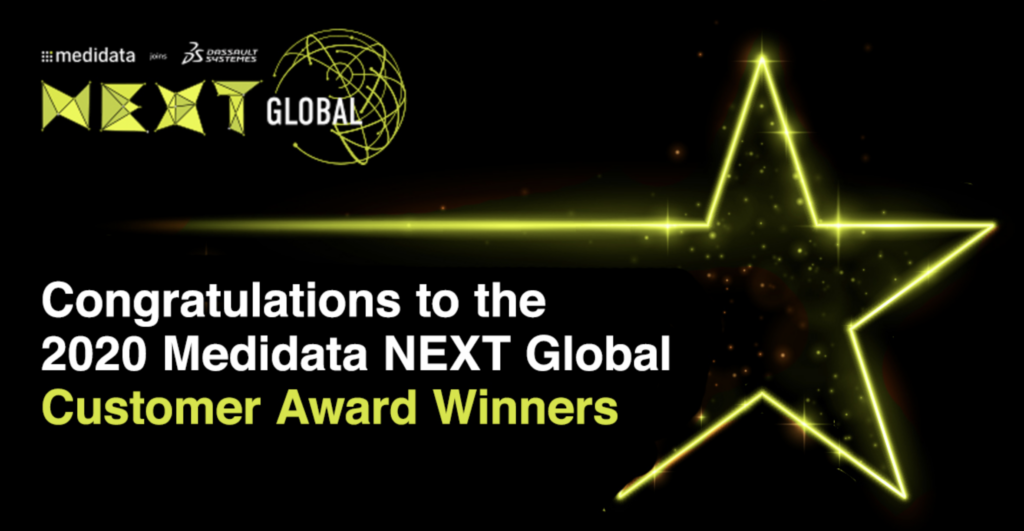 Following Medidata NEXT Global, the premier conference on the digital transformation of life sciences, Medidata is proud to announce this year's customer award winners.
Medidata, a Dassault Systèmes company, annually recognizes customers for their achievements in four award categories: Digital Transformation, Patient First, Partnership of the Year, and Insights & Innovation. Medidata Customer Award winners were selected for their innovative approaches to addressing global patient needs. Winners were recognized at Medidata NEXT Global, the premier conference dedicated to the digital transformation of life sciences. 
Medidata NEXT Global—held virtually this year—is the centerpiece of the largest annual event series of its kind, which attracted more than 3,000 attendees from across the world. NEXT Global brought together life science leaders for three days of forward-thinking conversations, knowledge sharing, and meetings to drive the industry forward with the joint mission of improving patient lives. 
This year, Novavax and Moderna were recognized in the Digital Transformation category. This award celebrates drug sponsors that are true innovators by incorporating the use of digital technology to overcome challenges by redefining approaches to clinical research and development.
Parexel received the Patient First Award, given to a customer who is leading the way to improve lives through technology by demonstrating a commitment to decreasing burden to trial participants with a patient-first approach.
Syneos Health and Novo Nordisk were each recognized with awards for Partnership of the Year. These awards recognize partnership that demonstrates a shared commitment to drive clinical success via data insight and promotes the advancement and acceleration of clinical trial execution through collaboration.
Medicenna and PPD each received the Insights & Innovation Award, which recognizes their use of data insights to improve decision making and drive innovation across clinical development and launch readiness.
"The Medidata Customer Award highlights the most innovative approaches to the digital transformation of life sciences," said Michael Pray, executive vice president, Global Sales at Medidata. "We are proud to recognize these organizations for their clinical advancements and dedication to patients around the world. Congratulations!"
Featured Articles
02
Aug 01, 2022
-

4 min read
03
Aug 15, 2022
-

2 min read
04
Oct 03, 2022
-

3 min read
Subscribe to Our Blog Newsletter
Customer Award Winners Announced Following Medidata NEXT Global