Medidata Blog
Medidata's Decentralized Clinical Trials | A Case Study Collection
Jan 04, 2023
-

5 min read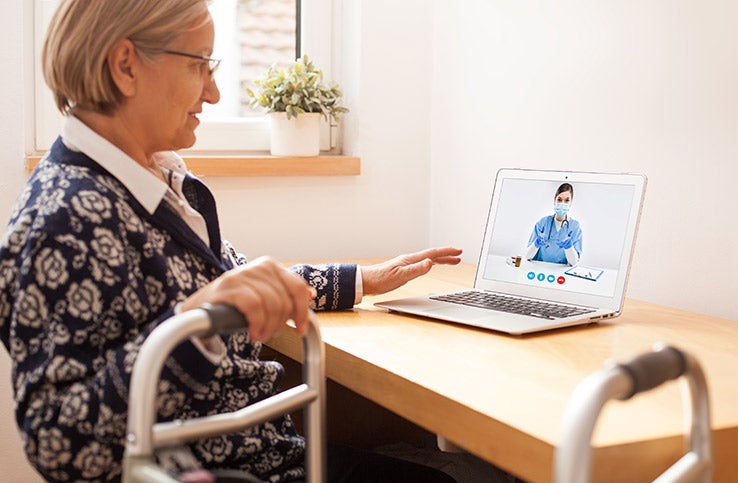 Today's clinical trial technologies allow patients to complete clinical trial activities remotely to create better patient experiences while enabling sponsors and clinical research organizations (CROs) to execute faster, smarter trials and sites to focus on patient care, rather than administrative duties. The promise and potential of decentralized clinical trials (DCTs) are great, but execution and delivery of the right technologies matters in optimizing patient, site, and sponsor experiences. 
Medidata's DCTs make up an ecosystem of tools, people, and processes. This ecosystem empowers patients, sponsors/CROs, and sites to monitor and contribute to any decentralized clinical trial, including both hybrid and fully virtual studies. Medidata is ALL IN on DCTs with longtime leadership and expertise—having run the industry's first DCT with Pfizer over a decade ago, the largest fully decentralized clinical trial with the ADAPTABLE study, and the most important fully decentralized or hybrid DCT—yours. Medidata's decentralized trial offerings are built directly on the Medidata Rave electronic data capture (EDC) platform, requiring no point solution integrations, and resulting in the industry's most comprehensive patient-and-site-facing solutions.
Countless partners have found success with Medidata's DCT program. Below are select case studies that tell those stories. Discover how industry leaders are using Medidata's solutions to strengthen their decentralized trial offerings.
The Industry's First Fully Decentralized Clinical Megatrial
ADAPTABLE (Aspirin Dosing: A Patient-centric Trial Assessing Benefits and Long-term Effectiveness) was the first fully decentralized clinical trial of its scale. More than 15,000 participants contributed to this award-winning clinical study to answer a pressing question: what's the best aspirin dosage to prevent heart attacks and strokes?
Researchers at Duke Clinical Research Institute (DCRI)—the world's largest academic CRO—partnered with Medidata to bring ADAPTABLE to life through industry-leading decentralized trial components. A novel recruitment approach used ticketed invites to recruit eligible participants while tracking them through enrollment and follow-up. This method is now a present-day best practice.
ADAPTABLE also used eConsent to educate and engage patients, eSource for remote data capture, patient-reported adverse events (AEs), patient self-dosing, and supply management—all on the Medidata platform. Together, these decentralized technology solutions allowed patients to participate in the ADAPTABLE trial from wherever was most convenient to improve compliance and reduce trial site burden. Discover how ADAPTABLE laid the foundation for today's decentralized clinical trials.
"The fact that ADAPTABLE was identified as one of the Top Ten influential clinical trials is recognition that its many lessons learned have had an impact on decentralized trial design."
– Dr. Schuyler Jones, ADAPTABLE Co-Principal Investigator, Associate Professor of Medicine, Duke University Medical Center
Putting Patients at the Core with eConsent
Boston Scientific is a top 20 medical device company that needed a leading eConsent solution to better inform and educate their clinical trial participants. Medidata's eConsent offerings were an ideal match to meet Boston Scientific's speedy rollout. In partnership they worked seamlessly to overcome a series of internal critical path challenges and accomplish Boston Scientific's goals.
Clinical trial recruitment and patient engagement were priorities; participants needed to better understand the purpose, benefits, and risks of the clinical trials they were considering. Medidata's eConsent solution informed potential participants of their rights and responsibilities from the very beginning, while also educating them on the clinical trial as a whole. This improvement in patient education and comprehension led to subsequent increases in patient compliance and retention.
The Medidata team partnered with Boston Scientific at every step of the way, ensuring smooth implementation and better operational efficiencies. See how Medidata's eConsent solutions put patients at the core of clinical trials.
Shari Swanson, Principal Business Analyst, Clinical Programs at Boston Scientific explains why Boston Scientific partnered with Medidata to meet their eConsent goals.
Adapt, Innovate, and Scale Faster with eCOA
One of the leading biopharma companies, Merck (MSD), was seeking an eCOA (clinical outcome assessment) solution to adapt, innovate, and scale faster across multiple studies and therapeutic areas. Merck wanted to shift from point solutions to a platform-level experience. Previously, Merck used traditional eCOA vendors; this required the company to repeatedly start from scratch in regards to trial programming and design, creating longer timelines for studies across different therapeutic areas.
Merck chose Medidata's eCOA offerings to help run their studies more efficiently by keeping measures standard and designed for each therapeutic area and using them for multiple studies. Medidata eCOA is built on Rave EDC, eliminating the time and cost of merging disparate data sets.
Additionally, many of Merck's clinical trials featured large patient populations across multiple countries. These studies required 30-40 language translations in a short timeframe—a major pain point for Merck when starting from scratch on each study. Medidata's eCOA solution supported such a high number of translations while reducing timelines. Watch Merck and Medidata discuss their eCOA journey.
"We're gaining efficiencies from using Medidata's software-as-a-service…we can keep it standard, design it for a therapeutic area, and reuse it over again for multiple studies."
– Robert Schneck, Associate Director, Clinical Data Management, Merck
Optimizing DtP Supply Management
CRO ClinChoice and sponsor 89Bio were in need of a trusted partner to power Direct-to-Patient (DtP) services for their phase II hypertriglyceridemia trial. This study recruited approximately 200 patients across 300 sites throughout North America and was forced to pivot mid-study to a decentralized protocol due to pandemic disruptions.
ClinChoice's trial presented numerous challenges: the protocol required the option for patients to receive Investigational Product (IP) supplies on-site or at-home; the ability to respond quickly to remote patient needs was critical; and the trial's hybrid approach needed to comply with differing regulatory guidelines across the United States and Canada.
ClinChoice turned to their longtime partner Medidata to execute DtP services. Medidata Rave RTSM's DtP solutions provided ease and flexibility, allowing patients to be dosed remotely while ensuring IP supply management and optimization. Medidata worked with the CRO, sponsor, site, and depot to integrate the DtP system across the supply chain. This DtP system enabled trial continuity and preserved patient centricity by reducing patient burden. Learn how Medidata helped ClinChoice and 89Bio meet their DtP needs.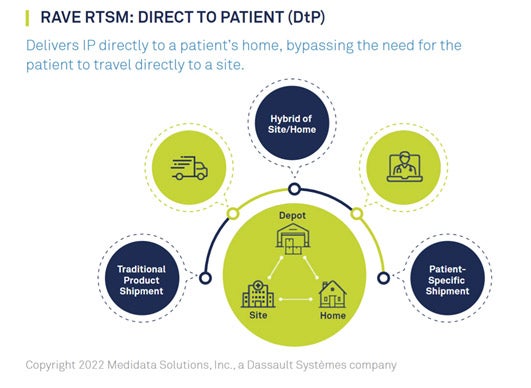 See How Medidata Is Helping Partners in All Phases of DCT Implementation 
Get exclusive insights into how companies successfully leveraged Medidata offerings to strengthen their decentralized trials. Browse our case studies collection to see how Medidata can meet your DCT needs.
Download our eBook below.

Related Articles
02
Jan 31, 2022
-

3 min read
Subscribe to Our Blog Newsletter