Medidata Blog
Developing Safer Immunotherapy Clinical Trials for Patients | ASCO 2023 Recap
Jul 06, 2023
-

4 min read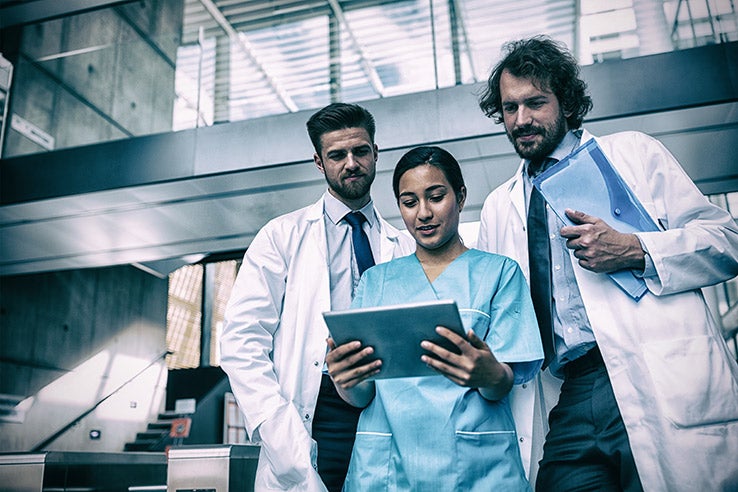 Medidata joined 42,000+ oncology professionals at McCormick Place in Chicago, IL to learn the latest and greatest in the field at the 2023 ASCO Annual Meeting (June 2-6, 2023). This year's program emphasized the patient-clinician relationship with the theme, Partnering With Patients: the Cornerstone of Cancer Care and Research. Our Medidata AI Trial Design team is invested in helping accelerate the development of safer, more successful immunotherapy clinical trials for patients. Read on for their 3 takeaways.
1. Applying Digital Tools and Big Data to Immunotherapy Clinical Trials
Alongside the fundamental strategies to develop effective treatments, detect cancer earlier, and eliminate inequities, we need to maximize data utility. Digital health technologies (i.e., remote patient monitoring) can assist with facilitating the reach of cancer care to patients—regardless of their location to a major academic center.
For example, with the majority of CAR-T patients treated in inpatient settings, digital health tools can help expand access to outpatient cancer care. But there's a need for a greater commitment of data to be securely shared and made available to researchers. Most novel immunotherapy datasets that are available are small in size and it's challenging to find a signal—proving a need for larger datasets.
The Medidata AI CAR-T/bispecifics research cube has amassed 4,000+ patients and counting on the Medidata Rave platform since 2014. This pooled historical clinical trial data provides a holistic view of the patient's therapy journey. Such a degree of volume, richness, and longitudinality in a dataset can help hematology-oncology clinicians, researchers, and developers answer questions that are most clinically impactful for their immunotherapy clinical trials.
2. Design of Immunotherapy Clinical Trials
With the success of CAR-T therapy in blood cancers, comes challenges in its application to solid tumors. A significant portion of patients still resist or relapse, and there is a need for a greater understanding of how cancer cells resist these immune-based therapies and their underlying mechanisms. Identifying precision biomarkers to predict immunological features, especially in solid tumors, can help mediate resistance and achieve a more durable remission. Grouping complex resistant mechanisms with simple biomarkers may help increase access to precision immunotherapy for individual regimens/combinations. 
Combination therapies (pairing two cancer treatments with one another) have enhanced the safety and efficacy of treatments; but traditional, non-selective randomized controlled trials may not be conducive to immuno-oncology drug development. Rather, master protocols (basket trials, umbrella trials, and adaptive designs) can help develop combination therapies more efficiently. 
Failed immunotherapy clinical trials also share a common issue: lack of patient selection. Improved patient selection can improve safer monitoring of patients, as well as prolonged, event-free survival. It's paramount to develop methods to select patients, though the main limitation in helping clinicians do so is the (lack of) availability of data. 
Mining the Medidata data cube can help refine the eligibility criteria of patients for a trial so that it's the right fit—upholding scientific rigor with the recruitability of the right patients, while identifying patients that are more likely to respond to immunotherapy and less likely to develop adverse events. This longitudinal dataset can also help design the appropriate immuno-oncology trial along the patient journey—from patient selection to optimizing lymphodepleting conditioning regimens, dosing strategy, and post-infusion follow-up. 
3. Future Directions and the Need for More Multi-sector Collaborations
With the next-generation of CAR-T therapies comes a variety of other methods focused on patients sustaining a durable remission and minimizing toxicity side effects (i.e., cytokine release syndrome, ICANS/neurotoxicity, prolonged cytopenia). These efforts include novel CAR designs targeting more than one antigen, engineering CAR-T cells with CRISPR gene editing, and innovative combination therapies.
A few notable developments in novel immunotherapies and combination therapies highlighted at ASCO included: 
J&J's CAR-T therapy, Carvykti, demonstrated a 74% reduction in the risk of disease progression in multiple myeloma.

Janssen's bispecific antibody therapy, Amivantamab, demonstrated encouraging long-term benefits and consistent efficacy in patients with advanced non-small cell lung cancer (NSCLC).

Advances in bispecific antibody T-cell engager (BiTE) therapies, including Amgen's Tarlatamab, demonstrating manageable safety with greater durability in response in small-cell lung cancer (SCLC). 

Considerable efforts are being dedicated to developing trispecific (or multispecific) antibody therapy with potentially greater therapeutic potential and could be a key development in minimizing toxicity side effects.

AstraZeneca's checkpoint inhibitor bispecific (anti-PD-1/anti-TIGIT antibody) that targets two checkpoint inhibitor pathways simultaneously demonstrated great promise in NSCLC

Merck and Moderna's co-developed personalized cancer vaccine (a combination of their mRNA vaccine and Keytruda) showed a reduced risk of recurrence or death in patients with high-risk melanoma.
Though these successes are extraordinary, they also highlight the need to continue creating safer profiles and managing associated adverse events of these revolutionary therapies. All patients have the potential to benefit from immunotherapy; but a key theme across sessions is: if the patients who need them the most do not have access to these transformative treatments, they cannot transform. Addressing the logistical, financial, and economic barriers of receiving these innovative immunotherapies takes more multi-sector collaborations across industry, academia, pharma, and regulatory entities. 
The Medidata AI Trial Design team is invested in collaborating with thought leaders across the field to overcome these challenges. We created our Research Hub to leverage our unique dataset to generate clinically meaningful insights by working with key opinion leaders across academia, non-profits, and industry. By bringing together academic and industry partners, with Medidata AI's expertise in data and analytics, we're providing a forum for conducting cutting-edge research, designing/executing safer trials of these revolutionary immunotherapies, and expanding access to patients.
To learn more about the Research Hub and how to get involved, please contact Sheila Diamond, MS, CGC.
Related Articles
01
Feb 10, 2023
-

4 min read
02
Mar 01, 2023
-

< 1 min read
03
Feb 02, 2023
-

4 min read
Subscribe to Our Blog Newsletter