Medidata Blog
Direct-to-Patient Supply Models: How Rave RTSM Solves COVID-19 Disruptions
Oct 15, 2020
-

2 min read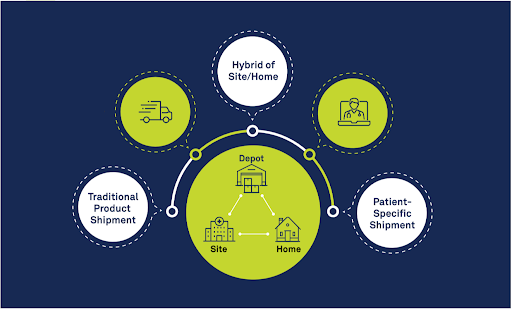 Due to COVID-19, many clinical trials have had to adjust operations to ensure patient safety. Even in areas where sites have been able to stay open or reopen after temporary closures, many patients remain hesitant to visit sites in-person because of risks associated with COVID-19. To allay these concerns, many sponsors and CROs have adapted trial operations with Direct-to-Patient (DtP) services.
The DtP approach brings investigational medicinal products (IMP) directly to a patient's home, bypassing the need for the patient to travel directly to a site. Randomization and Trial Supply Management (RTSM) solutions play a crucial role in the success of DtP trials. Since drug supplies are being managed and shipped from distribution facilities directly to patients' homes, sponsors must have high-quality systems in place to accurately track the chain of custody, ensure patient-blinding and handle other logistical challenges. Ultimately, this process delivers the right treatment to the right patient at the right time.
Prior to the advent of COVID-19, sponsors and CROs were already adopting DtP approaches to increase patient centricity in clinical trials. The underlying forces behind increased adoption of DtP approaches include patient scarcity, limited access to clinical sites, patient retention, and commercial pressure. From a market perspective, sponsors compete for patients from the same limited pool, so patient-centric services like DtP prove mutually beneficial for patients and sponsors. In DtP trials, patients benefit from the ability to access customized care and novel therapies from the comfort of their homes, and sponsors and CROs benefit from facilitated patient enrollment and increased patient adherence.
Now, COVID-19 has significantly compounded those existing driving forces behind DtP approaches. There are several scenarios in which COVID-19 complicates the therapy dispensation process for patients—sites are open but lack drug supply; sites are open but patients cannot access them; sites are closed and patients need their drugs; future site access is in question; sites have supply chain concerns due to availability of product or shipments.
Rave RTSM for DtP is equipped to handle any of these scenarios. Unified with Rave EDC, Rave RTSM for DtP offers flexibility to make mid-study changes, and it supports timely shipments to patients directly from sites or depots. Streamlined workflows limit the manual effort required for the process, significantly reducing key cycle times:

Additional key features of Rave RTSM for DtP include:
Use in new and existing studies

Ability to set individual visits to Direct-to-Patient through the treatment schedule

Configurability on the visit and site level

Manual dispensations can be sourced from site inventory

Replacement and unscheduled visits are also supported by DtP

Sites can be configured to follow the DtP visit schedule or to dispense from site inventory, supporting a trial combining virtual and physical sites

Full life cycle view of DtP shipments and dispensations
Learn more about how Medidata's technology supports trials affected by COVID-19.
Featured Articles
02
Mar 28, 2023
-

3 min read
03
Aug 15, 2022
-

2 min read
04
Oct 03, 2022
-

3 min read
Subscribe to Our Blog Newsletter