Medidata Blog
The First Large-Scale Precision Medicine Trial?
Dec 13, 2016
-

4 min read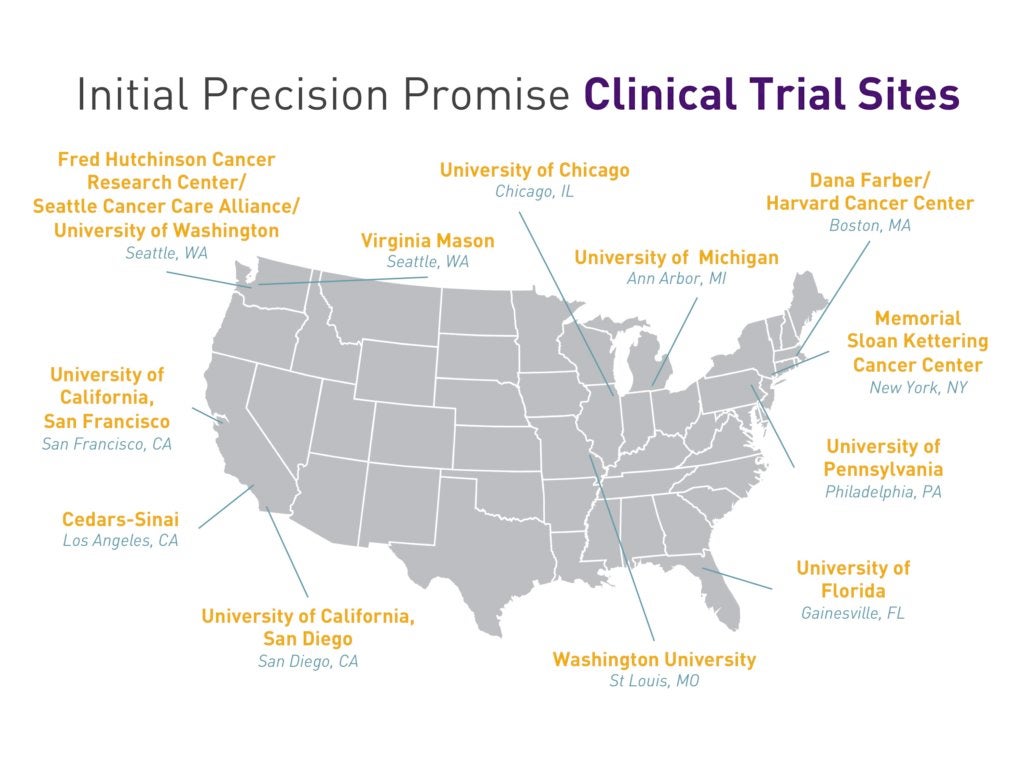 Receiving a pancreatic cancer diagnosis can be devastating. At Medidata, we felt this personally in 2016 when one of our own fell victim to the disease. The stats are horrific: according to NCI data, five-year survival for pancreatic cancer patients was 8.8% in 2015. Clearly the standard of care isn't enough for the vast majority of patients. The non-profit Pancreatic Cancer Action Network (PanCAN) feels clinical trials aren't doing enough for pancreatic cancer patients, either.
PanCAN, founded in 1999, aims to double pancreatic cancer survival by 2020. To push this mission forward, the organization recently launched Precision Promise, which it says is "the first large-scale precision medicine trial that will put the patient at the center of every decision."
PanCAN is initially working with 12 major sites – including Cedar-Sinai Medical Center, Dana Farber, Fred Hutchinson Cancer Research Center and Memorial Sloan Kettering – as well as genomic sequencing health tech company Tempus CRO Cancer Research and Biostatistics (CRAB).
We spoke with PanCAN Chief Research Officer Lynn Matrisian, PhD, about PanCAN's campaign to put patients at the center of clinical development. Here's an abridged version of our conversation.
Tell us about some of PanCAN's efforts at elevating the voice of patients in clinical trials?
Dr. Lynn Matrisian: Pancreatic cancer is one of the very worst, so there are real opportunities to make a difference for patients. I oversee a marvelous team of Patient Central Associates that are helping patients on a one to one basis, whatever their issues are.
We have a database of trials that are available that fit patient needs on a very individual basis, called Clinical Trial Finder, and we also have a grants program to fund research. We're working on initiatives that will help patients today, but also inform us so we can help patients tomorrow.
For example, we launched Know Your Tumor, a program for patients to receive a molecular profile of their tumor along with available options based on that profile.
We also have a patient-reported outcomes registry to collect information directly from patients, which get entire control of their privacy settings. We use this information for research purposes to help inform best practices for patient care.
Pancreatic cancer patients are reliant on the clinical trials. We often hear there is a disconnect between available clinical trials and what patients really need. Many patients are looking for second-line treatment, but there are very few options for second-line treatment.
Precision Promise is the next step in that evolution, to say now is the time to start designing clinical trials that we think are right for pancreatic cancer patients.
How is Precision Promise a precision medicine trial?
The vision is that we have something for every pancreatic cancer patient. We're starting with metastatic patients, but eventually we will expand to all phases.
When a patient comes to one of our 12 sites, the first decision regards one of the two standards of care. Instead of the trial dictating the chemotherapy backbone of the patient's treatment, the physician and patient decide whether it's platinum-based folfirinox or Abraxane. There are reasons why a physician will choose one over the other, and there's an opportunity to make those decisions without the trial dictating the terms.
Patients are then split into sub-studies based molecular profiling of their tumors. Trials usually dictate that patients have to be "this, that and this." We are making trials where there's something for patients to do in the first line, and then moving on to an investigational therapy.
Is this an adaptive trial?
If you ask a biostatician, there's a specific definition of adaptive trial. But it's a similar concept. It's adaptive from a patient perspective.
What are the protocol design considerations for something like this?
It's tricky, and our biostaticians have made sure to challenge us along the way. The challenge is that we're trying to integrate three trials under one umbrella. There are certain things we can compare, and there are others we can't.
One of the guiding principles of this trial is that it's not designed to approve trials. It's a signal seeking trial. There are so many potential combination therapies for this disease, so how do you know where to start? We are emphasizing small, quick trials to switch therapies in and out.
We hope we see good signals; then we'll go to that company and they will have the information they need to create a more rigorous trial to register the drug for the market. It's a precursor to the FDA.
Only 11% of Phase III pancreatic cancer trials work. With Precision Promise, we think this may change.
There are other clinical trial consortia, and there are some that are doing molecular analysis, but I don't know any that are doing it in this very patient centric way - where the decisions are based on what's best for the patient, not only on molecular analysis. To do this in first-line therapy, second line, eventually third line, in essence it's throughout the whole patient journey. It makes it quite innovative and an unusual approach to a clinical trial solution.
Featured Articles
02
Mar 28, 2023
-

3 min read
03
Aug 15, 2022
-

2 min read
04
Oct 03, 2022
-

3 min read
Subscribe to Our Blog Newsletter