Medidata Blog
Medidata AI Presents New Research Deriving Predictive Features of Severe Cytokine Release Syndrome in CAR T Therapy at ASH 2022
Dec 12, 2022
-

2 min read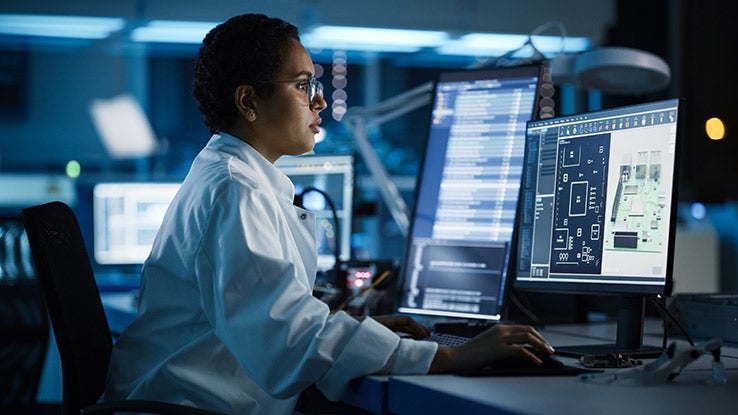 Chimeric antigen receptor (CAR) T-cell therapy is an incredibly promising immunotherapy for several hematological cancers, especially for patients who have exhausted other treatment options. CAR T works by altering a patient's own blood to produce artificial, genetically engineered T cell receptors that recognize and eliminate cancerous cells in the body.[1] The most common form of CAR T-cell therapy is anti-CD19 therapy targeting the CD19 antigen that is expressed by most B cell cancers.[2]
Although CAR T represents new hope for cancer patients with limited treatment options, it can also come with intense side effects. Cytokine release syndrome (CRS) is the most common, life-threatening adverse event. The condition is caused by an overly excessive immune response to CAR T therapy, sometimes called "cytokine storm."[3] CRS has posed difficulties for CAR T clinical trials; since 2016, the condition has caused over 15 trial failures.
While only a portion of CAR T patients experience CRS, there is a limited understanding of its risk factors. Known markers of severe CRS either lack specificity or require central lab facilities, making them unsuitable for safety surveillance during trials or real-time clinical decision making.
What If CAR T Researchers Could Analyze Pre-Infusion Clinical Trial Data to Find Common Lab Markers that Can Distinguish Patients with Higher Chances of Developing Severe CRS?
Medidata AI is exploring such an approach with the University of Pennsylvania Perelman School of Medicine and the Castleman Disease Collaborative Network. During the 2022 American Society of Hematology (ASH) Annual Meeting, Medidata AI presented new research that used pooled clinical trial data from Medidata's clinical trial repository, comprised of 28,000+ historical clinical trials.
Previous investigations of the clinical risk factors of severe CRS have relied on very small patient populations usually drawn from a single CAR T study. Typically, a CAR T study averages only 11 patients.[4] But in this latest research, Medidata AI compiled and analyzed a large pooled clinical trial data set spanning 360+ patients from multiple CAR T clinical trials. The research team, comprised of Vibhu Agarwal, Jacob Aptekar, MD, PhD, David C Fajgenbaum, MD, MBA, MSc, and Penelope Lafeuille, MS, used big-data modeling techniques to quantify the relationship between patients' lab measurements and the development of severe CRS. Their analysis captures longitudinal patterns in common laboratory markers and vitals before and after lymphodepleting chemotherapy (LDC) that correlate with future CRS events.
Figure 1: Importance scores for features capturing longitudinal patterns in pre- and post-LDC intervals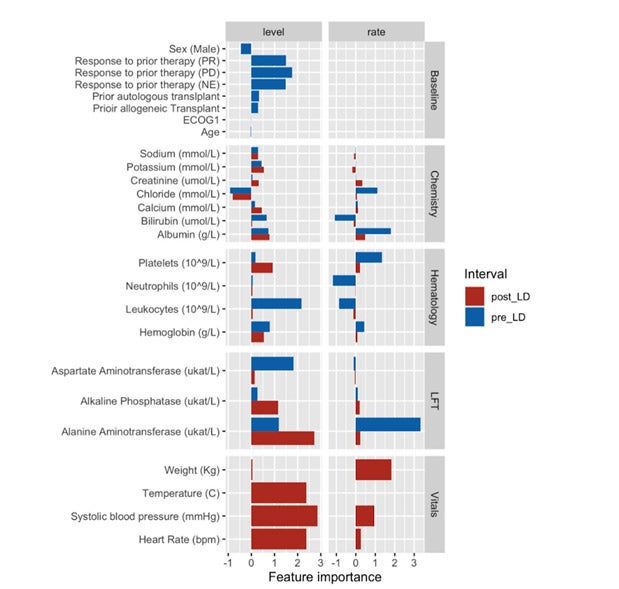 This newfound association between pre-infusion temporal patterns in clinical variables and severe CRS suggests that dynamic tracking of patient status will be key to effective mitigation strategies.
About Medidata AI
Medidata AI provides unparalleled clinical trial data, advanced analytics, and industry expertise for pharmaceutical, biotech, and medical device leaders, to help reimagine what is possible, uncover the breakthrough insights, make confident decisions, and pursue continuous innovation from R&D to commercial launch.
[1] https://www.cancerresearch.org/en-us/blog/september-2019/promise-car-t-cell-therapy-2019-beyond#:~:text=Chimeric%20antigen%20receptor%20(CAR)%20T,part%20of%20our%20immune%20system
[2] https://www.cancerresearch.org/en-us/blog/september-2019/promise-car-t-cell-therapy-2019-beyond#:~:text=Chimeric%20antigen%20receptor%20(CAR)%20T,part%20of%20our%20immune%20system
[3] https://my.clevelandclinic.org/health/diseases/22700-cytokine-release-syndrome
[4] https://www.sciencedirect.com/science/article/pii/S1525001617305567#:~:text=Study%20Overview&text=this%20systematic%20review.-,The%20average%20number%20of%20participants%20per%20clinical%20trial%20examined%20was,13%2C%2014%20to%2030%20patients
Featured Articles
02
Mar 28, 2023
-

3 min read
03
Aug 15, 2022
-

2 min read
04
Oct 03, 2022
-

3 min read
Subscribe to Our Blog Newsletter