Medidata Blog
SCOPE Virtual 2021: Medidata Returns as a Signature Sponsor
Feb 19, 2021
-

4 min read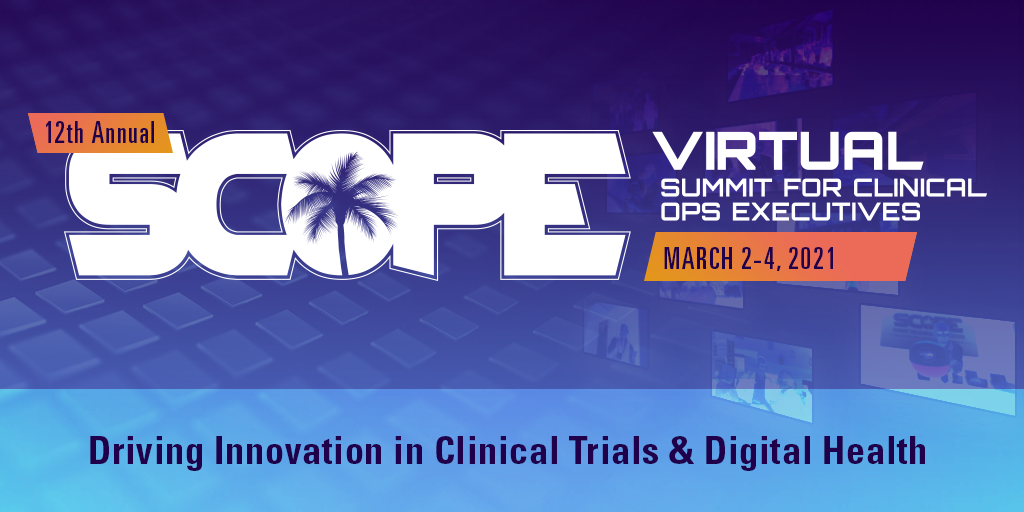 Medidata is leading the digital transformation of life sciences by generating the evidence and insights to bring treatments to patients faster. This year, the SCOPE Summit will be held virtually, offering many different conferences, networking opportunities, and interactive breakout discussions. Join us at the 12th Annual SCOPE Summit on March 2–4, 2021 to learn how Medidata can help you transform how you run your clinical trials.
At the Summit for Clinical Operations Executives (SCOPE) 2021, over 2,000 clinical operations and research leaders will gather to discuss the most urgent challenges in today's clinical trial landscape. COVID-19 continues to impact the global community—the ongoing situation compounds the already complex challenges which affect clinical trials. How do we ensure safer and more effective trial operations? How do we collaborate with patients to deliver the best possible experiences and outcomes? How do we use data to extract meaningful insights from trials to deliver the right treatment to the right patient at the right time?
The answers to these questions will drive clinical innovation, both during COVID-19 and beyond. As a signature sponsor at SCOPE 2021, Medidata's experts will share their knowledge regarding several critical topics. Focus areas include RBQM, AI-driven site selection, diversity in clinical trials, RWD, and how to empower patients through registries. Medidata will also host breakout sessions focused on patient-centric trial design, decentralized and hybrid trials, and navigating China's regulatory and drug development landscape.
Risk-based quality management
A risk-based quality management approach to trial execution used to be considered optional—now it is becoming imperative. Regulatory comment in this area makes clear that activities like proactive risk assessments and continued monitoring of quality metrics are no longer niche activities. 
A successful RBQM strategy means ensuring companies are taking a "critical to quality" approach in everything from study design to the execution of monitoring strategies. An RBQM approach helps researchers understand the impacts of trial design decisions, including patient safety, data quality, and site burden. RBQM is about continual adaptation rather than a static, one-size-fits-all approach to operations—by monitoring key metrics and adjusting tactics across the study, researchers manage risks as they materialize over time.  
Medidata Expert, Lisa Moneymaker, will be joined by Nicole Stansbury, VP of global clinical monitoring at Syneos, to discuss how RBQM has become standard practice during COVID-19 and share real-world lessons in two separate sessions.
AI-driven site selection
Sponsors and CROs depend on site-level and patient-level data to identify which sites can best serve their studies and develop strategies to increase and maintain patient enrollment. Traditionally, studies would select a high number of sites to enroll enough patients. With COVID operating conditions, those strategies for patient enrollment are difficult to sustain. The shift towards a new paradigm involves using a smaller number of high-performing sites—a more efficient, less costly way to operate. Ultimately, this empowers sponsors to rely only on the best sites and avoid wasting investments with a scattershot approach across a large number of sites with varying degrees of performance.
Jef Benbanaste, senior director & product lead, Acorn AI, will discuss how companies use AI to leverage broad cross-industry trial performance data. His presentation will include approaches and real-life insights around developing predictive models to drive better site selection, more accurate forecasts, and real-time tracking of clinical trials against changing industry conditions. Benbanaste will also moderate a live panel about how data science contributes to successful trial planning during COVID-19.
Real-world evidence for regulatory submissions
From research and development, to pre-launch and launch phases, to post-market surveillance and commercial performance, real-world evidence has shown immense value for companies that have invested the resources to track, measure, and apply it meaningfully.
In December 2018, the U.S. Food and Drug Administration (FDA) published its highly-anticipated Framework for FDA's Real-World Evidence Program. In this framework, the FDA defines real-world data and real-world evidence as follows:
Real-world data (RWD)

are data relating to patient health status and/or the delivery of health care routinely collected from a variety of sources.

Real-world evidence (RWE)

is the clinical evidence about the usage and potential benefits or risks of a medical product derived from analysis of RWD.
Use cases for RWE are expanding, specifically in support of R&D and regulatory functions. For example, synthetic control arms (a combination of both clinical and real world data) have the potential to enable market access and propel regulatory submissions. 
At SCOPE, Aaron Galaznik, MD, head of real-world evidence solutions, Acorn AI, will moderate a panel discussion, Regulatory-Grade Real World Data and Innovative RWD-Based Studies.
Diversity in clinical trials
The underrepresentation of minority groups in clinical trials remains an entrenched challenge and ultimately causes health disparities among minority populations and affects scientific outcomes.
Jackie Kent, chief customer officer, will join a panel and examine diversity in clinical trial populations as a moral and scientific issue. The panelists will discuss how to determine which groups are underrepresented in clinical development (according to draft FDA guidance), strategies for sponsors to overcome challenges internally, and how to execute a successful engagement strategy for drug development.
Patient registries
Do your protocols create the best experiences for patients? Are you struggling with high patient dropout rates or slow recruitment? Patient registries create a community of educated and empowered patients prepared to participate in clinical research. This will dramatically transform the way participants are recruited and engaged in clinical research, by empowering patients to engage and remain active while outside of a research study. Creating the best experiences for patients also means offering convenience with virtual trial options like wearables, sensors, remote data collection, and live video visits.
Kelly McKee, senior director, patient recruitment and registries, along with a patient advocate, will discuss how to create an educated and empowered community of patients prepared to participate in clinical research. 
Patient centricity requires continued collaboration—patients have the experience to inform trial designs, advise stakeholders, and benefit from data analytics. Medidata operates with a formal process called patient centricity by design (PCbD), part of our Patient Insights program. This is the formal process of infusing the patient perspective into the software development life cycle to create technical solutions that improve the overall patient experience in clinical research interactions. Medidata built PCbD around three core principles of patient centricity: design, engagement, and activation. 
Alicia Staley, senior director, patient engagement will be presenting Medidata's Patient Centricity by Design studios at this year's Participant Engagement Awards. The Participant Engagement Awards are designed to inspire innovation and change in how the industry engages with clinical trial participants. The award will be given to projects or programs that best embody this mission. 
See our full agenda for SCOPE 2021 and join the conversation March 2–4.
Featured Articles
02
Mar 28, 2023
-

3 min read
03
Aug 15, 2022
-

2 min read
04
Oct 03, 2022
-

3 min read
Subscribe to Our Blog Newsletter