Medidata Blog
Making Decentralized Trial Implementation Easier for Everyone in Clinical Research—Here's How
Dec 19, 2022
-

5 min read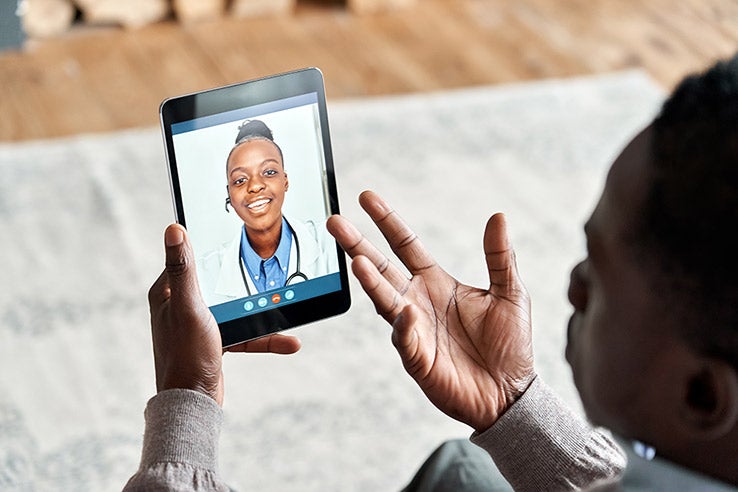 Decentralized clinical trials (DCTs) have the potential to enhance the patient trial experience, recruit more diverse clinical trial participants no matter where they live, offer greater flexibility, and provide cost efficiencies—all with the goal of delivering safe and effective treatments to market faster.
To capitalize on the many benefits of DCTs, sponsors must focus on the promise of decentralization while reducing burden for everyone involved in clinical trials—patients, clinical research sites, and sponsors alike.
Medidata ran the industry's first DCT, as well as the industry's largest. And we're ready to help you lead the most important DCT—yours.
Here's how sponsors can enable a successful, patient- and site-centric DCT:
1) Design Your Clinical Trial Around Patients and Their Diverse Needs
It's been estimated that 70%[1] of potential trial participants live more than two hours from clinical trial sites. That's why decentralized clinical trials can potentially reach and attract a larger, more diversified pool of patients. But meeting patients where they are extends far beyond their physical location.
Optimizing a patient's clinical trial experience focuses in part on reducing the burden of medical research participation. Using accessible, user-friendly training materials, incorporating virtual doctor visits, and including remote monitoring are key and necessary shifts. However, in many cases from enrollment to post-study activities, the participant may be asked to use multiple technologies with different user interfaces, requirements, and passwords.
Using device-agnostic technology that enables a single sign-on (SSO) to access all patient-facing, study-related activities removes that burden—particularly for audiences with lower technology literacy. For example, myMedidata offers a single-destination patient portal that enables patients to virtually enroll and participate in clinical trial activities using any online device.
2) Empower a Diversified Study Group by Enabling DCT Technology Reach
Today, less than 5%[2] of eligible patients participate in clinical trials. The promise of DCTs is to improve diversity in clinical trials and expand access to patient populations who have otherwise been disenfranchised from traditional research.
Backed by innovative DCT solutions, sponsors can implement inclusive trial designs by including participants who live in rural or underserved areas but have been locked out of traditional research because of the burden of in-person visits. Sponsors should engage community healthcare providers as partners, including non-traditional research sites who have developed trusted relationships with patients wary of clinical trials.
Decentralized trials can also extend to patient populations who are in dire need of new treatment options by broadening eligibility criteria in regards to race, age, sex, and gender. Clinical trial awareness efforts should be concentrated in areas of diverse populations to further promote the benefits of clinical research to underserved patient groups.
Medidata is empowering sponsors to broaden their reach to increase minority participation in clinical research with Medidata Patient Cloud, an innovative suite of solutions; eConsent, eCOA (clinical outcome assessment), myMedidata LIVE Video Visits, Sensor Cloud, and pre- and post-trial registries are just a few examples that help sponsors break down the barriers of traditional clinical trials. Backed by Medidata Clinical Cloud®, the industry's only unified platform, patients can participate anywhere and with an optimized experience.
3) Facilitate Flexible Supply Delivery Options
One of the biggest hurdles to removing patient burden in clinical trials is dispensing investigational medicinal product (IMP) directly to a patient's home or preferred location. Unfortunately, there are many challenges that can hamper Direct-to-Patient (DtP) deliveries. A short list includes integration with depots and distribution facilities, assuring time sensitive and secure deliveries, tracking chain of custody, and ensuring blinding and other logistical factors.
Allowing patients to have greater insight and control over the ordering and receipt of their clinical trial supplies offers sites more opportunities to increase patient engagement and satisfaction. Enabling DtP also requires both an understanding of regulatory requirements and a robust data platform that can accurately track chain of custody, ensure patient blinding, and handle other logistical challenges to ensure compliance. Matching regulatory expertise with high-quality systems can be a huge step forward in reducing patient burden and increasing patient retention in DCT trials. Sponsors should be sure to grant sites and study teams full insight to manage supply accountability.
DCT solutions are built directly on Rave EDC, so there's no need to integrate disparate solutions. Medidata's DCT/DtP approach provides improved patient control and flexible options.
4) Consider Sites' Needs to Improve the Overall Clinical Research Site Experience
When implementing decentralized trials, sponsors must also prioritize reducing site burden in regards to the overall adoption of DCTs—from the use of new clinical trial technologies to the required study start-up activities to successfully run each trial.
For example, much of the trial site burden at start-up focuses on training. There are myriad training sessions and back-end tasks required of site staff. It can be difficult for study coordinators to keep track of these requirements—especially when they're navigating new portals and platforms.
Sponsors must consider how to make things easier for sites instead of simply deploying new DCT technologies. One way to do so is to support and streamline the training process for sites. Even seemingly small changes, like providing flexibility in organizing group trainings or choosing a single sign-on clinical trial platform, can take the burden off sites and free up much-needed time to focus on clinical trial participant care.
Sponsors should communicate with sites and take the time to understand their preferences and concerns. Maintaining open dialogue is critical to identifying pain points and providing timely support. By addressing sites' needs during DCT implementation, sponsors can collaborate with site staff to keep patients a priority and lighten the load of clinical trial activities.
5) Connect Patients, Trial Sites, and Sponsors on a Single Platform
A well-designed technology platform solution should holistically consider the needs of all those participating in medical research—no matter the role.
A unified data platform accessed by sponsors, clinical trial participants, and sites reduces risk associated with data re-entry, delays, and duplication. Data can be surfaced everywhere, in real time, to support effective clinical trial management and oversight.
A unified DCT platform also makes it easier for a patient to engage and feel supported pre-, during, and post- trial, while helping sites manage data collection, quality, and compliance.
Ultimately, the Medidata Decentralized Clinical Trials Program drives streamlined and automated workflows, letting clinical managers shift their attention from manual, repetitive tasks to high-value analysis and synthesis of data—a modernization they're eager to embrace.
6) Engage Support for Tailored Guidance and Easier Implementation
While the concept of a decentralized clinical trial has been established for some time, adoption of DCT technology still lags. There are a variety of factors at play: sites may have limited experience with new trial designs, lack expertise for evolving regulatory guidance, or have older technological infrastructures. Sponsors may feel they cannot manage disparate requirements across multiple research sites with varying degrees of technical sophistication, in addition to the rapidly-evolving software and devices that enable DCTs.
For these reasons, sponsors may be hesitant to adopt DCT capabilities. Medidata, the longtime leader in the DCT space, is here to help. We offer tailored, expert guidance on DCT trial design assistance and implementation. Our team of industry experts can lead a comprehensive, multipronged approach to support organizational success and end-user adoption. Our goal is to help sponsors create a sustainable DCT strategy tailored to their clinical trial needs.
Contact us today to discuss how Medidata can help you build and implement a decentralized clinical trial solution that connects trial experiences for patients, sites, and sponsors.
[1] Agrawal G., Moss R., Raschke R., et al."No place like home? Stepping up the Decentralization of clinical trials" McKinsey & Company. McKinsey Global Publishing 2021.
[2] Goodson N, Wicks P, Morgan J, et al. Opportunities and counterintuitive challenges for decentralized clinical trials to broaden participant inclusion. Opportunities and counterintuitive challenges for decentralized clinical trials to broaden participant inclusion. npj Digit. Med. 5, 58 (2022). https://doi.org/10.1038/s41746-022-00603-y
Related Articles
01
Nov 11, 2022
-

4 min read
Subscribe to Our Blog Newsletter