Medidata Blog
A Leader in Clinical Trial Transparency for Patients, Partners, & Customers
Jan 03, 2022
-

4 min read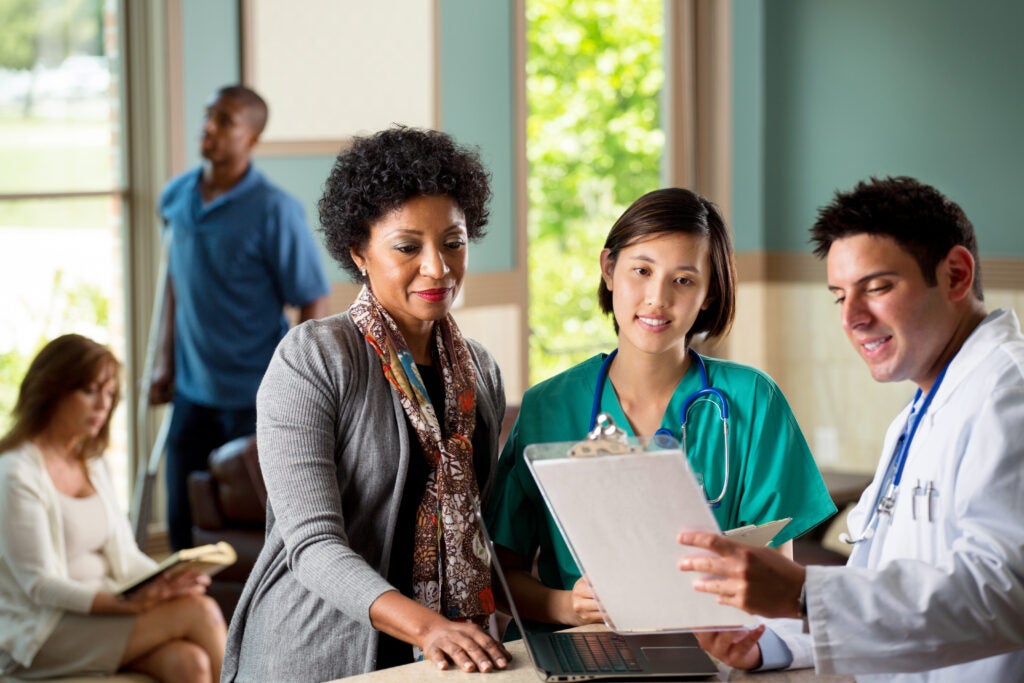 There is no greater factor in clinical trials than trust. And that trust is built—and earned—through decades of commitment and accomplishment.
At Medidata, we take this responsibility seriously. We believe in integrity, honesty, and decency in our products and partnerships. These values are the foundations of trust—woven into the fabric of every offering and decision we make. And it's these values that power us to set the industry standard for clinical trial transparency and security.
Trust in Clinical Trials
For over two decades, Medidata has taken a proactive approach to trust in clinical trials. We build patient data privacy and clinical trial cybersecurity into the design phase. It's what's allowed us to deliver innovative solutions to thousands of customers while upholding trial integrity and security.
Patients trust our customers to collect and use their data in a responsible way. And our customers entrust us with the safety and privacy of that data. We consider this an honor to deliver trust on a global scale. At Medidata, trust is at the core of our offerings.
A Unified Protection Strategy
Demonstrating trust to the highest standard requires a comprehensive approach. Medidata's Unified Protection Strategy provides robust data governance processes and an inspection-ready quality management system at each stage of a clinical trial.
This strategy is built on three core pillars: information security, patient data privacy, and quality management. It's these pillars that have transcended our industry's gold standards while providing unmatched stability and scalability in a single, unified platform.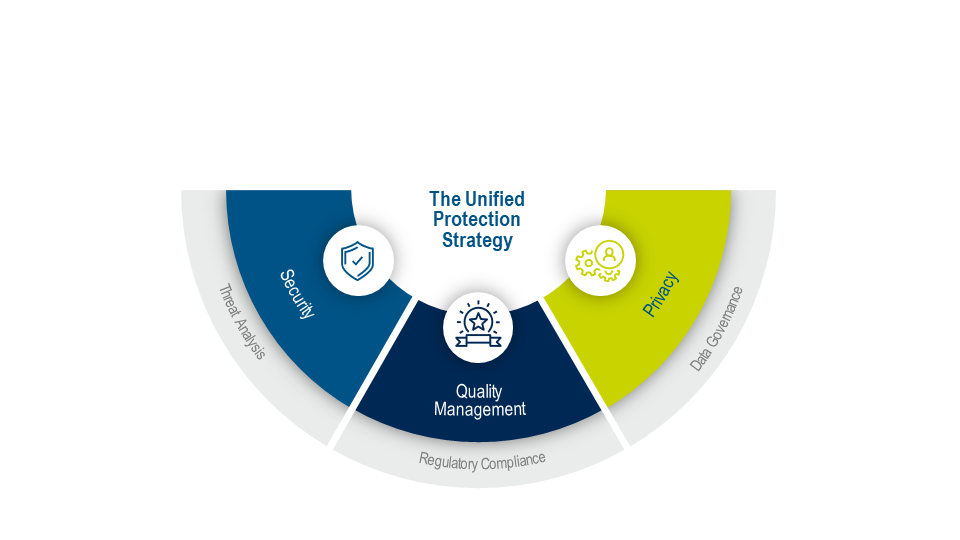 The attention paid to security, privacy, and quality has resulted in numerous certifications and awards. Medidata was the first life sciences company to receive the ISO 27701 certification. We are the only life sciences company to have the SOC-2 "plus", which we developed alongside PriceWaterhouseCooper. Our team detects and resolves security issues 24x7 across three continents. And we handled nearly three billion security events in 2020 at the height of the COVID-19 pandemic.
It's Medidata's lasting commitment to trust that makes this all possible. Trust in ourselves. Trust in our customers. And trust in the patients who depend on our services.
Trust in Who We Are
Security-by-design, privacy-by-design, and quality-by-design. It's this unified approach that allowed Medidata to thwart 8.2 million security threats per day while keeping 4,700+ COVID vaccine trials running at a time of worldwide uncertainty.
But big things have small beginnings. Over twenty years ago, Medidata began as a room of seven—an ambitious startup looking to revolutionize the life sciences industry. What's followed has been decades of innovation, attention to detail, and most importantly, trust. Learn more about Medidata's legacy of clinical trial transparency.
"When we started, we were just seven people with very big dreams. Our mission has always been to have a direct impact on patients through the technology we develop. We're very proud that our dreams have become a reality and we are excited about what the next decade is going to bring for us."
– Tarek Sherif, Medidata Co-founder / Life Sciences & Healthcare Sector Board Chairman, Dassault Systèmes
Trust in Who We Help
Medidata is proud to assist over 1,900 customers and 180+ global CRO partners. Over 25,000 clinical trials have run on the Medidata platform. And 50% of today's existing drugs and medical devices were developed with Medidata technology.
Our customers trust us to provide the security and quality required to achieve success in clinical trials. And in turn, we trust our customers to work alongside us to bring life-saving therapies to market.
That trust was put to the test in March 2020, when the COVID-19 pandemic altered the clinical trial landscape forever. With sponsors and CROs scrambling to preserve their trials, Medidata brought thoughtful solutions to the table to help customers continue their clinical research. Our team worked closely with our customers to keep clinical trials on track despite international disruptions. See what leading life sciences partners have to say about Medidata.
"When faced with a challenging request…we knew that we could rely on and trust the partnership that Medidata and Moderna have built over the years, and that Medidata would put forth their most innovative and thoughtful solution to support whatever was the need."
– Laurie Callen, Senior Director of Clinical Data Management, Moderna
Trust in Who We Protect
Lost amongst the data are the most important individuals in a clinical trial: the patients. They dedicate themselves for the good of the world. Cultivating and nurturing the trust of patients should be the defining strategy when conducting clinical research. Yet, patients are often considered an afterthought once enough data is collected.
At Medidata, we conduct Patient Design Studios to derive key patient insights when designing our products. Patients become active participants, and the feedback we receive from them helps determine our next steps. The goal of such a program is patient centricity.
We trust our participants to deliver insights that will drive inclusion and innovation, just as patients entrust us to protect their data, privacy, and security. Find out how fostering patient trust leads to more efficient clinical trials for everyone involved.
"Trust comes in a lot of different forms. It's important that we nurture those different forms of trust so people understand that this is how we improve the world."
– Kelly McKee, COVID-19 Clinical Trial Participant / Vice President of Patient Registries and Recruitment at Medidata
Trust in Our Ability to Solve the Impossible
Medidata is committed to delivering trust for patients, participants, and customers alike. By building security, privacy, and quality functions into the design process, as well as incorporating participant perspectives to foster patient centricity, we create robust clinical trial solutions that drive change throughout the life sciences industry. It's this foundation that powers us to solve the impossible for millions of patients.
Related Articles
01
Nov 11, 2021
-

2 min read
02
Dec 01, 2021
-

4 min read
03
Dec 08, 2021
-

4 min read
04
Dec 17, 2021
-

3 min read
Subscribe to Our Blog Newsletter
A Leader in Clinical Trial Transparency for Patients, Partners, & Customers