Medidata Blog
Meet a Medidatian: Sasha Z., Sr. Manager, Engineering/Paintball Coach
Apr 27, 2020
-

3 min read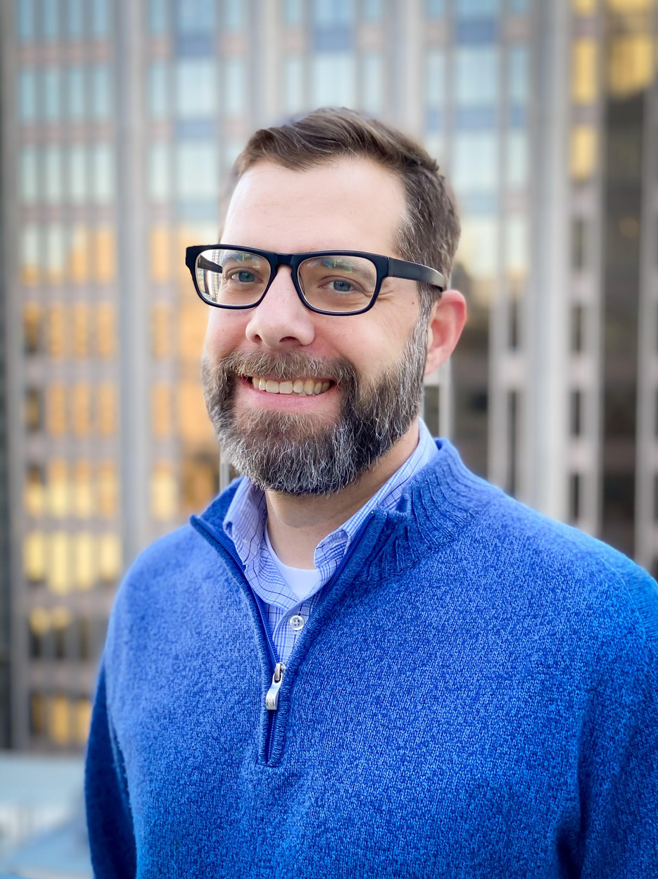 Meet Sasha, who is a general utility player for eConsent and Virtual Trials in Rave Patient Cloud. He counts on the skilled members of his small but formidable team to bring him success.
Hometown: Austin, TX
Currently lives: Hollywood Park, TX (town within San Antonio).
Years at Medidata: 3 years.
Why did you join Medidata? I joined Medidata when Mytrus was acquired by Medidata, and I could not have been happier with that turn of events.
What is your favorite part of being a Medidatian? Using the word "Medidatian," preferably within earshot of my long-time co-worker Ricardo, who I am 99% certain nominated me for "Meet a Medidatian."
But, more seriously, having the opportunity to develop technology solutions that have a tangible, positive impact, such as the myMedidata COVID-19 Tracker that we developed and launched at an incredible pace in just the past few weeks.
What is your favorite project or moment during your time at Medidata? No contest: working on the development and execution of the ADAPTABLE virtual trial system, which randomized 15,000 patients. The team at Duke Clinical Research Institute were told that their recruitment goals for the study could not be met, and I am proud to have been a part of making the project a success. Learn more at https://theaspirinstudy.org/
What's your advice for others looking for opportunities in technology? Playing with and learning about technology should be something you would do even if nobody were paying you. When I had my first real job, I had access to a Sun SPARC 5 workstation, and I must have spent hours just learning Sun SPARC Solaris and reading man pages.
What's your favorite Medidata perk or benefit? Getting to call myself a Medidatian. I am curious to learn if an equivalent term exists within Dassault Systèmes or if we will continue to have the perk of calling ourselves Medidatians. One suggestion I have heard and support is "3D Experiencer." Also, Medidata embraces remote working and distributed teams, which is good luck for me, since I am far away from any Medidata office.
What are your hobbies? I am the owner/coach of a paintball team that I founded and that competes in tournaments in Texas. I enjoy the sport because it motivates me to exercise during the week to prepare for each weekend practice, in which I routinely compete against players  almost half my age. Moreover, I get to know people from all walks of life whom I otherwise would never meet, ranging from construction workers, to auto-mechanics, to shoemakers, to members of our armed forces stationed in "Military City, USA."
Favorite food? A Chicago-style hot dog, made either by Wrigleyville Grill (San Antonio, TX) or myself in my kitchen. Must be made to exacting specifications. Poppy seed buns are very hard to find here in Texas.
What is your favorite book? I found Lincoln by David Herbert Donald to be a compelling read about our nation's greatest president.
If there was a song that would be the soundtrack of your life what would it be?
"Four thirty-three" by John Cage. Also, I have compiled a Soundtrack of My Life Playlist as suggested by my co-workers:
"This is How We Do It" - Montel Jordan
"Baby, I love your way" - Peter Framptom
"Taking care of business" - Bachman Turner Overdrive
"Friday" - Rebecca Black
"Started from the Bottom" - Drake
"Shake it Off" - Taylor Swift
"Baby Shark" - Pinkfong
What was your first job? I had a job swinging a sledgehammer on a demolition site. I lasted two days and realized that I actually did want to go to college. After that, my first real job was sacking groceries at Randall's. That job also reinforced my decision to go to college.
What's the last concert you attended? The production of "The Holly-Jolly Pirates of Fiestaville" at Hidden Forest Elementary School by my son Max and his third-grade class.
If you could be anyone who would you be? Although life would have been nasty, brutish, and short, it would have been interesting to experience existence as an early homo sapien about 20,000 years ago.
Our Medidatians are all unique and amazing in their own ways. In our Meet a Medidatian series, we introduce you to Medidata employees from all over the world and share some interesting, fun, and surprising facts about what makes them who they are. Check out the full series.
Featured Articles
02
Mar 28, 2023
-

3 min read
03
Aug 15, 2022
-

2 min read
04
Oct 03, 2022
-

3 min read
Subscribe to Our Blog Newsletter