Medidata Blog
Meet a Medidatian: Henry R., One of LOLA's Founders, and Father of 6th-Ranked Gymnast in the U.S.
Oct 13, 2022
-

3 min read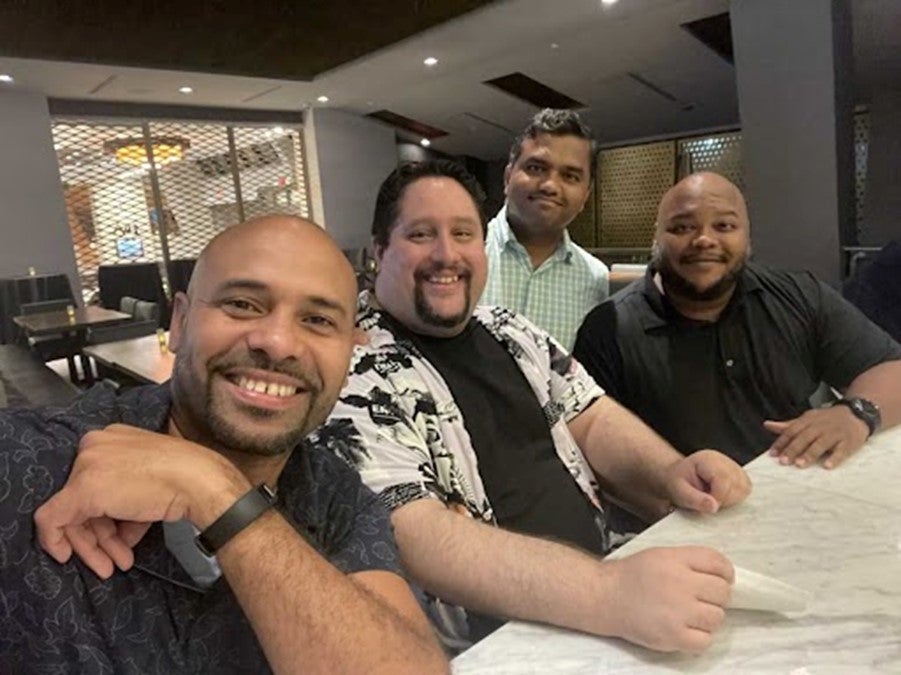 Meet Henry R., director, RAVE Engineering and Testing. Henry knew from high school that he wanted to be in a computer technology role.
He chose the medical field because his sister grew up with cerebral palsy and he wanted to make a difference in healthcare.
In his contractor role, he wrote the test scripts for the Medidata Rave architecture. Rave is Medidata's solution for clinical data management and clinical data capture. He was so respected for his work, his Medidata manager tried to hire him—but had to wait a year until his contract expired.
"I remember being in Miami in another contracting job for Ethicon (a J&J company)," Henry says. "The company called me, and they said, 'Hey, are you still interested in joining Medidata?' I said, yes, and they brought me back in as an employee. That's how I began my Medidata career journey."
When Henry came to work at Medidata in New York City, it was an "eye opener" for him. He worked with a diverse group of colleagues "from every age, from every race." He saw diversity across the company and "fell in love with the culture and Medidata."
Validation engineers rigorously test and pre-test the systems used to manufacture products. They inspect, measure, analyze, audit, calibrate, and test instrumentation and procedures.
Henry and his team of test validation engineers (17 here in the U.S. and 10 in Pune, India) are all about maintaining ethical compliance with regulations in the medical industry. They work closely with Product Development to ensure Medidata follows its standard operating procedures in developing its products. 
Their goal is to deliver a quality product that helps patients. Henry won't certify a Medidata product for release unless it works correctly and is ready to be delivered to the customer.
"The thing that I love the most about my job, and what keeps me coming back every morning, are the people on my team. I've worked with many different teams here, but the Rave team is one of a kind. Everyone is very smart and dedicated. We put a lot of passion and enthusiasm into our work every day to solve the impossible and complex technical challenges," he said.
"The thing that I enjoy most is the interaction between team members, and being able to train, coach, and mentor my testers. I take great pride in being a manager who is trying to improve the careers of my testers. I've participated in mentorship programs. I've always tried to be part of the Medidata community and give back to the Latino community as well."
That passion for giving back to the community led Henry to become one of the founding members of the LOLA BRG, which stands for Latinos Organized for Leading & Achieving. Henry loves the diverse Medidata culture and likens it to a "United Nations" of employee representation in all categories.  
LOLA is committed to serving the needs of all Latinos as they relate to our business for the benefit of Medidata and all of its employees. The organization strives to represent, share, and improve the diverse perspectives that impact our business, and aims to help create a welcoming and energetic environment where all Medidatians can thrive. 
Henry also views LOLA as a means for increasing diversity in clinical trials to improve results, which is a key business priority for Medidata and the clinical trials industry.
"Our inspiration in starting LOLA was we wanted to have that sense of belonging. We wanted to say, 'Hey, we are Latinos, and we have a voice here at Medidata and in the tech world,'" said Henry. "We also want to bring clinical trial awareness to the Latino community, and that we should be taking part in these trials because they can help improve the health of the community."
What would Henry be doing if he wasn't working at Medidata?
"I love basketball. When I was younger, I always wanted to play professionally. I'm a big Los Angeles Lakers fan. I always had this dream of attending Georgetown and playing basketball and becoming a sports medicine doctor on the staff of the L.A. Dodgers," he said.
A keen interest in sports runs in his family. His teenage daughter, 14-year-old Hezly R., finished 6th place in the 2022 Junior Women U.S. Gymnastics ChamTpionship and is a two-time U.S. National Team Member. She is also the first Dominican/Dominican American to ever be part of a U.S. Gymnastics National Team. Her dream is to represent the U.S. in the 2024 Olympics in Paris.
"You know as much as I love technology, I would say sports is a second love," he added.
Want to learn more about Henry? Watch the short video below to see his favorite part of being a Medidatian.
If you're looking for a new career challenge at Medidata, click here to check out these exciting opportunities that are currently available throughout the company globally.
Related Articles
01
Sep 08, 2022
-

4 min read
02
Sep 22, 2022
-

3 min read
03
Oct 27, 2022
-

4 min read
Subscribe to Our Blog Newsletter
Meet a Medidatian: Henry R., One of LOLA's Founders, and Father of 6th-Ranked Gymnast in the U.S.