Rave CTMS
Rave CTMS - The Solution
The Intelligent Oversight™ you need to be more effective.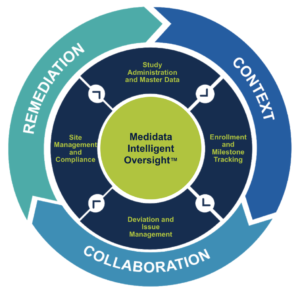 One Source of Truth
Enter data once and use it everywhere
Centralized Issue Management
Proactive remediation across stakeholders
Data Driven
Advanced analytics and reporting
Scalable
Adapts to your workflows and architecture
Security and Data Privacy
Global certifications (regulatory, privacy, security)
Why Rave CTMS?
Study Management
Do your study teams have to enter subject information to provide enrollment data? Do your trial managers spend more time compiling information from various sources than reviewing the actual information?
With Rave CTMS, you get real-time views — from the daily details of your study progress to big-picture executive oversight — with no manual tracking, multiple systems, or data reconciliation. Generate cross-study reports that summarize study enrollment and milestones. Track study progress, team assignments, documentation status, and tasks and vendors, all from the cloud.
Site Monitoring
Are CRAs satisfied with your CTMS and processes for visit management and reporting? Do they spend hours keying in information to MVRs that was already entered in the upstream apps?
With Rave CTMS, you can tackle CRA workload inefficiencies and boost visit report productivity all while reducing time and operational costs and increasing data accuracy. Author, review, approve, and finalize monitoring visit reports directly in Rave CTMS. Generate confirmation and follow-up letters. Track and provide visibility on open actions including confirmation letters and monitoring reports.
Issue Management
Are your study teams using multiple systems or spreadsheets to track all types of study issues? How long does it take for a protocol deviation discovered at a site monitoring visit to make it into a CTMS?
Rave CTMS has a centralized, cross-functional issue management capability that provides timely oversight of all issues, near misses, and associated action items at the study, country, site, and subject-level throughout your clinical trial. You can take timely actions to address regulatory issues, improve site performance, and support consistent data quality.
Webinar: Clinical Trial Management: A Paradigm Shift to Realize Intelligent Oversight
Learn about the challenges Nick Dyer (CEO Catalyst Clinical Research, LLC) and his team has experienced with complex studies, and why they chose Medidata's Rave CTMS to help Catalyst attain operational success.
– Cut through the data noise and make smart decisions
– Break down the silos and collaborate with others
– "See" issues and remediate before they become big problems
Getting the most out of the Medidata Rave Clinical Cloud with Rave CTMS
Rave CTMS and Rave EDC
The benefits of a unified platform, data-driven strategy expand into trial master files (TMF). Rave CTMS works seamlessly with Rave eTMF to deliver TMF auto-population of key artifacts such as site qualification visits, site initiation visit, and site interim monitoring documentation, so you can accelerate trial timelines and minimize risk. Rave CTMS combined with Rave EDC and Rave eTMF delivers the industry's most comprehensive platform from study planning to study close by accurately unifying content, data, and workflows.
Rave CTMS and Rave RBM
With Rave CTMS as the foundation, you can move to Rave RBM and get a jumpstart on incorporating a risk-based monitoring approach in your next study. The unified platform enables both Rave CTMS and Rave RBM to share data elements, facilitating optimized site monitoring that allows you to redeploy resources where risks and issues lie.
Site Activation, enabled by Rave CTMS, Rave eTMF, Rave eConsent, and Rave Site Grants.
The Medidata Rave Clinical Cloud platform can automate and regulate your site activation process, speeding up the review of documents, increasing transparency between business partners, and ensuring compliance. With Rave Site Grants, you can drive faster negotiations with Fair Market Value (FMV) pricing. Our Rave eConsent tool helps you reduce the risk of multiple consent versions through approval. Rave CTMS and Rave eTMF allow you to manage approvals and site activation checklists.
End-to-end budgeting to payments, enabled by Rave CTMS, Rave Site Grants, Rave EDC, and Rave Site Payments
Medidata can help you combine the right sites, procedures, budgets, and payment processes when you plan your study. Minimize complexity set the stage for operational efficiency by reducing FTE time needed for reconciliations. Optimize the amount you pay for a procedure, subject visit, or other site fees by using Rave Site Grants to reference our comprehensive data set of fully executed investigator agreements. Negotiated site costs are set up in Rave Site Payments to calculate a payment once a subject visit or procedure is complete in Rave EDC. Use Rave CTMS to track every step of this process.
Find out how CRO Aperio uses Rave CTMS to help consolidate study information eliminating the need for Excel trackers or other specialized reporting