Medidata Blog
Next Generation of Clinical Monitoring | Part 2: Detecting Clinical Trial Fraud & Misconduct
Jul 24, 2023
-

4 min read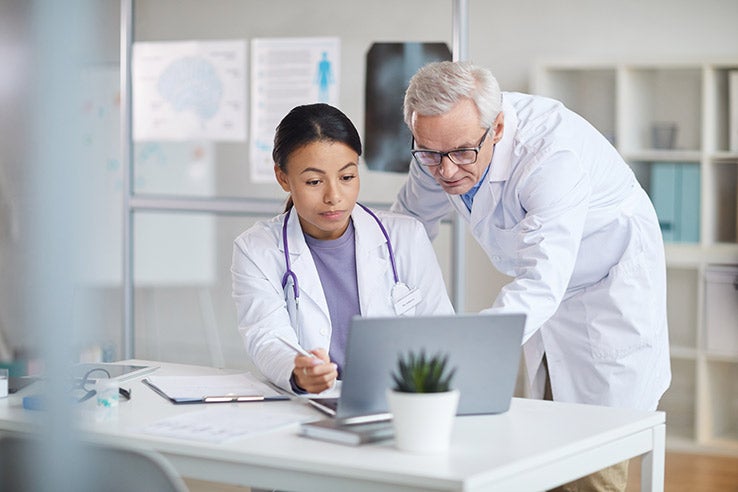 This is the second post in our Avoiding Risks series. 
Clinical trials are rapidly evolving in their design and conduct, including an explosion in the number of data sources and data points collected. Phase III trials now collect 3.6 million data points on average—a threefold increase in volume from just 10 years ago. This complex clinical trial environment has made it more challenging to detect clinical trial fraud and misconduct using traditional methods. Today's modern data and surveillance technologies with advanced analytics, intuitive visualizations, and real-time data aggregated from all sources can more efficiently detect signals of fraud and misconduct. 
Why Detecting Clinical Trial Fraud and Misconduct Matters
The appropriate conduct of clinical trials relies on trust, transparency, and adherence to rigorous ethical standards. Although they're relatively rare, instances of fraud and misconduct in clinical trials can occur due to site or patient actions. These instances can undermine the integrity and credibility of trial results, jeopardize patients' well-being, and cause financial and reputational harm to stakeholders. For example, fraud and misconduct can mislead regulators, resulting in the approval or adoption of ineffective or unsafe treatments while staining the reputations of investigators and sponsors.
All clinical research stakeholders should be aware of these forms of fraud and misconduct: 
Data fabrication: Intentionally generating false or fabricated data to support desired outcomes or conclusions.

Data manipulation: Selectively reporting data or modifying data points to present a more favorable picture of the intervention.

Inadequate informed consent: Not fully informing participants about the potential risks and benefits of taking part in a trial or coercing them into enrolling.

Falsifying enrollment criteria: Enrolling ineligible participants and excluding eligible participants, leading to biased or unreliable results.

Failure to disclose conflicts of interest: Compromising a trial's objectivity by failing to disclose researchers' or sponsors' conflicting financial or professional interests that could influence the outcome.

Noncompliance with protocols: Deviating from the approved trial protocols, such as by administering the intervention differently than prescribed, leading to biased or unreliable results.
As noted, fraud and misconduct are relatively rare, but they represent real risks that must be recognized in any clinical study. While regulatory authorities, ethics committees, and research institutions have issued guidelines intended to reduce the likelihood of fraud and misconduct—such as independent data monitoring committees, audits, and increased transparency in reporting—every trial should incorporate comprehensive processes that offer safeguards against fraud and misconduct. 
How Centralized Monitoring Efficiently Detects Clinical Trial Fraud and Misconduct
The clinical trial industry is transitioning from 100% source data verification to centralized, risk-based monitoring that focuses on critical data points and processes. This approach is highly efficient for identifying potential fraud and misconduct while enabling root cause analysis that can rectify concerns and reduce the risk of a compromised trial. A centralized approach aggregates the critical data needed to support fraud and misconduct monitoring (system audit data and geotags) and enables the comparison of data collected during on-site visits with data collected remotely via technology (wearable monitors).
As a holistic data surveillance approach, centralized monitoring employs advanced statistical and analytical tools to identify data gaps, anomalies, and other study concerns that are more serious or harder to detect than those identified by traditional data reviews. Data can be efficiently aggregated on unified clinical trial platforms, such as the Medidata Platform, making systemic risk monitoring, early detection of problems, and the identification of data gaps and patterns using centralized statistical monitoring tools and processes possible.
Medidata Detect for Fraud and Misconduct Detection
Medidata Detect is a comprehensive data surveillance and risk management solution that lets cross-functional teams monitor and limit risks to data integrity and patient safety. Sponsors and CROs who adopt this integrated solution can identify critical-to-quality (CtQ) factors, associated risks, and mitigation strategies while monitoring for trial risks through key risk indicators (KRIs) and quality tolerance limits (QTLs).
Medidata Detect has several modules that limit potential clinical trial fraud and misconduct by identifying irregularities in visits (e.g., on weekends or holidays), potential duplicate patients, and high levels of rounded and repeated data. 
The weekend and holiday visit module sorts through study visits to flag visits that occur outside business hours or on non-working days, weekends, or holidays, which could represent data fabrication efforts requiring further investigation. This module is highly customizable, so it can be adapted to specific trial requirements and patient time zones. While not every occurrence can be attributed to data fabrication, it is imperative to proactively evaluate inconsistencies at an early stage.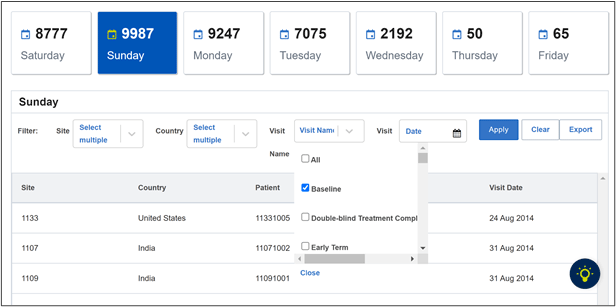 Figure 1. Weekend and holiday visits
Patients who enroll at more than one site in a single trial jeopardize the integrity and validity of the study. By analyzing the demographics of patients enrolled at sites within a 100-mile radius, Medidata Detect identifies patients with similar or identical values and flags them for additional evaluation by the research team. 
Figure 2. Potential duplicate patients
Finally, the rounding and propagation module plays a crucial role in identifying patients who exhibit data that is potentially rounded and/or repeated. Such patterns can be indicative of noncompliance with protocols or possible data fabrication. Patients with three or more values ending in "0" or "5" are flagged for review. The data is then used to identify sites that have a high percentage of patients with rounded or repeated data, warranting further investigation. 
Summary
As clinical trials continue to increase in complexity, detecting the rare instances of fraud and misconduct is becoming even more challenging. Modern data and surveillance technologies that use advanced analytics, intuitive visualizations, and real-time data aggregated from all sources provide the best means of detecting and addressing fraud and misconduct as quickly as possible. 
Ready to enhance your trial surveillance? Watch this video to learn more about Medidata's cutting-edge solution for detecting fraud and misconduct in clinical trials. Learn more about Medidata Detect.
Read our whitepaper to dive deeper:
Related Articles
01
Jan 17, 2023
-

4 min read
03
Jun 22, 2022
-

3 min read
Subscribe to Our Blog Newsletter