Medidata Blog
Revolutionizing Clinical Studies with Adaptive Trial Designs: Flexibility, Mid-Study Changes, & Expert Teams for Optimal Results
Apr 03, 2023
-

3 min read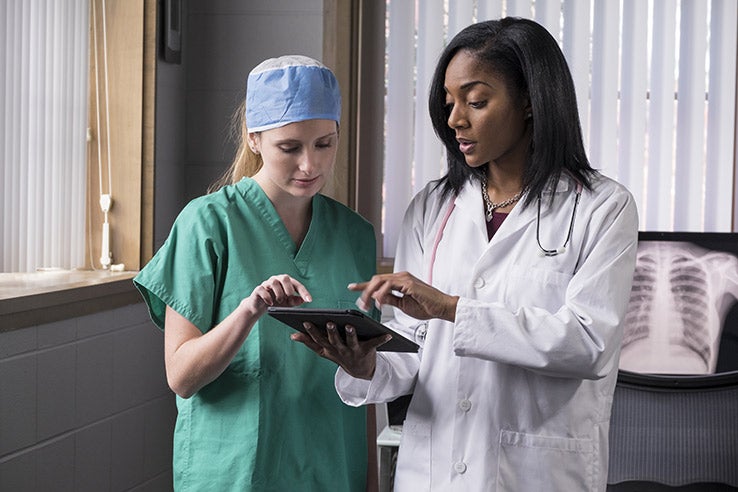 This blog was authored by Marc Kaufman, Senior Product Director, Product Management at Medidata.
Clinical trials are becoming more complex, with an average of 3.6 million data points collected in Phase III studies.1 Despite this and rising development costs, trial approvals and success rates have not improved.
Unsurprisingly, adaptive clinical trial designs are being increasingly adopted because they can maximize outcomes and efficacy and minimize patient safety impacts. As explained in more detail in our new white paper and blog posts (here and here), adaptive designs differ from traditional fixed-sample designs in that they allow for valid and compliant execution of mid-study changes.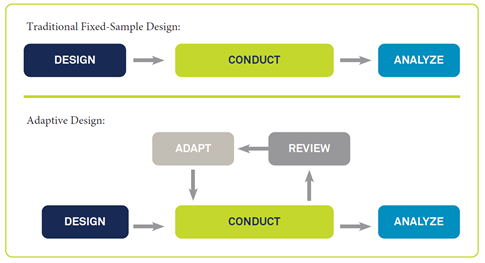 Adapted from Pallmann, P. et al. Adaptive designs in clinical trials: Why use them, and how to run and report them. BMC Medicine (2018) 16:29. Available at https://doi. org/10.1186/s12916-018-1017-7. Used under Creative Commons Attribution 4.0 International License: https://creativecommons.org/licenses/by/4.0/ 
The adoption of adaptive designs continues to grow. Industry groups and regulators, including the FDA and EMEA, support adaptive designs and have published guidelines for implementation. They are well established, with group sequential designs being used for decades. The Tufts Center for the Study of Drug Development2 has estimated that at least 20% of clinical trials use adaptive study designs. 
Benefits and Challenges of Adaptive Trial Designs
Some of the best-characterized benefits of adaptive trial designs include the following:
Organized, preplanned mid-study changes

Improved study power

Reduced sample sizes and total cost

Identification of efficacious drugs for specific patient subgroups based on biomarkers

Reduced drug development timelines, since multiple studies can be conducted simultaneously
Recognized challenges include the following:
Longer trial planning time, plus simulations often required

Functional leads' lack of familiarity (on CRO and sponsor sides)

More training possibly required for study and site personnel

More complex analyses sometimes required due to the high volume of data generated
Advanced planning and incorporating insights from experts, including those with a deep understanding of what technological infrastructure should be in place, can position your adaptive study for success. Medidata's multidisciplinary expert teams have extensive experience with planning and implementing adaptive trial designs, which has helped our customers circumvent common challenges and pitfalls.
The Medidata Difference
Modern clinical trial technologies are critical when it comes to planning, implementing, and managing adaptive trial designs. For instance, flexible randomization and trial supply management (RTSM) systems are essential because they provide the ability to quickly implement multiple treatments and randomization scenarios with limited to no downtime or expensive change orders. Medidata has in-depth IRT/RTSM knowledge and expertise that gives our customers an edge in their study designs. This can prove invaluable to their development program.
Download our white paper to learn more about how Medidata can support your next adaptive design trial:

References: 
Rising Protocol Design Complexity Is Driving Rapid Growth in Clinical Trial Data Volume, According to Tufts Center for the Study of Drug Development:

https://www.globenewswire.com/en/news-release/2021/01/12/2157143/0/en/Rising-Protocol-Design-Complexity-Is-Driving-Rapid-Growth-in-Clinical-Trial-Data-Volume-According-to-Tufts-Center-for-the-Study-of-Drug-Development.html
Related Articles
02
Oct 20, 2022
-

5 min read
Subscribe to Our Blog Newsletter