Effective Management | Modern Tech Strategy
Ensuring Effective Management
Ensuring effective trial management involves employing strategies built around collaboration, transparency, and platform-enabled centralized data access.
Simplifying Data Complexity
By simplifying data complexity, your study teams can be confident they have the data they need, when and where they need it, to answer their most critical questions faster than ever before.
Improving Patient Experience
From comprehension to study close-out, improving patient experience involves merging patient perspective with best-in-class technology to deliver solutions that support their entire journey.
Modern Tech Strategies
The next generation of clinical trials will be faster, more efficient, and produce higher quality patient outcomes, and our three modern technology strategies will help your business deliver more in the next decade.
It's more than just faster study start-up or reduced data correction rates. Our platform enables more effective management for end-to-end trial efficiency and next-generation success rates
Collaboration creates efficiencies and resolves barriers thwarting effective trial management. Our suite of centralized, cloud-based Rave products is here to disentangle the logistical complexities of trial management.
Rave CTMS
Efficiently plan conduct, and monitor every aspect of your study.
Rave eTMF
Unify content and data in a comprehensive TMF management
Rave CTFM
Enable smarter clinical trial financial management that powers operational efficiencies
Rave RBQM
Improve quality control process and lower monitoring costs using analytics
Medidata Detect
Leverage machine learning for advanced anomaly detection
Optimize your Clinical Trials with Rave CTMS and Rave eTMF
One Source of Truth
Enter data once and use it everywhere
Centralized Issue Management
Proactive remediation across stakeholders
Data Driven
Advanced analytics and reporting
Scalable
Adapts to your workflows and architecture
Security and Data Privacy
Global certifications (regulatory, privacy, security)
With Rave eTMF, streamline and simplifyTMF content audit-readiness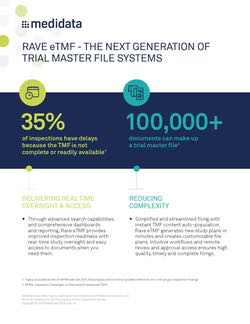 Read the infographic to learn how easy-to-use Rave eTMF streamlines creating, managing, and populating clinical trial content while providing full support for the Drug Information Association's (DIA) TMF reference model.
With Rave CTFM, deliver more accurate site payments in near real time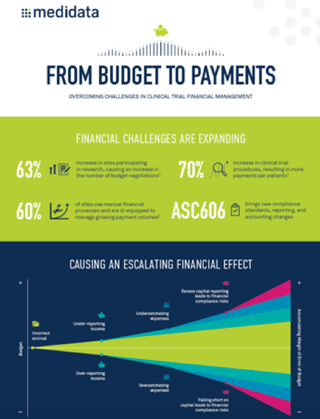 Read the infographic to discover how this data-driven platform approach enables smarter financial decision making by automating and unifying the budgets to payment processes.
Rave RBQM represents a process, cultural and strategic change to monitoring for trial sponsors and CROs
Monitoring no longer just means managing data quality on site. With RBM, the purpose of site visits becomes proactive issue prevention, not reactive issue detection and information collection. Read the white paper to discover our technology roadmap to RBM and how Rave RACT and Rave TSDV provide key insights into impact and detectability of study risks.
High-quality data, inspection-ready documents: Medidata Detect empowers study teams to identify and resolve data changes faster
With one in six new drug applications failing during first-cycle approval, and an average of 18 months separating first-cycle approvals with applications requiring multiple cycles, the importance of a unified tech solution that's supported by enhanced analytics capabilities for continuous monitoring cannot be overstated. Our winning formula for consistent, high-quality data is here.
Like what you are seeing?
Connect with the Medidata team to see how Modern Tech Strategies can help your organization.