Medidata Blog
Meet a Medidatian: David L., High-tech Leader Helping Patients and Fellow Veterans
Nov 17, 2022
-

4 min read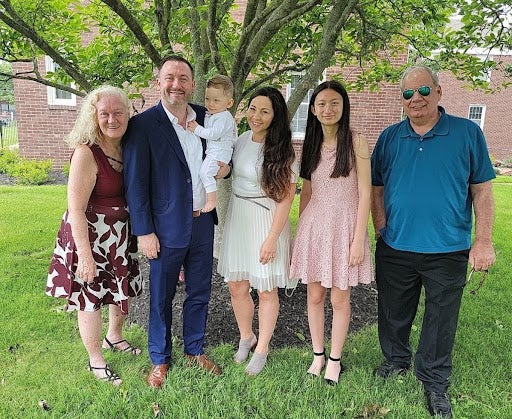 Medidatian David L. considers himself a multifaceted technologist. His experience working in a variety of high-tech roles enabled him to start in Information Technology (IT) in 2018 and move to his current job in Finance as an IT sourcing manager.
He learned to be agile in the U.S. military during a 12-year career as a Captain in the U.S. Army Signal Corps in South Korea, Afghanistan, Iraq, Germany, and the United States from 2004-2016. 
While he entered the military with a technology background, he was expected to learn and perform his role in a variety of other fields, such as Human Resources, Finance, etc., over his career in the U.S. Army. Each new assignment began with a 90-day period during which he mastered his new job. Working across various organizations in multiple roles helped prepare him for his current technology role at Medidata in Procurement.
"In the Army, you have 90 days to observe, learn, and grow into a new role. After 90 days, that's when you're expected to start implementing change and process improvements. Being a facilitator and connector helps break down silos across an organization," said David. 
"It gives you experience working cross functionally, and helped me transition to my different roles as a technology expert in Medidata. Being flexible and dynamic allows you to shift easily and seamlessly from one role to the next."
Being flexible and managing shifting priorities has served him and the company well. David joined Medidata in 2018 as head of U.S. Enterprise Support and Operations shortly before the company began to undergo organizational changes and was acquired by 3DS. 
When the COVID-19 pandemic hit, he and his team helped Medidatians quickly transition from in-office to remote work at home without skipping a beat—even as the organization was experiencing high turnover as a result of the pandemic.
His IT team, which was responsible for provisioning and shipping employee laptops to work from home, was able to help Medidata operate its business virtually with no employees going into the offices for weeks.
The support his team provided was key to ensuring Moderna could run clinical trials for its COVID-19 vaccine, which incorporated virtual trials for the first time in history, to speed up the process of developing and securing vaccine approval by the U.S. Food and Drug Administration (FDA).
What attracted him to join Medidata is how employees are driven by the company's mission to advance the development of new treatments for patients. While he comes from a family deeply rooted in the banking and finance industry, he loves the people who work in life sciences because they're motivated by helping others—not just profits.
"I'm a tech guy by trade, so my roles prior to coming to Medidata have always been tech centric. But then I learned that Medidata isn't purely a life sciences company. It's also a software company, which is something I do know. In the end, we all have a shared mission: we're trying to conquer diseases together."
– David L., Business IT Sourcing Manager, Medidata
The shared mission of helping people also persuaded him to volunteer as chair of the Veterans Business Resource Group (BRG) at Medidata, where he has led the group for four years.
David and the Veterans BRG partner with the Disabled American Veterans (DAV) non-profit to co-sponsor the DAV Virtual 5K for the third year in a row. This year, Medidata will help DAV raise more than $15,000 for veterans through its Virtual 5K, which is a walk, roll, run, and ride that thanks those who served and raises awareness of the issues that ill and injured Veterans face daily. 
The Veterans BRG is also helping DAV by sponsoring and hosting our 2nd Annual Vet-Pack-Drive for Veteran and Military Family Appreciation Month.
"We purchase about 300 to 400 backpacks and essential items you would need if you were homeless, such as toiletries, etc. And then for Veterans Day, we pack these bags, send them to DAV, and they send them to Veterans in need throughout the year," he said.
David and his team help Medidatians solve the impossible by ensuring every day that employees have the technologies and tools they need to run the business and help patients.
When he's not working for Medidata, David is honing his green thumb as a gardener, hiking and snowboarding mountains, or working on one of his sports cars. During the pandemic, he started gardening and has three self-sufficient, raised-bed garden areas at home. He even used his engineering skills to design a rain gutter system to water the plants. 
With his team orientation, everyone in the family—including his parents and wife—have a role in selecting and planting vegetable seeds and nurturing them from early growth to harvest.
What career advice and tips for success does David have for his fellow Medidatians?
"If there's a role you are interested in, or one you think that you'd be a good fit for, apply for it—even if it's not in your job field. I went from IT support right into Finance. Most companies probably wouldn't have given me a shot off the street. But the really good thing about Medidata and Dassault Systèmes is that you're encouraged to move cross-functionally to get experience," he added.
"Be open to change. Take advantage of finding other jobs within the business and challenging yourself. Enjoy your work and celebrate your successes with colleagues. I always look forward to seeing people at our annual parties, whether it's the winter, the summer, Halloween, or other parties. I think it's amazing what we're doing together in our business to help patients."
Want to learn more about David? Watch the short video below to see his favorite part of being a Medidatian.


If you're looking for a new career challenge at Medidata, click here to check out these exciting opportunities that are currently available throughout the company globally.
Related Articles
01
Aug 11, 2022
-

3 min read
02
Sep 08, 2022
-

4 min read
03
Sep 22, 2022
-

3 min read
Subscribe to Our Blog Newsletter